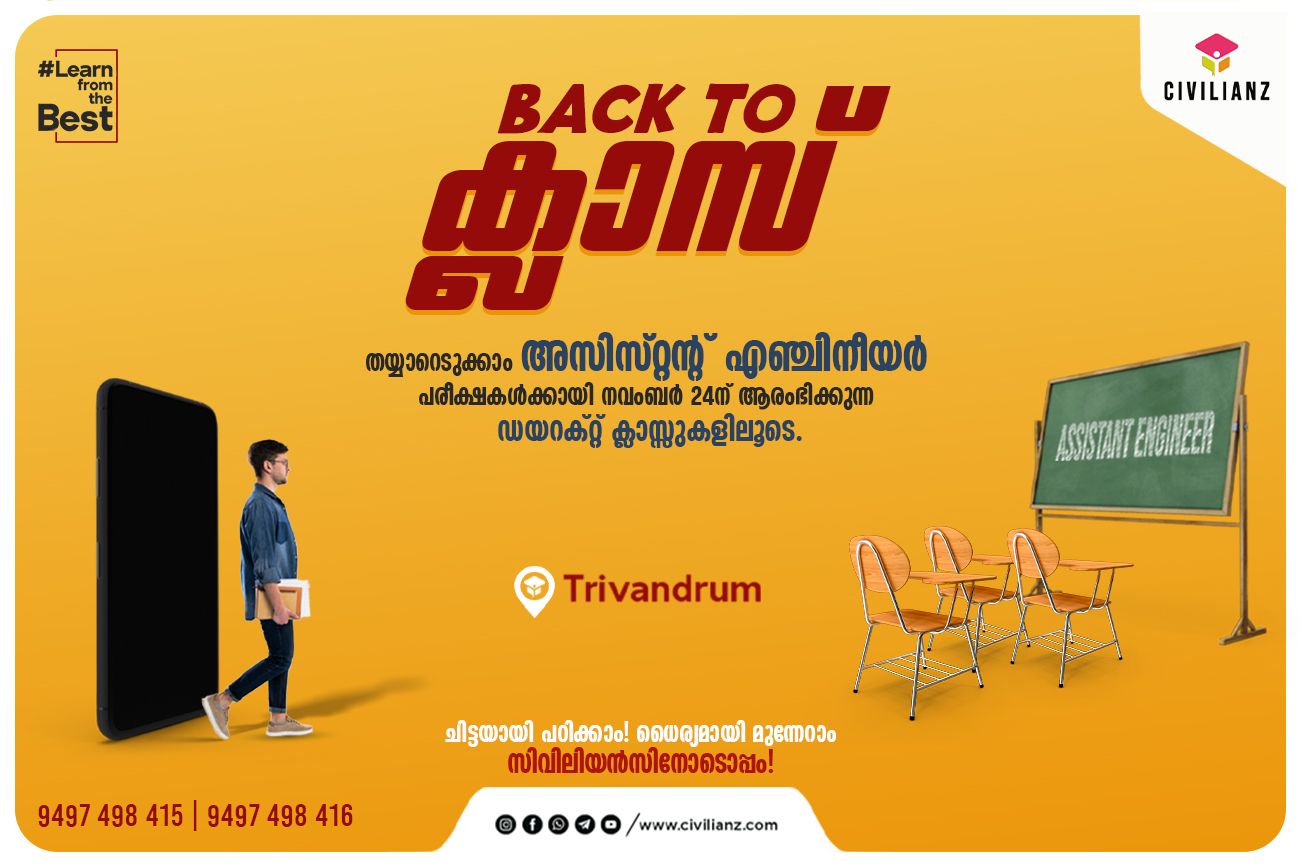 DIRECT BATCH FOR ASSISTANT ENGINEER EXAMS
One long year into the Covid-19 pandemic has exacerbated the learning crisis. The Online classes, Google meets, Zoom calls, Google classrooms. This is the new normal for students!!
But now that it had been almost 18 months, these online classes had started, the students are gradually losing their interest in online education and are longing to get back to the classes. Students are missing the comfort of personal interactions and being physically present in a classroom. Online classes are getting pretty hectic for them.

In such a plight, we are much elated to announce that CIVILIANZ!! The best Civil Engineering Coaching Centre in Kerala is about to rekindle our Direct classes at the Capital City.
Our Direct batch for Assistant Engineer exams are commencing on 24th November 2021. We are excited as much as you are to welcome our students back to our Classrooms!!
The features of our Direct classes include:
Direct Contact classes

Direct interactive classes where the students get to interact with their faculties and mentors.

Faculty support

Classes by expert team of faculties which ensure quality teaching and learning. Classes are taught from the very basic level and we ensure that each and every student in the class is benefited.

Printed study material

A Multiple Choice Question book will be provided along with the course. This book consists of subject wise and topic wise divided MCQ questions. Previous year questions have also been included and divided into different topics.

Talk with topper sessions

Regular talk with topper sessions will be organized which will provide guidance and motivation for the students. The toppers provide tips for studying and also share their study plans with the students.

Daily assessment tests

Daily assessment tests ensure that students come prepared with the topics taught in the last class. This is important to make sure that they work consistently for the exam.

Regular Model Tests

Regular model tests are held to evaluate the preparation levels of each student. This will give an opportunity for self-analysis to the students and this also helps the faculties and mentors in providing extra care to the weak students.

Shortcut Memory Tips

As there is so much to learn and keep in mind, it is good to make use of shortcuts or small tips or codes for remembering certain things. Such tips will be shared in the classes.

Comprehensive Test Series

This helps to improve the problem solving skills and time management of the students. It helps to develop speed and accuracy of answering.

Personal Mentoring

Each student will be assigned under a Mentor who will monitor his/ her performance. The respective mentor will ensure that student is consistently preparing for the exam. The student can approach the mentor for any help or extra care in any subject.

Active study circle

Study circle is also a part of the course where previous question papers will be discussed along with detailed explanation.
Why Direct Classes?
After a long break, students and teachers are equally excited about direct interactive classes. Some of the additional privileges in Direct classroom courses are:
Promotes collaborative learning
A good classroom environment helps and promotes collaborative learning. It stimulates a student's self-awareness. He/ She can understand how other students learn and also increase the effectiveness of their learning practices. This can modify and transform them into keen learners inside and beyond the classroom.
Develop organizational skills
Students will be more up to date in the classes. They will make sure their attendance in the class and also to be updated with the portions taught in the class.
As the faculty, will be summarizing the topics taught earlier in the class, and also will be asking questions and conducting daily tests, the students will always try to come prepared with the subjects taught.
Improve competitive skills
When in a classroom, students get to understand their pace and can compare with that of other students in the class. This can help and motivate them to work hard and push their own limits.
Improve problem solving skills and time management
A classroom environment will promote group studying and improve the problem solving skills of students as they come across different types of questions given by the faculties. This also improves their speed and accuracy in solving problems.
The direct classes improve the overall efficiency of learning and preparation.
The duration of the class will be from Six to Seven months.
Only Vaccinated students are allowed in the classes. As social distancing is a must, the number of seats is very much limited!!
Book your seat at the earliest and head start your preparations!!
Work smart with Civilianz!!
For more details and admissions,