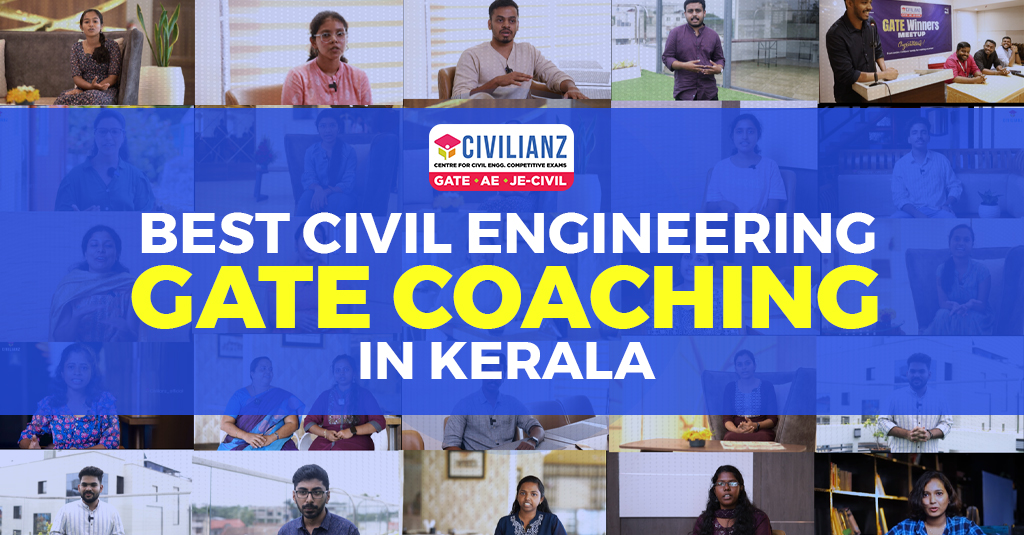 BEST GATE CIVIL ENGINEERING ONLINE COACHING IN KERALA 
Civilianz is the No.1 GATE coaching centres in Kerala for Civil Engineering Competitive exams. With the excellent results in GATE Civil in Kerala, Within a short span of time, Civilianz is referred to as the best GATE coaching center in Trivandrum
With our specialized team of educators for civil engineering examinations, we guide students to a deep understanding of the subject and acquaint them with various question formats, such as Multiple Choice, Numerical Aptitude, and Multiple Select questions. Our students will receive extensive training through our all-inclusive test series, which is instrumental in honing their time management skills, a crucial aspect to excel in the GATE Examination
Civilianz boasts the following benefits for GATE civil engineering competitive exam preparation in Kerala:
BEST GATE CIVIL ENGINEERING ONLINE COACHING IN KERALA
KEY FEATURES
Pre-recorded Video Lessons
Pre-recorded video lessons are instructional videos created by teachers or educators to explain and teach various topics within a subject. These videos allow students to learn at their own pace and can be revisited as many times as needed. They often include visuals, animations, and explanations to make learning more engaging and effective.
Comprehensive Test Series
A comprehensive test series includes a set of examinations or tests that cover the entire syllabus or a significant portion of it. These tests are designed to evaluate a student's understanding of the subject matter and their ability to apply what they've learned. They can include mock exams, practice tests, and previous years' question papers.
Subject-wise Assessment Tests
Subject-wise assessment tests are individual tests that focus on specific topics or subjects within a broader curriculum. These tests help students assess their knowledge and proficiency in each subject separately. They are particularly useful for identifying areas of weakness and for targeted improvement.
Online Doubt Clearing Platform
An online doubt clearing platform is a digital space where students can ask questions and seek clarification on any doubts or concepts they find challenging. Teachers, tutors, or fellow students often provide responses to these queries. This platform encourages interactive learning and helps students overcome obstacles in their understanding of the subject.
500+ Hours of Lectures
This indicates the extensive coverage of the subject matter through video lectures. It implies that there is a substantial amount of content available for students to study from. The duration of these lectures is a testament to the depth of the educational material provided.
Discussion Board
A discussion board is an online forum where students can engage in discussions related to the subjects they are studying. It allows for peer interaction, sharing of knowledge, and problem-solving. Students can ask questions, share insights, and collaborate with their peers in a virtual classroom setting.
In summary, a comprehensive test series encompasses a wide range of educational resources and assessment tools to support students' learning and exam preparation. It combines video lessons, subject-wise assessments, extensive test material, doubt clearing facilities, and a platform for discussion and collaboration, providing a holistic approach to education and exam readiness.
At Civilianz, our mission is to provide a well-rounded educational experience that prepares you thoroughly for your civil engineering competitive exams. We're committed to your success and dedicated to helping you achieve your academic goals.
Civilianz stands as the top GATE coaching center in Kerala, specializing in preparing students for various Civil Engineering Competitive exams. Our comprehensive coaching program covers a range of exams, including GATE – Civil, Assistant Engineer, Assistant Professor Civil, Lecturer in Polytechnic, Junior Engineer- Civil, Overseer, Tracer, and other similar civil engineering competitions. 
GATE 2024 – Civil പരീക്ഷയ്ക്ക് ഇനി ചുരുങ്ങിയ സമയം മാത്രം ⏰
ഇനിയുള്ള ദിവസങ്ങളിൽ smart ആയി, effective ആയി കൃത്യമായ strategies follow ചെയ്ത് പഠിക്കാനായി Civilianz ന്റെ Intensive Online Crash Course 📚
Course features
✅ Examination point of view ൽ weightage കൂടിയ subjects ന്റെ live class from 6.00 pm to 9.00 pm
✅ Full Syllabus cover ചെയ്യുന്ന രീതിയിൽ എല്ലാ വിഷയങ്ങളുടെയും recorded classes
✅ ഓരോ വീഡിയോ ക്ലാസിനോടൊപ്പവുമുള്ള Assessment tests
✅ Regular Model Tests
✅ GATE Test series
✅ Comprehensive GATE Study material – e book
A journey of thousand miles begins with a single step ✨
കൂടുതൽ വിവരങ്ങൾക്ക് contact ചെയ്യാം 👇🏻
📱8281003366
---
CIVILIANZ SOCIAL MEDIA PLATFORMS
Our Social media platforms are exclusively for Civil Engineering students, job candidates, teachers and all those who have passion for Civil Engineering.
You will get
Exam notifications

Study tips

Civil related discussion and all in this group.
JOIN OUR SOCIAL MEDIA PLATFORMS
#learnfromthebest