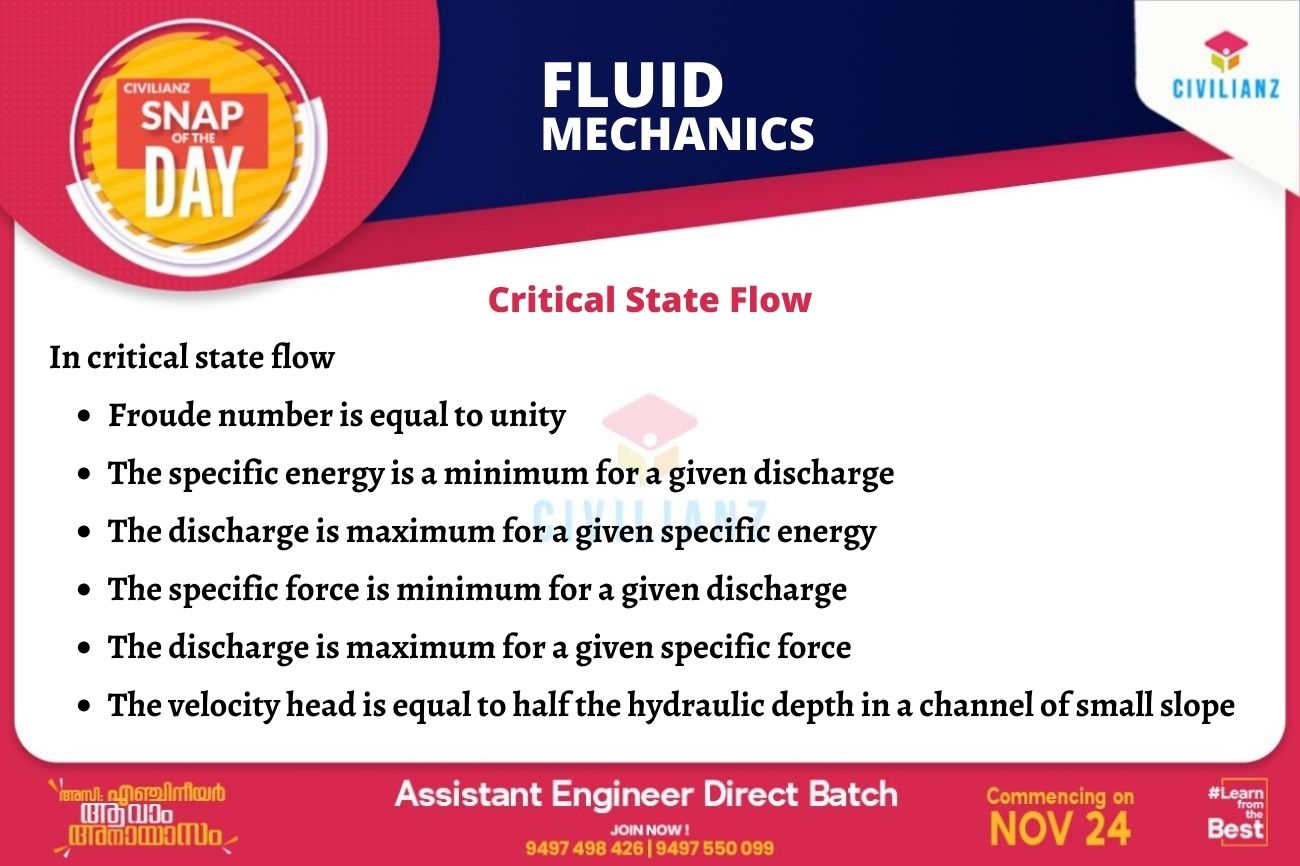 Critical State Flow
In critical state flow:
Froude number is equal to unity

The specific energy is a minimum for a given discharge

The discharge is maximum for a given specific energy

The specific force is minimum for a given discharge

The discharge is maximum for a given specific force

The velocity head is equal to half the hydraulic depth in a channel of small slope
CIVIL SNAPS – FLUID MECHANICS
---
🎓🎓 Get Set Go for PCB
Civilianz offers a special intensive coaching on Fundamentals of Chemical Engineering for cracking upcoming ✒️✒️ PCB Assistant Engineer Exam
📌📌 Features of the Course
👉🏼 Live/Recorded classes of Fundamentals of Chemical Engineering
👉🏼 Concepts are elaborated in most simple manner
👉🏼 It makes easy for a Non Chemical Student to study the hard nuts of Chemical Engineering with ease
👉🏼 Contents covered from the tentative syllabus prepared by Team of Civilianz
👉🏼 Crafted by the best faculty team of Chemical Engineering tutors in competitive exams
⏳ Duration : 6 Months
Features 👇🏼
❇️ Topic-wise Live/Recorded Classes
❇️ Assessment test for each lecture
❇️ Students can avail onboard support from our faculty mentors
❇️ Discussion panel support for doubt clearance
❇️ Free access to PCB AE Test series
We often say learn from the best. We mean it and we prove it, its upto you to choose wisely
Call us for details:
📲 9497498415
📲 9383450415
🎓 Are you ready to take a Skill Test??
Are you ready to check how much you already know? Why waiting? Take a skill test and assess your knowledge in technical subjects!
New skill tests everyday
Only on CivilApp 📌
Absolutely Free for all🎉
For more details visit CivilApp.
Download CivilApp👇🏼
Andriod
iOS
Web
#learnfromthebest
#beawinner