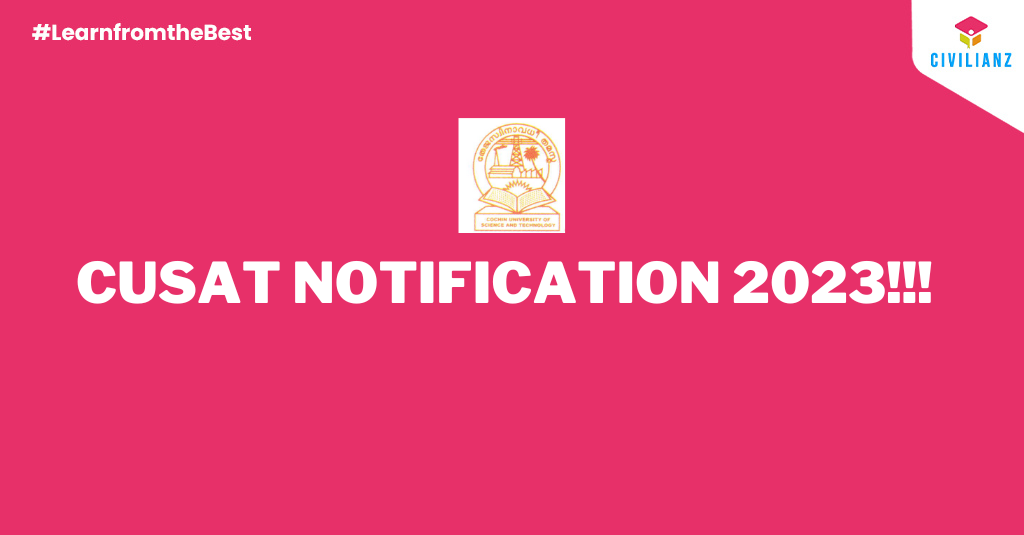 CUSAT BTECH PART TIME SPOT ADMISSION
Notice is hereby given that a spot admission to vacant seats in the following B.Tech (Part time) programs of School of Engineering (SOE), CUSAT is scheduled to be held on 21.11.2023 at 10.00am in the Seminar Hall of School of Engineering, Thrikkakara Campus. Those who have not applied for CAT can also attend the spot admission. However, CAT ranked candidates will be given priority. The vacancy details are as shown below.
| | | |
| --- | --- | --- |
| Sl.No. | Branch | Expected vacancy details (may vary) |
| 1 | Civil Engineering | GEN- 7, KSC-4, KST-1 |
| 2 | Mechanical Engineering | GEN – 25, KSC-4, KST-1 |

Interested candidates may appear in person with the following documents in original and two sets of self-attested copies and two passport size photographs in person. The time for registration oadmission will be from 10.00am to 10.30am. Candidates reporting after 10.30am will not be considered for admission under any circumstances.
(1) Secondary School Certificate / Mark List(Tenth)
(2) Senior Secondary School Certificate/ Mark List (12th)
(3) Diploma Certificate and Consolidated Mark List.
(4) Transfer Certificate
(5) Conduct Certificate
(6) Migration Certificate ( If the candidate has studied in an institution outside Kerala )
(7) Experience Certificates
(8) No Objection Certificate from the employer.
(9) Community Certihcale & Non-Creamy Layer Certificate (if Applicable)
Allotted candidates (after completing Certificate Verification) must remit an amount
of Rs.33890/- + Rs.4580/-(DDF+PTA+Alumni) as fees on the same day, failing which the
allotment shall stand cancelled.
For details regarding eligibility and qualification, please refer Prospectus2023 in soe.cusat.ac.in.
DOWNLOAD DETAILED ADVERTISEMENT
---
Civilianz stands as the top Civil Engineering Coaching Center in Kerala, specializing preparing students for various Civil Engineering Competitive exams. Our comprehensive coaching program covers a range of exams, including GATE – Civil, Assistant Engineer, Assistant Professor Civil, Lecturer in Polytechnic, Junior Engineer- Civil, Overseer, Tracer, and other similar civil engineering competitions. 
Civil Engineering മത്സരപരീക്ഷകൾക്കെല്ലാം ഇനി ഒരൊറ്റ solution 🔥
Basic level മുതൽ Advanced level വരെയുള്ള Civil Engineering subjects ക്ലാസ്സുകളും workout സെഷൻസും ഉൾപ്പെടുന്ന VAJRA BATCH by Civilianz ✨
Useful for all Civil Engineering Competitive exams ⭐📚
Course features
💎 Pre recorded classes taken by expert faculty team
💎 Assessment tests
💎 Mentor support
💎 Civil Engineering Handwritten notes (E-book)
💎 Discussion board for doubt clearance
Special features
📝 Video classes discussing higher level questions
📝 MCQ Book
📝 Notes of advanced level questions and answers (useful for GATE and ESE)  
ഇനി പരീക്ഷകളെ അനായാസം നേരിടാം, വിജയം സുനിശ്ചിതമാക്കാം 🥇
For more details, contact 👇🏻
📱8281003366  
---
CIVILIANZ SOCIAL MEDIA PLATFORMS
Our Social media platforms are exclusively for Civil Engineering students, job candidates, teachers and all those who have passion for Civil Engineering.
You will get
Exam notifications

Study tips

Civil related discussion and all in this group.
JOIN OUR SOCIAL MEDIA PLATFORMS
#learnfromthebest