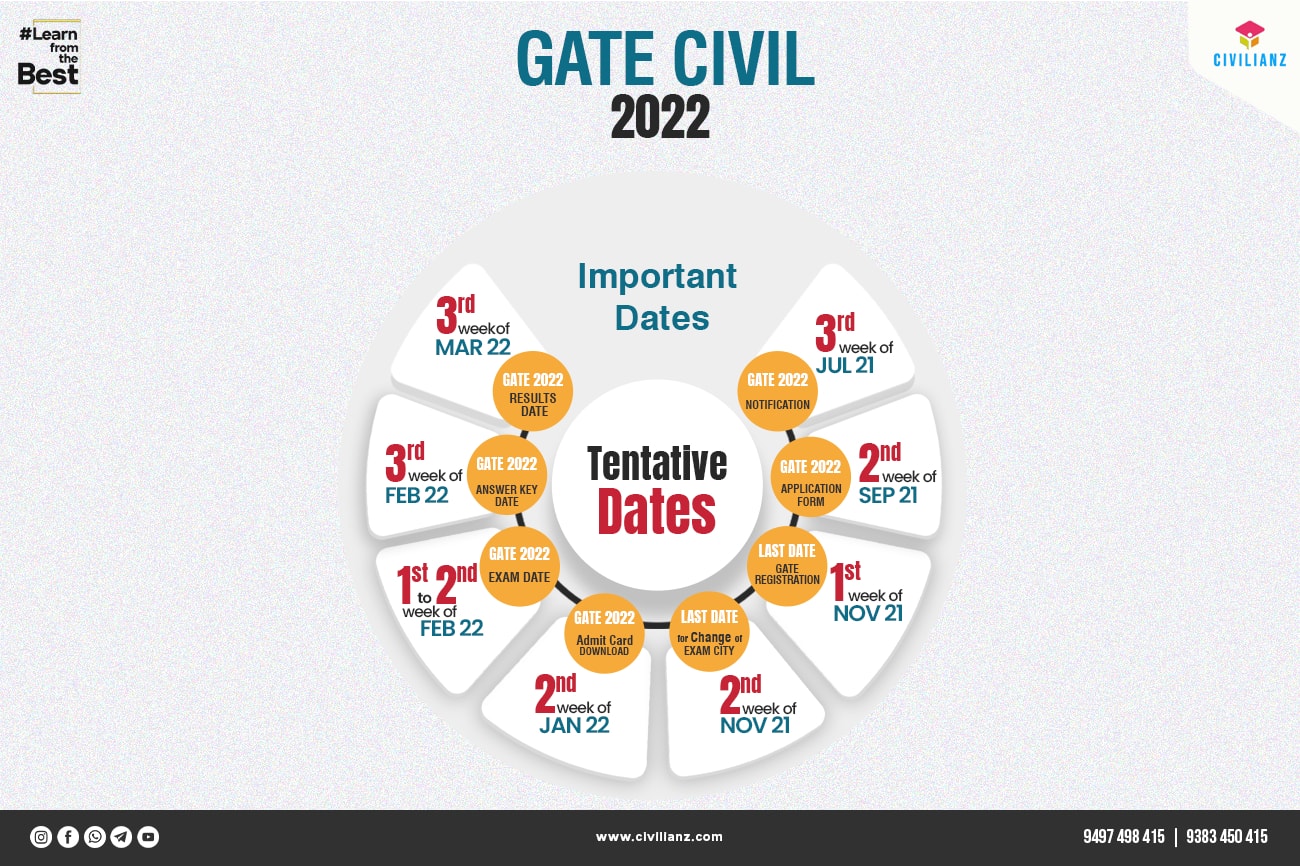 This article features things every aspirant should know before preparing for GATE Exams. Also this elucidates the exam pattern, question types, subject weightage for GATE Civil Engineering examination. Lets have a general look into GATE Exam 2022 | Things you should know.
Why do you decide to appear for GATE?
Majority of the students might not be that confident in answering this question, may be they are not aware, it has become quite systematic to do a post-graduation immediately after your under-graduation. Nowadays plenty has a Bachelor of Technology degree, so some might think of taking the next step to be distinct. Just for the sake of doing masters, you do masters, then that's where the problem lies.
GATE is an exam of quality, so to do well in that, the decision has to be a quality solid one as well. Lets say in Civil Engineering, some of you want to pursue a career as a structural engineering or designer, to do that, post-graduation is mandatory, thus you need GATE. Some people might want to become a professor, then doing a post-graduation is the penultimate step in that career path. Some even target Public Sector Undertaking jobs were the recruitment is through GATE. Only if you have these three notions, your decision to appear in GATE will be justified. Do keeping aside the fact that certain jobs demand a GATE qualified Candidate.
Once you finalize your requirement and decide to appear for GATE, there should not be a turning back. A solid decision is the backbone of cracking any competitive exams with flying colors.
What are the things to look out for?
First and the foremost thing to look for is among the 7 IIT's and IISC Bangalore, which institute host GATE in the year you appear.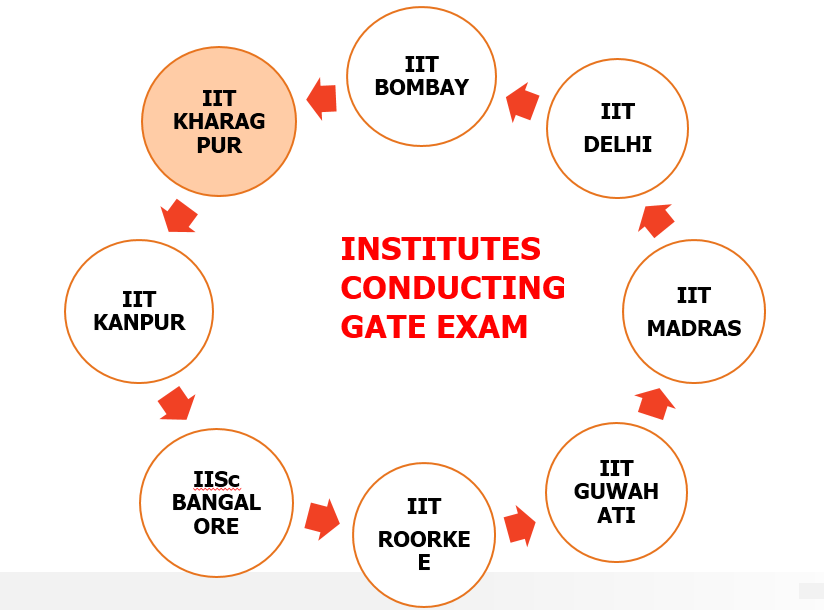 So, this time, in 2022 IIT Kharagpur is the one to conduct GATE. The application form for the exam will be available from September 2021 and that will be notified to the candidate by July 2022 which talks about the exam date, registration fee, exam pattern, syllabus and eligibility criteria.
GATE 2022 IMPORTANT DATES
| | |
| --- | --- |
| Events | GATE Important Dates |
| GATE 2022 Notification Date | 3rd week of July 2021 |
| GATE 2022 Application form | 2nd week of September 2021 |
| Last Date of GATE 2022 Registration | 1st week of November 2021 |
| Last Date for change of exam city | 2nd week of November 2021 |
| GATE 2022 Admit card Download Date | 2nd week of January 2022 |
| GATE 2022 Exam date | 1st to 2nd week of February 2022 |
| GATE 2022 Answer key | 3rd week of February 2022 |
| GATE 2022 Result Date | 3rd week of March 2022 |
So now let's talk in detail about each nuke and corners of these things.
EXAM DATES
For civil Engineering, GATE exam comes mostly in the first week of February. Rarely it goes to the second week or sometimes last week of January. The exam happens two-time schedules. Certain candidate will have their exam on one day and the next group will have it on the next day. Or sometimes it will be like, one in the forenoon session and the other in afternoon session on the same day. But no worries, questions will be totally distinct for both schedules and will be having same difficulty level.
REGISTRATION FEE:
The Registration fee has been static for quite some time and will be like this for the coming exam as well.
| | |
| --- | --- |
| Category | Fee |
| SC/ST/PWD/Women | Rs 750/- |
| Male category (General/OBC) | Rs 1500/- |
EXAM PATTERN
| | | |
| --- | --- | --- |
| Section | No of questions | Marks |
| General Aptitude | 10 | 15 |
| Mathematics and Civil Engineering | 55 | 13+72 |
| Total | 65 | 100 |
Time Duration: 3 hours
There will be both 2-mark question as well as 1 mark questions.
GATE initially had only Multiple-Choice Question (MCQ) with four options and one among the four will be correct. Wrong answer will end up losing 1/3rd of total mark available for the question. Later NAT (numerical Answer Type) questions and recently MSQ (Multiple Select Question) has been added. Its difficult to predict exactly the weightage of these questions. However highest percentage of questions will be MCQ followed by NAT and MSQ.  Note the fact that MCQ will contribute at-least 50% of the Questions.
Let me now explain about all these types of Questions
Multiple Choice Questions (MCQ):
From this, all can say option B will be the right answer. If the question is for 1 mark, marking option B will earn you one mark and marking any other option apart from B will end up in losing 1/3rd mark. So, if the question is for 1 mark, then wrong answer will result in losing 0.33 marks and if the question is for 2 mark, then wrong answer will result in loosing 0.66 mark. Its simple right?
Now let me move into the other 2 types, the complicated ones
Numerical Answer Type (NAT):
The above shown is a NAT questions. These types of questions will not have any option. There will be a box provided to type the answer (which will be always a numerical answer, but it is to be noted that all the numerical question will not be of this type, majority of them will be MCQ's). so, from the above question the answer will be 69.28m/s and in the question, it is mentioned that accuracy of two decimal places is required. So, you have to enter the value 69.28m/s correctly to get the full mark. (units not to be entered, required unit will be specified in the question).
Multiple Select Question: (MSQ)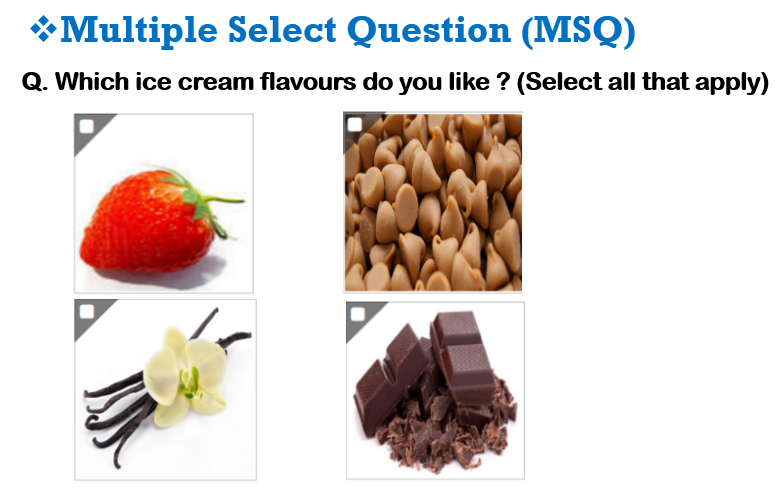 The above is an MSQ, lets assume that you like all the flavors. So the correct answer will be marking all the four options. Only if you have done that you will get the fully mark for the question, if you mark either one or two or three options alone, you will get no marks for this question. But don't worry, there is no negative marking for this type of questions.
ELIGIBILITY CRITERIA
Minimum Eligibility criteria to appear for GATE is, the candidate has to be doing 3rd year in their Engineering Studies.
There is no minimum pass percentage to appear for GATE nor an age limit.
Speaking in terms of nationality, candidates from Nepal, Bangladesh, Singapore, Sri Lanka, Ethiopia and United Arab Emirates are eligible for GATE.
GENERAL INSTRUCTIONS
Qualifying GATE and pursing M.Tech will ensure you a scholarship of Rs: 12,400 per month during the complete 2-year duration of the course.
GATE score will remain valid for 3 years for joining Post-graduation.
For government jobs, GATE score is valid only for the current year (ex: PSU, Central Government etc.)
With a valid GATE score, getting Admissions for PhD in recognized universities will possible
GATE score is considered by several foreign universities as well.
DOCUMENTS REQUIRED FOR GATE EXAM APPLICATION
Your personal details like name, date of birth, mobile number, parents name and mobile number
Residential Address for Communication with an area PIN code.
Degree Certificate scanned with a size under 10-300 kb in pdf format (upload only one page of anyone document)
For Civil Engineering Degree course completion certificate/provisional certificate/8th Semester mark sheet/7th-semester mark sheet/6th-semester mark sheet/Pre or final year mark sheet in case of integrated degree/AMIE and Completed one section/Provisional Certificate Letter.
College address with a PIN code
Choice of GATE examination cities
Thumb impression of size 2-150 kb in jpeg/jpg (Scanned image)
Recent photograph of size 5-200 kb in jpeg/jpg
Signature of size 5-150 kb in jpeg/jpg
Scanned copy of Category/PwD Certificate (if applicable) in size 10-300 kb in pdf
ID Proof: Passport/PAN Card/Voter ID/Aadhaar UID/Driving License/College ID/Employee ID card
Bank details for application fees
Even after reading this article GATE Exam 2022 | Things you should know, Confused about your preparation plan for your exams, Lets check this blog for an answer
HOW TO CRACK GATE CIVIL ENGINEERING EXAMINATION??
Crack the most coveted entrance exam & gateway to the IITs GATE 2022 with CIVILIANZ!!👍🏻
COURSE DETAILS
PURCHASE NOW 👇
GATE 2022 LIVE/RECORDED
GATE 2022 PRE RECORDED