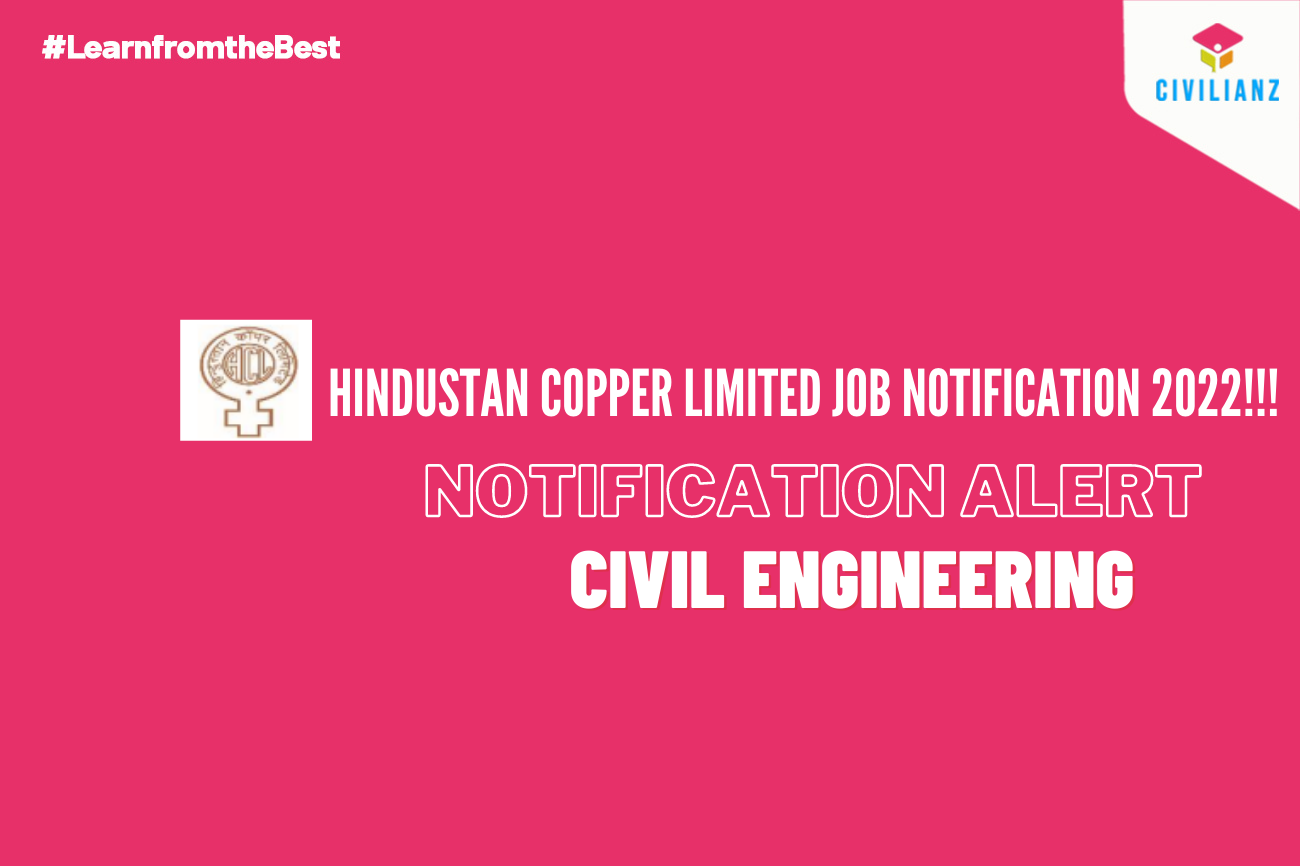 HINDUSTAN COPPER LIMITED JOB NOTIFICATION 2022!!!
Name of the Department

Hindustan Copper Limited

Name of the Post

Apprenticeship Trade

Vaccancy

03

Stipend

Rs.9000/- per month

Eligibility

candidates having passed the Graduation in Engineering




in the year 2021, 2020 and 2019 are only eligible to apply.

Educational Qualification

Graduation in Civil Engineering

Start Date to Apply

23/04/2022

End Date to Apply

13/05/2022

Official 


www.hindustancopper.com
HOW TO APPLY
a) Eligible candidates are required to register themselves on the NationalApprenticeship Training Scheme (NATS) web portal . Further, they have to apply in the online portal of HCL 
b) No other mode of application would be accepted.
c) Candidate may select a place [i.e., Unit (either KCC or ICC or MCP)] for document verification of his choice.
d) Caste / Category as mentioned at the time of registration on the NATS web portal and HCL web portal shall remain unaltered during the entire Apprenticeship period. Category as provided at the time of registration in respect of the General /SC /ST/ OBC candidates cannot be changed there after and no benefit of other category reservation will subsequently be made admissible at any stage of the selection process.

e) The eligible candidates are required to mention the Percentage (by converting CGPA in to percentage as per the norm of the University / Institute and documentary evidence in this regard shall be provided during the document verification).
f) All correspondence with candidates shall be done through E-mail / HCL website only. All information regarding Verification of documents, Call letters, etc. shall be provided through E-mail /HCL website only. No hardcopy mailing shall be done by the HCL. Responsibility of receiving, downloading and printing of any correspondence shall be that of the candidate. The HCL will not be responsible for any loss of e-mail sent due to invalid / wrong E-mail ID provided by the candidate or delivery of e-mails to SPAM / BULK mail folder etc. 
VACANCY
| | |
| --- | --- |
| Name of the Post | Vacancy |
| Apprenticeship Trade | 03 |
U
SELECTION PROCEDURE

a) Candidates willing to apply for Graduate Apprentice trainee in HCL will be required to submit the online application in the HCL website mentioning their enrolment details of National Apprentice Training Scheme (NATS) web portal

b) The selection shall be made based on the marks obtained in the qualifying examination from each category as per seat details mentioned above.

c) The shortlisted candidates, as per merit based on the marks obtained in the qualifying examination, shall be called for document verification at respective Units of HCL as selected by the applicant. The candidates would be required to furnish documents regarding proof of Date of Birth, Qualification, Category etc. The date, time and venue for document verification would be intimated to the shortlisted candidates accordingly, in their email id registered in HCL's website OR through by  uploading details on Company's website .






d) The candidates belonging to SC/ST/OBC shall produce their caste certificate in the prescribed format issued by the Competent Authority applicable for jobs under Government of India, during document verification.

e) PWD candidates are eligible only for the designated trades as per apprenticeship rules and has to submit the PWD certificate.

f) Candidates have to produce their valid ID Card, i.e., AADAAR / PAN / Voters ID /Driving License / Certificate Issued by Educational Institute, during document verification.
 
g) Final selection of the candidates in each seat will be made after verification of documents.

h) Shortlisted candidates merely attending the documents verification process does not entail selection of his/her candidature as Apprentice with HCL.i) Shortlisted candidate has to attend the document verification on the date & time at the venue, intimated by the Company. Failure by the candidate to attend the document verification process on the date & time at the venue, would be treated as his/her unwillingness to accept the selection procedure for the Graduate Apprentice with HCL and those candidates will not be considered in further Selection Procedure.

j) No application for altering the date & time and venue for document verification would be accepted.

k) Every candidate should have a valid email id & mobile no. and the same has to be registered with HCL  and NATS. The email id & mobile no. must remain active until the end of the training programme in respect of the selected candidates.

l) The selected candidates have to submit medical fitness certificate from a Gazetted Medical Officer before signing the contract.



DISTRIBUTION OF SEATS
Name of the Post

Unit

Apprenticeship




Trade

   ICC                 MCP




   UR-1           UR-1;OBC-1

GENERAL INSTRUCTIONS

1. Before applying in HCL website, the candidate should ensure that he/she fulfils the eligibility criteria and other norms mentioned in the advertisement and has enrolled in NATS.
2. Date of Birth will be taken as that mentioned in the birth certificate / Certificate of Class X or equivalent examination. No other proof of date of birth shall be accepted.
3. Having successful submission of registration on the National Apprenticeship Training Scheme (NATS) web portal and on HCL website does not entitle one to be eligible to appear for documents verification process or any subsequent  step(s). Verification of credentials shall be done prior to final selection and in case any deviation from or non-conformity with the desired eligibility criteria, the candidature of the candidate shall be summarily rejected.
4. Candidature of candidates is liable to be rejected at any stage of the selection process or even after execution of the Contract of Apprenticeship, if any information provided by the candidate during the registration on the National Apprenticeship Training Scheme (NATS) and in HCL online platform is found to be false or is found not to be in conformity with the eligibility criteria so mentioned in the advertisement. 
6. Candidates who had undergone or is undergoing Apprenticeship or is presently in employment after attainment of qualification shall NOT be eligible for being engaged as Graduate Apprentice.
7. Any canvassing or personal follow up with an intention of inducing the process of selection of apprentice by and on behalf of any candidate shall lead to immediate cancellation of candidature.
8. HCL reserves the right to change the number of seats and / or cancel / restrict / modify / alter the engagement process of Apprentices, if required, without issuing any further notice or assigning any reason.
9. HCL does not give any commitment/assurance on providing permanent /temporary employment to Apprentices on successful completion of Apprenticeship period.
10. To know more about registration process and on-line application submission process go through the document, i.e., 'How to Apply', uploaded on HCL website (career page).
11. In case of any doubt or discrepancy or conflict or confusion or ambiguity that may arise in Hindi version the content of English version shall prevail.
12. For any technical queries regarding Registration, Log-in, Password, submission of on-line application, contact to our technical team by writing an e-mail to hclrecruitmenttech@gmail.com.
13. In case of any dispute, the legal jurisdiction shall be that of the Hon'ble High Court, Calcutta
APPLY ONLINE
DOWNLOAD THE NOTIFICATION
CIVILIANZ SOCIAL MEDIA PLATFORMS
Our Social media platforms are excusively for Civil Engineering students, job candidates, teachers and all those who have passion for Civil Engineering.
You will get
Civil engineering quizz and rewards

Regular job notifications

Exam notifications

PDF notes

Study tips

Civil related discussion and all in this group.
JOIN OUR SOCIAL MEDIA PLATFORMS
#learnfromthebest