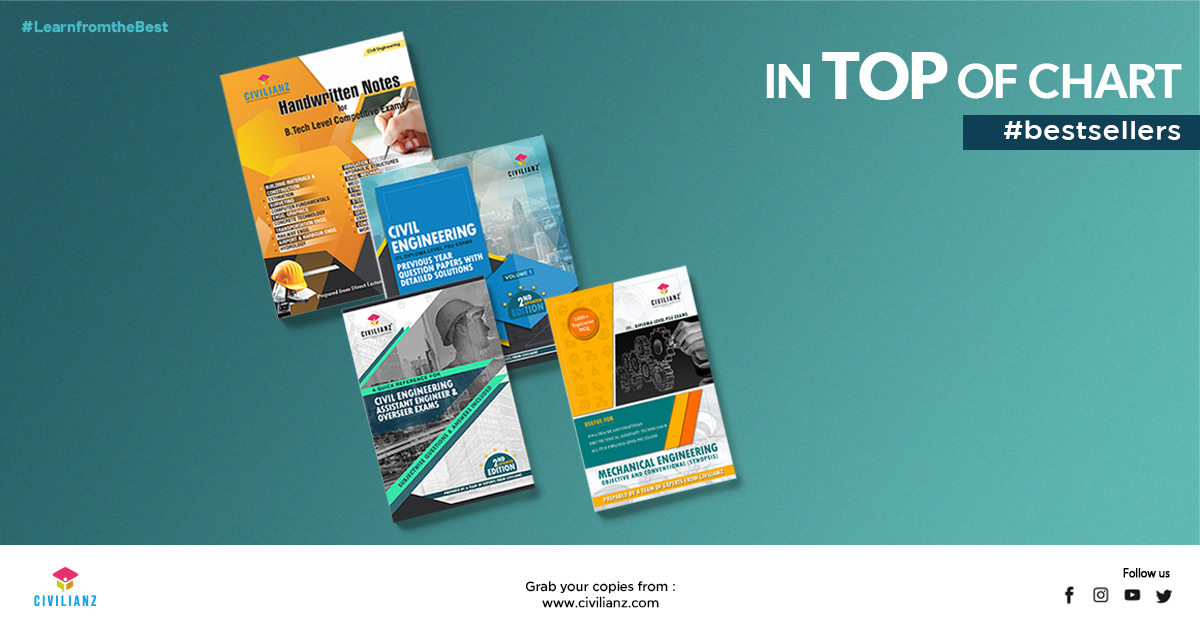 🎓 In top of chart Grab your copies of our #bestseller books In top of chart for civil engineering competitive exams and #BeAWinner! This set of essentials for your competitive exams is now available at
1️⃣Previous year Question papers with detailed solutions (ITI/Diploma Level)
This book features:
👉🏻 25 previous year question papers with its detailed solutions
👉🏻 Detailed syllabus of various Overseer level exams
👉🏻 Comprehensive solutions
Now at Rs. 749/- Rs.699/- only
2️⃣Handwritten Notes for Assistant Engineer/Overseer level Exams
This covers 20 subjects comprehensively in Assistant Engineer Level. All notes are prepared in Assistant Engineer level and is also useful for various civil engineering competitive exams like Junior Engineer, ISRO Scientist- Civil etc.
Now at Rs. 1499/- Rs.1200/- only
3️⃣A Quick Reference for Civil Engg Assistant Engineer & Overseer Exams
The Civilianz Quick Reference Guide is the most comprehensive resource material that will help Civil engineers prepare for the Assistant Engineer exam and successfully secure a dream job.
Now at Rs. 399/- Rs.350/- only
4️⃣Mechanical Engg – Objective and Conventional ( Synopsis)
Curated by the best faculty team in Kerala, our latest launch features
▶️1000+ topic wise MCQs
▶️Clearly explained theory portions with illustrations
▶️Key points presented in the most simple way
Now at Rs.390/- Rs. 290/- only
Why waiting? Learn from the best!
#be_a_winner