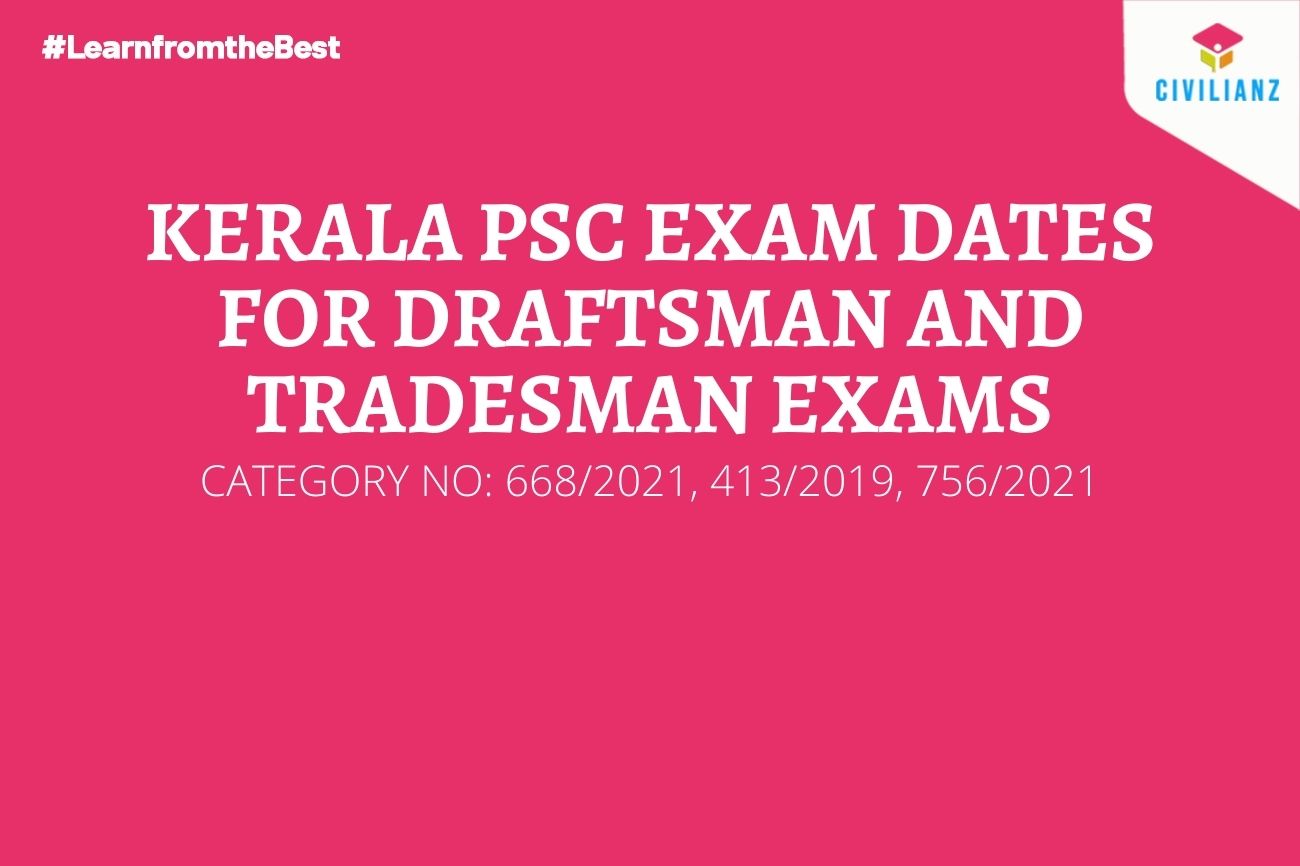 KERALA PSC EXAM DATES FOR DRAFTSMAN AND TRADESMAN EXAMS on 03.04.2022
| | | | |
| --- | --- | --- | --- |
| SL. NO: | DATE | POST | CATEGORY NUMBER |
| 1 | 03.04.2022 | Draftsman Grade II / Town planning surveyor Grade II (Town and Country Planning) | 668/2021 |
| 2 | 03.04.2022 | Draftsman – Civil (Kerala Agro Machinery Corporation Ltd) | 413/2019 |
| 3 | 03.04.2022 | Tradesman – Civil (Technical Education) | 756/2021 |
Candidates who successfully submitted their confirmation on or before 22.02.2022 can download the Admission Tickets through their One Time Registration Profile which was available from 19.03.2022
KERALA PSC EXAM DATES FOR DRAFTSMAN AND TRADESMAN EXAMS
Special Information
While submitting confirmation for the confirmation required posts of this examination program, candidates can select the District of their Communication Address as choice of their examination centre. For the same, changes can be made in Communication Address if necessary and
special attention to be taken to submit confirmation only after making necessary changes in their Communication Address in the Profile.

For detailed exam calendar,
DOWNLOAD
For detailed syllabus,
SYLLABUS
ഓവർസിയർ പരീക്ഷയ്ക്കായി അവസാനവട്ട തയ്യാറെടുപ്പ്!
ഇനിയുള്ള ചുരുങ്ങിയ ദിവസങ്ങൾ പരീക്ഷയെഴുതി പരിശീലിക്കാം!
✅കൃത്യമായ Time Management
✅Rank Making Questions
✅പരീക്ഷ അറ്റൻഡ് ചെയ്യുന്ന മറ്റുള്ള ഉദ്യോഗാര്ഥികളുമായി റാങ്ക് താരതമ്യം
✅Detailed Performance Analytics
✅ഓരോ ചോദ്യത്തിന്റെയും Detailed Solution
ഇവയെല്ലാം ഉൾപ്പെടുത്തി തയ്യാറാക്കിയിരിക്കുന്ന 15 പരീക്ഷകളടങ്ങുന്ന ടെസ്റ്റ് സീരീസ് കേവലം 499 രൂപയ്ക്ക്!
ENQUIRE NOW
For more details and admissions,
📲9383450415
📲9497498415