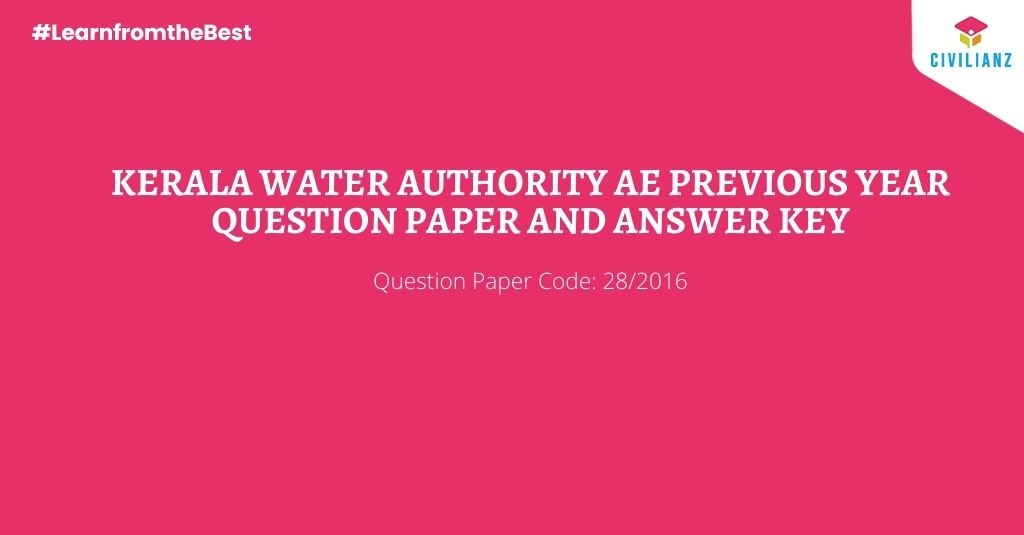 KERALA WATER AUTHORITY – KWA AE PREVIOUS YEAR QUESTION PAPER & ANSWER KEY
Question Paper Code: 028/2016
CODE: A
PREVIOUS YEAR QUESTION PAPER AND ANSWER KEY FOR KERALA WATER AUTHORITY ASSISTANT ENGINEER EXAM PDF,  
DOWNLOAD QUESTION PAPER WITH ANSWER KEY
Assistant Engineer Exam Pattern
The Exam Pattern for the Assistant Engineer in Kerala PSC is:
The medium of Question: English

Number of Questions: 100

Maximum Marks: 100

Exam Duration: 01 hours 15 minutes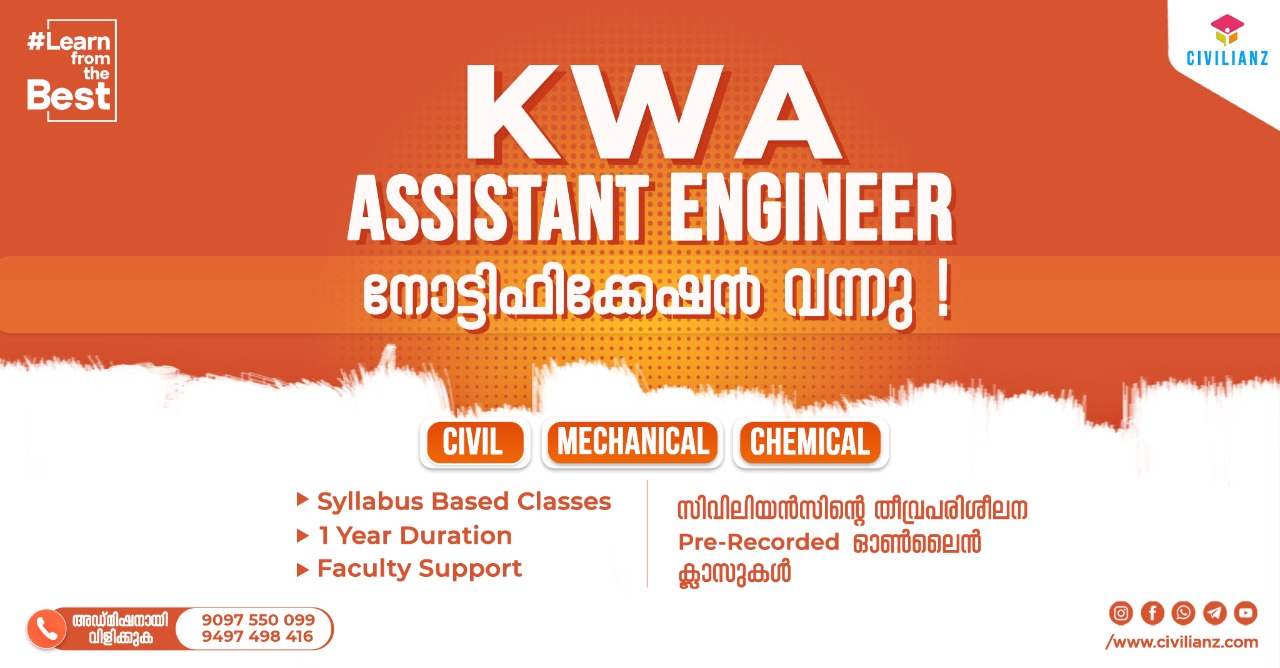 Assistant Engineer Kerala Water Authority പരിക്ഷയുടെ Notification വന്നിരിക്കുന്നു!😃
64 വേക്കൻസികൾ നിലവിൽ Notify ചെയ്തിട്ടുള്ള ഈ പരീക്ഷയിൽ
❇️ Civil Engineering
❇️ Mechanical Engineering
❇️ Chemical Engineering
സബ്ജക്ടുകളിൽ നിന്നുമുള്ള ചോദ്യങ്ങളാണുണ്ടാവുക.
നിങ്ങളുടെ തയ്യാറെടുപ്പ് തുടങ്ങാൻ ഇതാണ് ശരിയായ സമയം!
KWA AE ക്കായി സിവിലിയൻസിന്റെ ഏറ്റവും മികച്ച Online Intensive Pre Recorded ക്ലാസുകൾ ഇപ്പോൾ നിങ്ങളുടെ വിരൽത്തുമ്പിൽ!
▶️ Covering full syllabus of Civil, Chemical & Mechanical
▶️ 1 year course Duration
Fee:15000+Tax
For exciting offers🥳, reach us on
9497498415
9383450415
KERALA WATER AUTHORITY – KWA AE PREVIOUS YEAR QUESTION PAPER & ANSWER KEY
---
CIVILIANZ SOCIAL MEDIA PLATFORMS
Our Social media platforms are excusively for Civil Engineering students, job candidates, teachers and all those who have passion for Civil Engineering.
You will get
Civil engineering quizz and rewards

Regular job notifications

Exam notifications

PDF notes

Study tips

Civil related discussion and all in this group.
JOIN OUR SOCIAL MEDIA PLATFORMS
#learnfromthebest