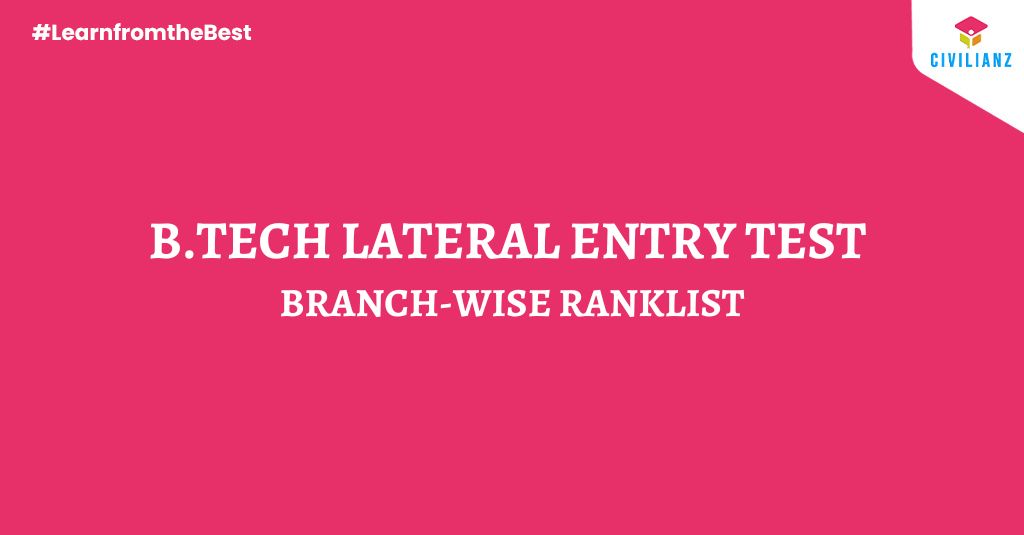 LATERAL ENTRY TEST BRANCH-WISE RANK LIST OUT 2022
DTE Kerala has announced the branch-wise rank list of the Lateral Entry Test 2022. Any three-year Diploma in Engineering / Technology awarded by a Board of Technical Education recognized by the Department of Technical Education, Government of Kerala, with not less than 60% marks can apply for the Lateral Entry Test
For Branch wise Rank list,
---
LATERAL ENTRY COURSE @ CIVILIANZ
This bundle is focused on diploma holders who want to acquire a Degree in Engineering through meritorious results🤩 in the examination. We assure you with a forum🙌with the Best quality content👌that enhances your next phase of preparation🤝.
The features of the Course include:
✳️ Basic Civil and Mechanical Eng
✳️ Mathematics
✳️ Basic Electrical and Electronics
✳️Engineering Mechanics
✳️ Computer Science Engg

The bundle is also full-fledged with
👉🏼Recorded video Classes syllabus
👉🏼 Daily Assessment tests
👉🏼 PYQ discussion
👉🏼Discussion Forum
👉🏼 Faculty support
👉🏼 PYQ Discussions
Course Duration: – 1 Year
Course Fee : 4500/- + Gst  
For details:
📲 9383450415
📲 9097550099  
---
CIVILIANZ SOCIAL MEDIA PLATFORMS
Our Social media platforms are exclusively for Civil Engineering students, job candidates, teachers, and all those who have a passion for Civil Engineering. You will get
Civil engineering quiz and rewards

Regular job notifications

Exam notifications

PDF notes

Study tips

Civil-related discussion and all in this group.
JOIN OUR SOCIAL MEDIA PLATFORMS
  #learnfromthebest