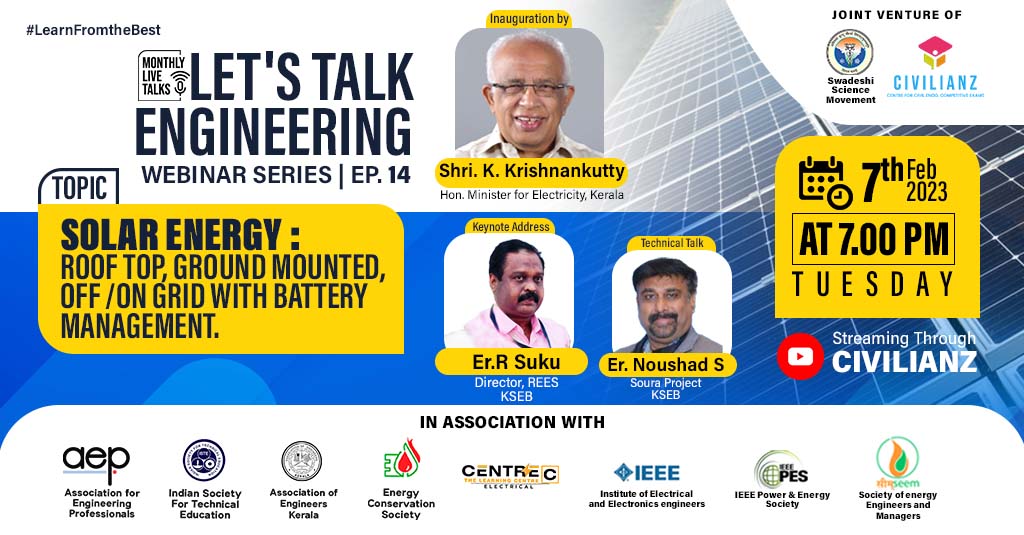 LET'S TALK ENGINEERING
After the successful Journey of Our Engineering Episodes , here we are delighted to present our Fourteenth episode of Lets Talk Engineering – A joint venture by Civilianz & Swadeshi Science Movement in association with Association for Engineering Professionals, Indian Society for Technical Education, Association of Engineers Kerala, Energy Conservation Society, Centre C Electrical, Institute of Electrical and Electronics Engineers, IEEE Power and Energy Society and Society of Energy Engineers and Managers. The Talk will be conducted on 7th February, 2023 at 7.00 PM Through official YouTube channel of CIVILIANZ.

Inauguration 
Shri. K. Krishnankutty



(Hon. Minister for Electricity, Kerala)
He is a person who has excelled with his policies in the ministry of Electricity
Key Note Address by
Er R Suku
Director (REES, KSEB)
Technical Talk

Er Noushad S
(Soura Project, KSEB)
Topic




SOLAR ENERGY : ROOF TOP, GROUND MOUNTED, OFF/ON GRID WITH BATTERY MANAGEMENT.




This webinar session will focus on the potential and possibilities of solar energy
---
Hey dear Aspirants ! ⭐
It's time to start your preparation journey towards achieving your dream of getting a job in prestigious Government Sector 
CIVILIANZ, the leading coaching centre for Civil Engineering Competitive Exams, is going to start the new Direct Batch for Assistant Engineer/Polytechnic Lecturer in February at Trivandrum 📚
Course Features 
📝 Direct classes taken by expert faculty team
📝 Daily Assessment Tests
📝 Regular Model Tests
📝 Workout Sessions
📝 Mentor Support
📝 Live Interactive Quiz Sessions
📝 Talk with Topper Sessions
📝 Active Study Circle
📝 Pre recorded classes of Mechanical Engineering and Part A of Polytechnic Lecturer syllabus
📝 Best Study Material – Civil Engineering MCQ Book by CIVILIANZ
📝 Beneficial for AE(PWD/Irrigation), AE(Harbour Engineering), SSC JE, RRB JE, Polytechnic Lecturer and Assistant Professor exams
For more details, contact 👇🏻
📱9383450415
📱9497498415
📱9097550099
📱9497498417