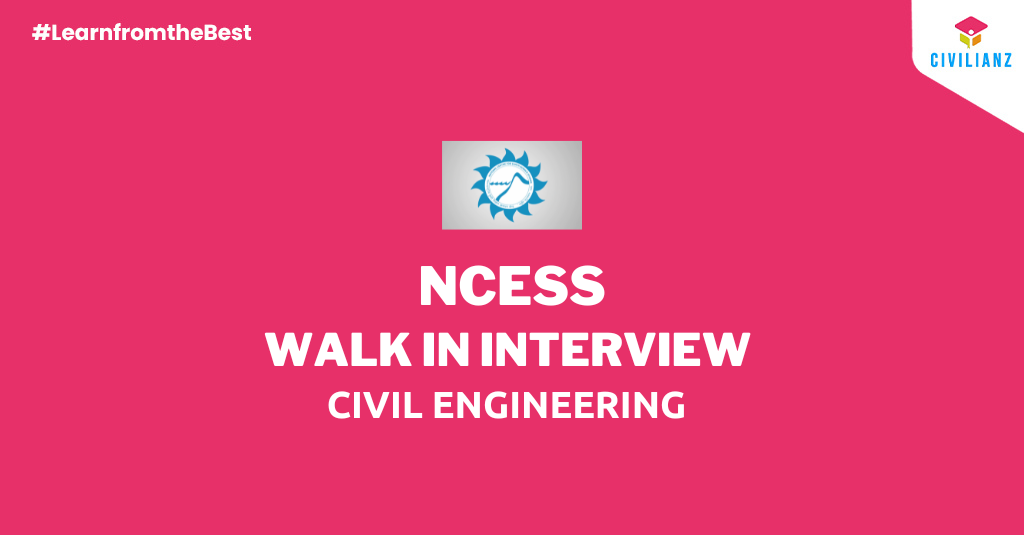 | | |
| --- | --- |
| Name of the organization | NCESS |
| Name of the Post | Consultant Engineer (Civil) |
| Date and Time of Interview | 20.11.2023, 10 AM |
| Venue | Neyyar Hall, NCESS |
| Official website  | https://www.ncess.gov.in/ |
The National Centre for Earth Science Studies(NCESS) (Malayalam: is an autonomous research centre to promote scientific and technological research and development studies in the earth sciences. NCESS pursues problems related to land, sea and atmosphere. It was instituted by the government of Kerala in 1978, at Thiruvananthapuram, Kerala. CESS was the earliest institute in the country to embrace the concept of Earth System Science (ESS). CESS contributions over the years have enhanced knowledge of the geological evolution of south India, the complexity of coastal processes and natural hazards, as well as in proposing mitigatory measures to deal with natural hazards.
CESS carries out studies in river basin evaluation, ground water management, coastal erosion, and other special problems. CESS does research in earth system, micro-level watershed planning, natural hazards management, chemical analysis, CRZ mapping, and studies of air, water, land, noise pollution, etc
NAME OF THE POST
| | |
| --- | --- |
| Name of the post | Consultant Engineer ( Civil ) |

EDUCATIONAL QUALIFICATION
Name of the post
Educational Qualification

Consultant Engineer ( Civil )

.

1. B. Tech in Civil Engineering




2. Applicant must be a retired personnel




not below the rank of Executive




Engineer from CPWD, State PWD,




Central Public Sector undertakings with




a minimum of 10 years' experience in




planning and execution of the respective




field.

AGE LIMIT
| | |
| --- | --- |
| Name of the post | Age Limit |
| Consultant Engineer ( Civil ) | 63 years as on 20.11.2023 |
" t
PAYSCALE
SELECTION PROCESS
Interested candidates may appear for the walk-in interview with ID proof, self-attested copies of certificates and mark lists showing educational qualifications, experience, age etc. and original certificates and mark lists for verification. The decision of the Director, NCESS in all matters relating to eligibility, acceptance or rejection of applications shall be final and no enquiry or correspondence will be entertained in this connection from any individual
IMPORTANT DATES
| | |
| --- | --- |
| Date and Time of Interview | 20.11.2023, 10 AM |
DOWNLOAD DETAILED ADVERTISEMENT
---
Civilianz stands as the top GATE coaching center in Kerala, specializing in preparing students for various Civil Engineering Competitive exams. Our comprehensive coaching program covers a range of exams, including GATE – Civil, Assistant Engineer, Assistant Professor Civil, Lecturer in Polytechnic, Junior Engineer- Civil, Overseer, Tracer, and other similar civil engineering competitions. 
Civil Engineering മത്സരപരീക്ഷകൾക്കെല്ലാം ഇനി ഒരൊറ്റ solution 🔥
Basic level മുതൽ Advanced level വരെയുള്ള Civil Engineering subjects ക്ലാസ്സുകളും workout സെഷൻസും ഉൾപ്പെടുന്ന VAJRA BATCH by Civilianz ✨
Useful for all Civil Engineering Competitive exams ⭐📚
Course features
💎 Pre recorded classes taken by expert faculty team
💎 Assessment tests
💎 Mentor support
💎 Civil Engineering Handwritten notes (E-book)
💎 Discussion board for doubt clearance
Special features
📝 Video classes discussing higher level questions
📝 MCQ Book
📝 Notes of advanced level questions and answers (useful for GATE and ESE)  
ഇനി പരീക്ഷകളെ അനായാസം നേരിടാം, വിജയം സുനിശ്ചിതമാക്കാം 🥇
For more details, contact 👇🏻
📱8281003366  
---
CIVILIANZ SOCIAL MEDIA PLATFORMS Our Social media platforms are exclusively for Civil Engineering students, job candidates, teachers and all those who have passion for Civil Engineering.
You will get
Exam notifications

Study tips

Civil related discussion and all in this group.
JOIN OUR SOCIAL MEDIA PLATFORMS
#learnfromthebest