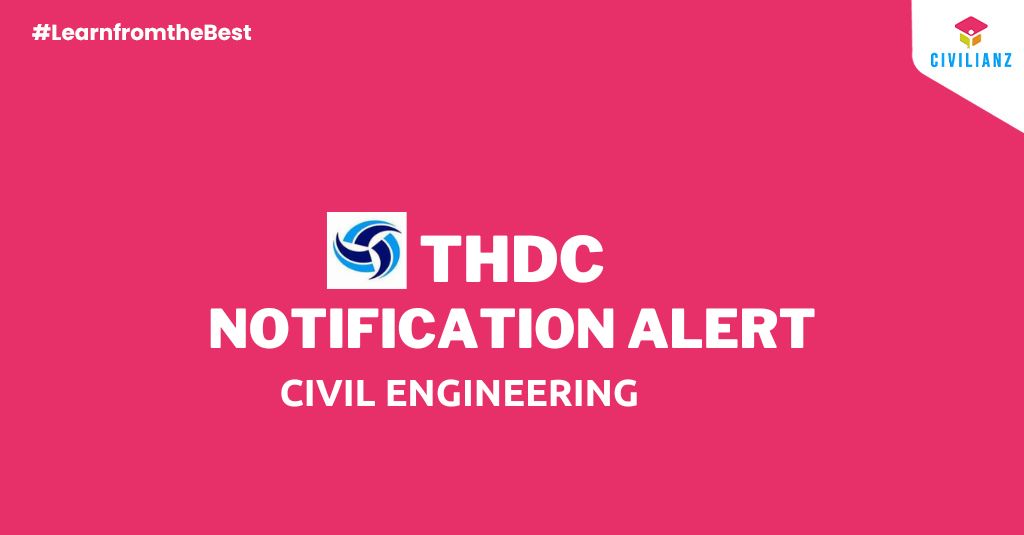 Name of the Department

THDC India Limited

Name of the Post

Engineer Trainee- CIVIL

Vacancy

21 Nos.

Upper Age Limit

33 years.- 35 yeras

Educational Qualification

Full Time B.E/B.Tech/B.Sc




(Engg.)/in relevant Discipline




from recognized University or




institute recognized by




appropriate statutory authority in




India with not than 65% marks.

Pay Scale

Rs. 50,000 –1,60,000

Start Date to Apply

17th May 2023

End Date to Apply

6th June 2023

Official Website

www.thdc.com
SELECTION PROCESS
1.The eligible candidates must have appeared for the Graduate Aptitude Test in Engineering (GATE)-2022. Candidates shall be shortlisted based on 2022 GATE score from among the candidates who apply against the advertisement for the post of Engineer Trainee (Civil/Electrical/Mechanical) in THDCIL. Details of GATE 2022 paper is as below: 

2. The normalized score of GATE 2022 will form the basis of shortlisting.




3. In case the GATE Score 2022 of two candidates are same then marks obtained in Essential qualification examination (Engineering Degree) will form the basis, in case marks obtained in Essential qualification examination (Engineering Degree) is also same then marks obtained in class XII will be taken into consideration, in case the marks of class XII is also same then marks obtained in class X will be taken into consideration. In case the marks obtained in class X is also same then Date of Birth will be taken into consideration for preparing the merit between such two candidates and person born earlier will be considered.

4. The selection process consists of marks obtained in the corresponding paper of GATE 2022 and Personal Interview.


| | |
| --- | --- |
|  Name of the Post  |   Engineer Trainee- CIVIL |
| Registration fee |  Rs.600/- |
HOW TO APPLY
1. Valid and active Email ID and Mobile No.(E-mail ID and mobile number to be entered in online registration form is mandatory. In case a candidate does not have a valid e-mail ID, he/she should create his/her new e-mail ID before applying online. Candidates are advised to keep the e-mail ID and mobile number entered in the online registration form active for at least one year. No change in the e-mail ID or mobile numberVwill be allowed once entered. All future correspondence shall be made via e-mail and/ or SMS
only.)

2. Scanned copy of recent passport size color photograph of the candidate with white background (Photograph scanned and uploaded in THDCIL online registration form should be same as submitted/uploaded in GATE-2022 application form and GATE-2022 admit card)

3. Scanned signature of the candidate. (Size-20 KB & Format-JPG/PNG/PDF).  (Signature (in Black ink) against white background is to be scanned and uploaded in the space earmarked in the online registration form. Candidate is advised to confirm his/her uploaded signature is clearly visible/ identifiable at the appropriate place.)

4. Scanned copy of Marksheet of Class Xth and XIIth & Marksheet and Degree of Full-Time B.E/B.Tech/B.Sc (Engg.) degree in relevant discipline. (Size-125 KB & Format-JPG/PNG/PDF)

5. Scanned copy of proof of Date of Birth (Class Xth Certificate-Size-125 KB & FormatJPG/PNG/PDF)

6. Scanned copy of Caste/ Category Certificate (if applicable in case of SC/ST/OBC(NCL)/PwBD/J&K Domiciled / Ex-Servicemen/ Victims of riots /Doob Kshetra of THDC Projects) in a format prescribed by the Government of India. (Size-125 KB & FormatJPG/PNG/PDF)

7. Scanned copy of Proof of norms adopted by University/Institute to convert CGPA/OGPA/DGPA in to percentage. (Size-125 KB & Format-JPG/PNG/PDF) If CGPA is not applicable then upload the scanned copy of Marksheet.

8. Scanned copy of GATE-2022 Admit Card (Size-125 KB & Format-JPG/PNG/PDF).
GENERAL INSTRUCTIONS
1. Only Indian Nationals are eligible to apply.

2. The candidate should ensure that he / she fulfills the eligibility criteria and other norms mentioned in this advertisement.

3. All qualification should be from an Indian University/Institute recognized by AICTE appropriate
statutory authority.

4. Only GATE Score 2022 is valid for this recruitment process. Score from any previous GATE examination is not valid.

5. Computation of age shall be done as on 17th May 2023.

6. While applying for the post, the applicant should ensure that he/she fulfils the eligibility and other norms mentioned above, as on the specified dates and that the particulars furnished are correct in all respects. In case it is detected at any stage of recruitment that a candidate does not fulfil the eligibility norms and /or that he/she has furnished any incorrect/false information of has suppressed any material fact(s), his/her candidature will stand automatically cancelled. If any of the above shortcoming(s) is/are detected even after appointment his/her services are liable to be REGISTRATION FEES,SERVICE AGREEMENT BOND, GENERAL INFORMATION AND IMPORTANT INSTRUCTIONS, PLACEMENT terminated without any notice.





7. Canvassing in any form shall disqualify the candidate.

8. Candidates claiming to belong to any particular category shall/ necessarily furnish valid OBC (NCL)/SC/ST/ PwBD Certificate, as the case may be, from Competent Authority. For posts where there are identified vacancies for OBC (NCL)/SC/ST/ PwBD candidates, are required to submit requisite certificate in the latest prescribed format of Government India, issued in the current year only. The OBC candidates who belong to "Creamy Layer" are not entitled for concession admissible to OBC-category and such candidates have to indicate their category as General. Upper age is relaxed by 05 years for the candidates who had ordinary been domiciled in the State of Jammu & Kashmir from 01.01.1980 to 31.12.1989 in addition, the age relaxation for Ex-Servicemen (Ex-SM) will be as per Government of India guidelines.

9. Format prescribed for furnishing certificates for SC/ST, OBC(NCL), EWS and PwBDs is available in THDCIL website www.thdc.co.in

10. The closing date for receipt of application will be treated as the date reckoning for SC/ST/OBC/EWS/PwBD status of the candidate and the candidate should be in possession of necessary certificate as on this date.

11. In case Caste /Category Certificate is issued in a language other than Hindi or English, candidates are advised to produce a certified translation of the same in either Hindi or English language at the time of document verification.

12. The upper age limit shall also be relaxed by 5 years for candidates belonging to THDCIL Project
Affected Families.

13. Candidates belonging to Doob Kshetra/THDCIL Project Affected Area the certificate shall be valid
only if the same is issued by Special Land Acquisition Officer (SLO) duly verified by concerned District Authority.

14. If the candidate is called for Personal Interview, her/ his identity would be verified GATE 2022 admit card and GATE 2022 Official Score Card. Therefore, candidates must have their GATE 2022 application copy, admit card and score card with them.

15. Candidates shall be required to bring a valid photo ID to the interview. Photocopies of the original identification document shall not be acceptable. Candidates will not be permitted to appear for the interview if original and valid photo identification is not presented along with the GATE 2022 admit card and score card.

16. Candidates are advised to keep their e-mail ID, Mobile No. active at least for one year. No change in e-mail ID and Mob. No. will be allowed once entered. All future correspondence shall be sent via email/ or SMS only.

17. All information regarding this recruitment process shall be made available in the recruitment section of our website www.thdc.co.in and no separate communication shall be made. Applicants are advised to check the website periodically for updates related to recruitment.

18. Candidates working in Govt./PSU are required to produce "No objection Certificate" from the present employer at the time of Interview.

19. Candidates employed with Government Departments/PSUs/Private Sectors will be required to submit relieving letter from current organization at the time of joining if selected for the post.

20. The mere fact that candidate has submitted application against the advertisement and apparently
fulfilling the criteria as prescribed in the advertisement would not bestow on him/her the right to be definitely called for interview/ considered further for selection process.

21. Depending on the requirement THDCIL reserves the right to cancel / restrict /enlarge / modify / alter the recruitment/ selection process, if need so arises, without issuing any further notice or assigning any reason thereafter.

22. Any proceeding in respect of any matter of claim or dispute arising out of this advertisement and/or an application response there to can be instituted only in Dehradun (Uttarakhand) and Court/tribunals/ forums at Dehradun (Uttarakhand) only shall have sole exclusive jurisdiction to try any such cause/dispute.

23. In case any ambiguity/ dispute arises on account of interpretation in versions other than English, the English version will prevail.


To know more, Download Detailed Notification

---
Get your Rank Booster Course at 1200/- per month 
Special offer available exclusively for Civilianz Previous students 🤩.
For more details, please contact 👇🏻
📱9383450415
📱9097550099
CIVILIANZ SOCIAL MEDIA PLATFORMS
Our Social media platforms are exclusively for Civil Engineering students, job candidates, teachers and all those who have a passion for Civil Engineering. You will get
Civil engineering quizzes and rewards

Regular job notifications

Exam notifications

PDF notes

Study tips

Civil related discussion and all in this group.
JOIN OUR SOCIAL MEDIA PLATFORMS
#learnfromthebest