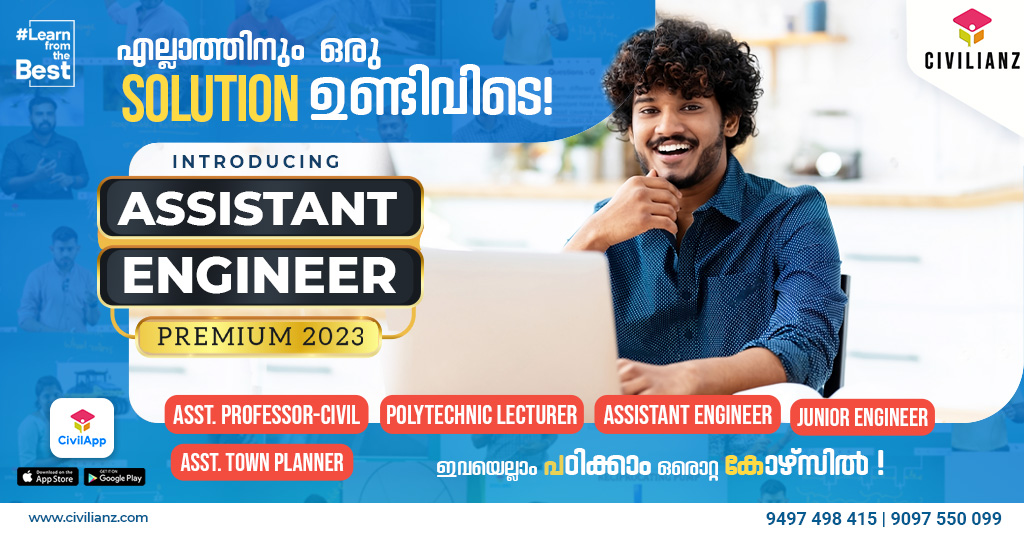 AE PREMIUM BUNDLE 2023 !!!
Kerala PSC Notifications for the posts of Assistant Engineer and Overseer in various departments can be expected soon 
Yes ! It's time to start the intense preparation ! 
CIVILIANZ gives you the best aid for your studies 
AE Premium Bundle Course – Useful for AE Civil, SSC JE, Assistant Professor, Polytechnic Lecturer, Sub Engineer and all related exams
Nearly every B Tech graduate aspiring to work in the public sector dreams of being an assistant engineer. The social status, job security, salary, opportunities, and service to society aspect make this job a great choice for every aspirant. Kerala PSC conducts an OMR exam followed by an interview for the recruitment of Assistant Engineers in Govt departments. Recruitments to Kerala PWD, LSGD, Irrigation, Water Authority, Pollution Control Board etc. is done through this exam. Also SIDCO, Kerala Financial Corporation, KTDC, Kerala State Housing Board, KSEB etc. recruits through the same examination. For Kerala PSC Assistant Engineer online coaching, you should definitely know the following aspects.

Assistant Engineer Premium Batch by Civilianz
Our Assistant Engineer course is designed to help students prepare for Kerala PSC Assistant Engineer Exams using a crafted pedagogy that teaches students from basic to advanced levels. A recorded version of the live class can be accessed by students at any time, even if they miss a class due to their busy schedules. Students can get their doubts cleared by our expert academic team after each day's class through exclusive doubt clearance sessions and discussion forums. We will comprehensively cover the Assistant Engineer exam syllabus in latest pattern itself. With our specialized rank making pedagogy, we have the best results including first ranks for the latest Assistant Engineer Exams in Kerala.
Timing and Duration
As you all know, this batch is about Online classes, but maybe you are not aware about the timing. On the first day there will be an orientation session and classes officially kickstarts from the next day. Speaking about the timing, classes can be scheduled anywhere between 6 AM to 8 PM.
Total course consumes a duration of about 1 year to complete. Anyway you will get access to the course for a duration of 1 year starting from the date of purchase .Speaking about the timing, this happens in three sessions either in the morning, which is from 9:30 AM to 1:00 PM or in the afternoon from 2:00 PM to 5:00 PM or in the evening from 6:00 PM to 8:30 PM. 



Course features
Civilianz provides Assistant Engineer courses with the best features at a reasonable price. The features in this course are unmatched by any other options you have, and we strive to cover everything the industry has to offer. Some of the course features are elucidated as follows:
Live and Recorded Sessions of classes
This will be a boon to students if they missed out the regular live sessions. Recorded version of live classes will be uploaded in CivilApp within 24 hours after live class. Even if you missed the live session, you can watch the class later and ask your doubts in discussion. Our faculty will clear your doubts in due course of time.
Regular Model Tests
To keep you in good nick, regular model tests will be provided, subject-wise as well as a complete syllabus-wise assessment. Model tests will be conducted every week, every month on a predetermined schedule with the topics covered in class. A similar pattern to that of the KPSC Assistant Engineer exam will be followed for these tests. This may help to boost the confidence level of aspirants attending the actual exams. The questions were prepared by our expert panel based on previously asked questions. You can either buy the combo test series package alone.
Number of test Series that flows to you during this coarse will be surplus, say it AE test series, JE test series, Overseer Test series, ISRO test series and many more.Get the Combo Test series here:. Hehhh! This will be a free feature in Assistant Engineer – Standard Bundle package.
Handwritten E Book Study Material
For those who missed some points during the interactive session live and are unable to adjust time for the recorded version, and still want those points, we have an E-book containing the complete handwritten notes prepared for Assistant Engineering and Overseer level exams.


Printed Study Material and Workout Session
You will receive a printed study guide that contains thousands of multiple choice questions and previous year questions (sorted by subject) along with answers. Questions in this book is worked out after each class from concerned topic studied. You will get familiarized with almost all type of questions which may be asked for exams.
Previous Year Question Paper Discussion Session
In this course, there is an effective revision method of reviewing previous year question papers with experienced faculty that will ensure your preparation is on the right track.
You might have seen online KAHOOT sessions conducted by CIVILIANZ during this lockdown, interesting isn't it? Additionally, we have exclusive interactive quizzes for you to unleash your competitive spirit.
What if you miss a live interactive session due to some emergency? hope you don't, but if you did, an unlimited Streaming of the recorded session will be provided to you exclusively through CIVILAPP.

Talk with the topper session
To know about their preparation strategy to crack a competitive civil exam, the Do's and Do not's all comes under this umbrella.
We have a regular student feedback session where you can discuss any issues you may be having with the CIVILAPP, the recorded video features, or the faculty. Although it's unlikely that you will experience any problems, it is nevertheless possible. Anything that affects your study in which Civilianz is responsible. We take the responsibility and solve it for you.
For Raising your doubts even after the lesson is over is now not a concern for you. A dedicated team of faculty is available with Discussion board, where doubts can be raised any time.
Much much more to come along with these, so be ready for an eventful 6-7 months with Civilianz. Lets enlighten the duration with knowledge and finish on a bright side.
SSC JE Test Series
Full length test series consists of 10 set of question papers having 200 marks each.
200 question is given with the following categories.
1. General Awareness – 50 marks
2. General Intelligence & Reasoning – 50 marks
3. General Engineering – 100 marks




Recorded classes of Polytechnic Lecturer Part A, Assistant Professor Part A, ISRO Mathematics, SSC JE Non technical portions and KWA Gr I Mechanical Engineering
The best deal ever You get more than just the aforementioned benefits when you buy this package. In addition to what the standard premium package offers, we are offering recorded lessons for the Polytechnic Lecturer Part A, Assistant Professor Part A, ISRO Mathematics, SSC JE Non Technical sections, and KWA Gr I Mechanical Engineering.
Course Highlights:
🥇Live and recorded classes taken by expert faculty team
🥇Comprehensive coverage of syllabus
🥇 Assessment tests corresponding to each class
🥇 Weekly Model Tests
🥇 Mentor support
🥇 Discussion board for doubt clearance
🥇 SSC JE Test Series
🥇 ISRO Scientist Test Series
🥇 Recorded classes of Polytechnic Lecturer Part A, Assistant Professor Part A, ISRO Mathematics, SSC JE Non technical portions and KWA Gr I Mechanical Engineering
🥇 Best study material – Civil Engineering MCQ Book by CIVILIANZ
🥇 Talk with topper sessions
🥇 Live Interactive quiz sessions
Click the below link to purchase this course 👇🏻
http://www.civilianz.in/learn/AE-Premium-2023
For Enquiry:
https://www.civilianz.com/contact
For more details, contact 👇🏻For more details, contact 👇🏻
📱9383450415
📱9497498417
📱9497498415
📱9097550099