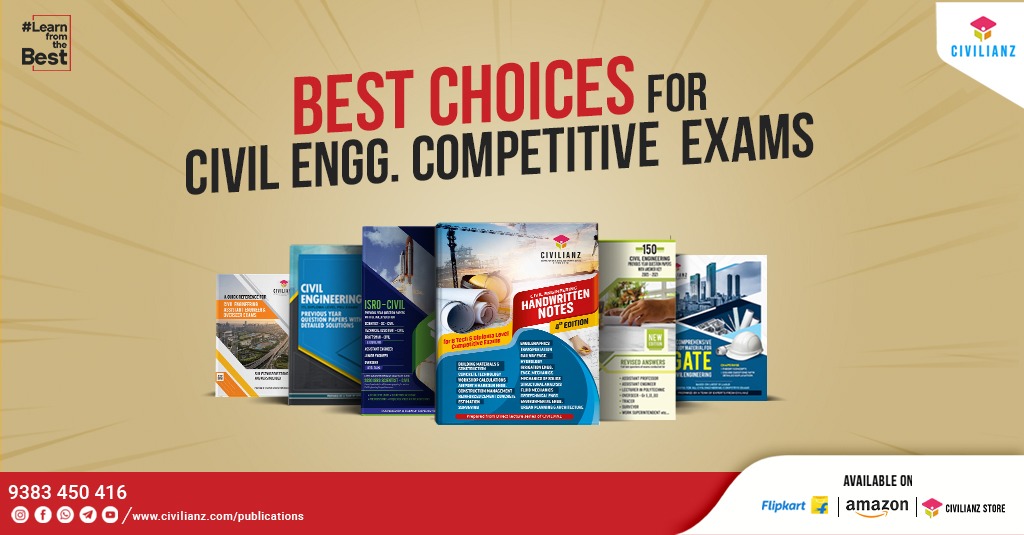 Best books for civil engineering competitive exams BEST SELLER BOOKS
🎓 Civilianz books in top of chart🔥
Kerala PSC Civil Engineering books
Introduction to civil engineering books – Top civil engineering books
Grab your copies of our #Best books for civil engineering competitive exams and #Learn_from_the_Best
This set of essentials for your civil engineering competitive exams is now available at Civilianz Store, Amazon, Flipkart.  
ISRO recruitment for civil engineers every year for the post of Scientist (Civil), Technical Assistant (Civil). It is one of the Civil Engineering: Conventional and Objective Type book available in market.
Third edition of our best seller book hits the market!!!
This is the best book for civil engineering competitive exams like ISRO exam for civil engineering This book is a collection of previous question papers along with its detailed solutions of exams conducted for civil engineering jobs in ISRO . 
ISRO civil engineering question papers comprises from ISRO Scientist/Engineer, Technical Assistant- Civil, Draftsman- Civil.   
This book will be helpful for B. Tech, Diploma holders in Civil Engineering for preparing exams from various PSU's and Assistant Engineer, Overseer level exams by various state recruiting agencies. It includes civil engineering formulas for competitive exams. Detailed explanation of each answers along with figures will help aspirants to learn the questions from options itself. It is one among the best civil engineering books and also useful as a civil engineering interview book.  
Purchase now
---
2. 150 Civil Engineering Previous year question with answer key – For AE / Overseer level exams
We have been getting enormous enquiries regarding the availability of our 133 PYQ Book for last couple of weeks. The first edition of this kpsc civil engineering book (including second reprint) was sold out within 2 weeks of its announcement. It was one of the best Kerala PSC Assistant Engineer Civil Books among civil engineering competitive exam books.
This book covers 150 previous year questions conducted by Kerala PSC in Assistant Engineer, Overseer/ Tracer level in Civil Engineering. Questions along with answer key is provided. A worksheet is provided with each set of question for practice. Detailed syllabus of previous exams published by Kerala PSC is also included.
Book our latest edition of Civil Engineering Previous Year Question Papers with Ans Key, which includes:
150 Set of Question Papers with Ans Key

Best objective book for civil engineering

 Updated syllabus of KPSC Exams

Best MCQ book for civil engineering

 Workout sheet for self practice  
Purchase now
CIVILIANZ STORE
Now, the book is also available as E – Book
This Civil engineering E book features:
150 previous year question papers with its answer key

Detailed syllabus for AE/Overseer level exams

A self assessment sheet for each question paper for your practice
Purchase now
E – BOOK
---
3.Civil Engineering MCQ book 2nd Edition
What's included?

Turning out to be one of the finest books for civil engineering students this book features:
Chapter wise Multiple Choice Questions with Key

Comprehensive and the largest compilation of MCQ with Answer key

Topic wise objective questions with key

More than 14000 questions are solved

Answer key compiled as a booklet along with question bank

Crafted and compiled from previous exams from 2005-2021 sorted chapter wise

Flawless and error free

Best available book for Assistant Engineer exams
Also useful for:
Junior Engineer exams 

ISRO Scientist/Engineer exams

Overseer exams

And all other B Tech/Diploma/ITI level Civil Engineering Competitive Exams
Grab your copies @ Rs. 1100
Purchase now
CIVILIANZ STORE
FLIPKART
AMAZON
---
4. A Quick Reference for Civil Engg Assistant Engineer & Overseer Exams Book (Third Edition)
The Civilianz Quick Reference Guide is the most comprehensive resource material that will help Civil engineers prepare for the Assistant Engineer Civil exam and successfully secure a dream job. It is a kerala psc assistant engineer civil question bank and includes civil engineering objective questions. It is trated as one of the best objective book for civil engineering The first edition of this kpsc ae civil study material being a market hit, proudly presenting the revised edition of
The Civilianz Quick Reference Guide for Kerala PSC Assistant Engineer (Civil) and Overseer Level Exams. this book is highly recommended for assistant engineer civil preparation.  
This book features
Subject wise coverage of syllabus

Key points and rank scorer questions

Easy and quick reference pattern

A book 📘that pick points and highlights the key points.

An elaborated version with more added points and explanations

Standard Specifications and all the important things that you need to know about each and every Civil Engineering subject
This book will be a sure shot for all the Assistant Engineer exam aspirants and will help your final lap preparation of Assistant Engineer Exam.  
Purchase now
---
5. Handwritten Note for B.Tech Level Competitive Exams (4th Edition)
This portion covers civil engineering handwritten notes prepared from the direct class lectures of Civilianz direct classes. It is simply kerala psc civil engineering notes. This book includes in the civilianz book series of easy engineering civil books.
This covers 22 subjects comprehensively in Assistant Engineer Level. All notes are prepared in Assistant Engineer level and is also useful for various civil engineering competitive exams like Junior Engineer, ISRO Scientist- Civil etc.
This book features
1. Environmental Engineering
2. Building Materials
3. Airport Engineering
4. Harbour Engineering
5. Transportation Engineering
6. Irrigation Engineering
7. Traffic Engineering
8. Geotechnical Engineering
9. Hydrology
10. Railway Engineering
11. Surveying
12. Mechanics of Solids
13. Estimation
14. Reinforced Cement Concrete
15. Construction Management
16. Engineering Mechanics
17. Steel Structures
18. Structural Analysis
19. Engineering Graphics
20. Concrete Technology
21. Fluid Mechanics
Purchase now
---
6. MECHANICAL ENGG – Objective and Conventional (Synopsis) E book
This Mechanical Engineering MCQ book is helpful for the mechanical engineering for competitions
For KWA Tracer & Draftsman ISRO Technical Assistant/Technician B All ITI & Diploma Level PSU exams which is available in CIVILAPP as E book. Download CivilApp Andriod iOS Web Curated by the best faculty team in Kerala, our latest launch features
1000+ topic wise MCQs

Clearly explained theory portions with illustrations

Key points presented in the most simple way
Purchase now
---
7. Comprehensive Study Material for GATE Civil Engineering with Theory and Problems
Prime yourself to accomplish your long-held aspiration of studying in IISc/IITs 🤩 or to secure your end-goal of working in the top PSU's 😎 with lucrative jobs!!
Gear up your preparations 📈 with our Comprehensive Study Material which covers the A to Z of GATE exam. The features of the book include:
🔰 Subject wise & Chapter wise Relevant Synopsis Theory as per GATE syllabus
🔰 Previous Questions of GATE and other relevant questions also included Chapter wise
🔰 Problems solved with detailed explanation
🔰 Useful for all Civil Engineering Competitive exams
🔰 Total 17 Chapters
🔰 General Aptitude & Engineering Mathematics also included
🔰 A Comprehensive and Flawless study material for GATE  
Purchase now
No more waiting
#learn_from_the best
---
CIVILIANZ SOCIAL MEDIA PLATFORMS
Our Social media platforms are excusively for Civil Engineering students, job candidates, teachers and all those who have passion for Civil Engineering.
You will get
Civil engineering quizz and rewards

Regular job notifications

Exam notifications

PDF notes

Study tips

Civil related discussion and all in this group.
JOIN OUR SOCIAL MEDIA PLATFORMS
#learnfromthebest