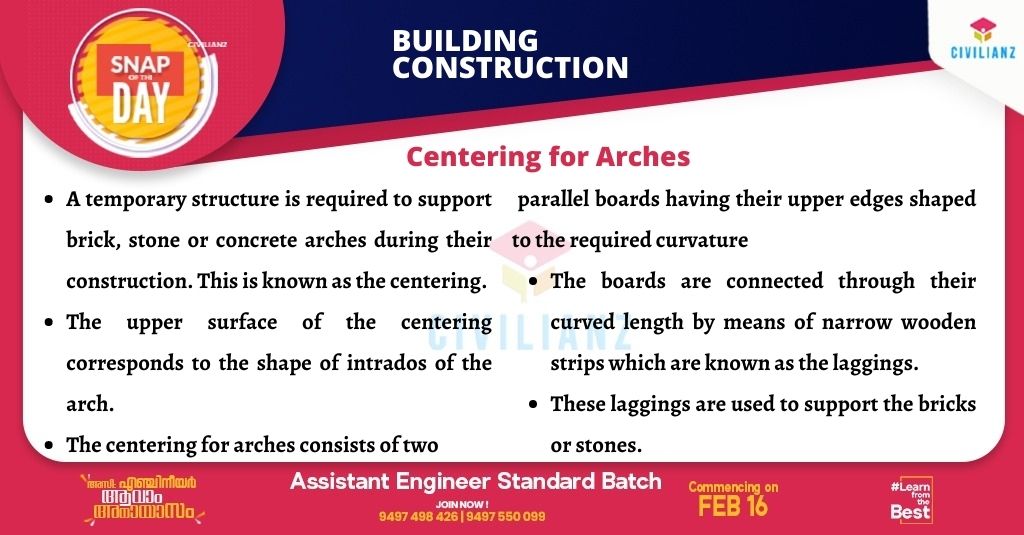 CIVIL SNAPS – BUILDING CONSTRUCTION
Centering for Arches
A temporary structure is required to support brick, stone or concrete arches during their construction. This is known as the centering.

The upper surface of the centering corresponds to the shape of intrados of the arch.

The centering for arches consists of two parallel boards having their upper edges shaped to the required curvature.

The boards are connected through their curved length by means of narrow wooden strips which are known as the laggings.

These laggings are used to support the bricks or stones.
CIVIL SNAPS – BUILDING CONSTRUCTION

The Race 🏃 is NOT over yet ❗
Success can only be achieved by running with the times.
Here it comes, OVERSEER STANDARD 2022 with Live and Recorded Live videos of all subjects for the upcoming Overseer Exams.
Course Highlights :
👉🏼 Live/ Recorded Live videos covered in Overseer syllabus
👉🏼 Daily Assessment tests
👉🏼 Weekly & Monthly Model Tests
👉🏼 Live Interactive Quiz
👉🏼 Overseer Test series
👉🏼 Faculty support
👉🏼 PYQ Discussions
This course will be a sure shot help for the upcoming exams like
Overseer Gr.I,II & III – LSGD, PWD/Irrigation, KWA, KLDB, KLDC etc.
⏳ Course duration – 1 year
Lets make every adverse situation into possible one with this intensive ONLINE COACHING from CIVILIANZ
Why waiting ⁉️
Reach us on
📱9497498415
📱9383450415
📱9097440099
📱9097550099
#learnfromthebest
#beawinner
---
🎓 Are you ready to take a Skill Test??
Are you ready to check how much you already know? Why waiting? Take a skill test and assess your knowledge in technical subjects!
New skill tests everyday
Only on CivilApp 📌
Absolutely Free for all🎉
For more details visit CivilApp.
Download CivilApp👇🏼
Andriod
iOS
Web
---
CIVILIANZ SOCIAL MEDIA PLATFORMS
Our Social media platforms are excursively for Civil Engineering students, job candidates, teachers and all those who have passion for Civil Engineering. You will get
Civil engineering quizz and rewards

Regular job notifications

Exam notifications

PDF notes

Study tips

Civil related discussion and all in this group.
JOIN OUR SOCIAL MEDIA PLATFORMS
#learnfromthebest