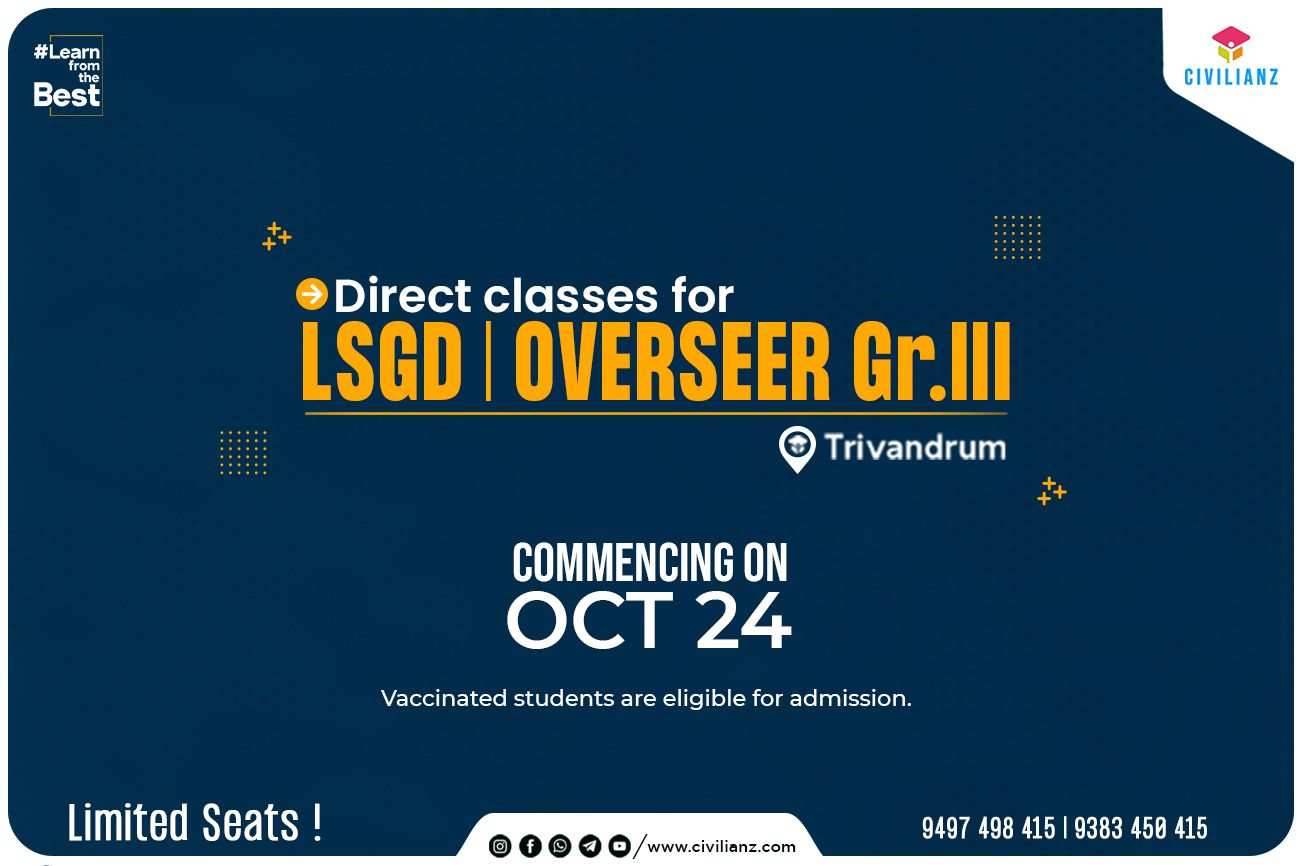 DIRECT COACHING CLASSES FOR OVERSEER GRADE III EXAMS
LSGD Overseer Grade III exam which was announced to be conducted on 8th November 2021 is postponed to 21st November 2021.
Make the best use of the extended dead line of Overseer Grade III exams!!
Strike while the iron is hot and get the best deal out of it!!
Now let's put this time to good use. Civilianz the best Civil Engineering coaching centre in Kerala with the elite crew of Civil Engineers is here to provide you the best guidance and classes par excellence.
Prepare for LSGD Overseer Grade III exams through our top quality coaching classes.
Here is the most awaited opportunity to attend the Direct Classroom Crash course. The classes for LSGD Overseer Grade III exams will commence on 24th October 2021 at our Trivandrum Centre.
The features of the class include:
Direct contact classes

Comprehensive class sessions covering the entire syllabus

More than 40 sessions

Expert faculty support

Model tests

Previous question paper discussion

Short cut study tips
Course Fee: Rs. 8,000/- Rs. 5000/- only
The duration of the course is 1 month. The classes will be conducted strictly as per the syllabus of Overseer Grade III exam which is given below:

BASIC ENGINEERING DRAWING (10 Marks)
Drawing instruments, equipment and materials

Lettering, dimensioning and scale

Plane geometrical construction

Conic section and projection
SURVEYING (15 Marks)
Conventional surveying

Introduction and terms used in chain, compass, plane table and leveling survey

Principle of leveling, Type of leveling, Reduction of levels

Contouring ,Theodolite survey

Modern and advanced surveying instruments
BUILDING MATERIALS AND CONSTRUCTION (25 Marks)
Stone, Brick, Tiles, Cement, Lime and filler materials

Plane cement Concrete, Reinforced cement concrete

Timber

Foundation, Masonry, Roofing, Flooring

Building finishes and services

Temporary structural treatment for building construction
BUILDING DRAWING AND ESTIMATING (15 Marks)
Building rules and byelaws

Estimation, Rules and methods of measurements of work

Rate analysis and valuation
HYDRAULICS AND IRRIGATION (15 Marks)
Terms used in Irrigation

Storage and diversion head works

Reservoir, dam, canals, Cross drainage work

Properties of fluid

Measurement of pressure

Type of Hydraulic energy
UNITS AND MENSURATION (6 Marks)
Units of measurements

Measurement of Perimeter and Area of triangles Polygons and circles

Volume of Solids
APPLIED MECHANICS (6 Marks)
Simple machines:-Load and effort, Mechanical advantage, Velocity ratio, efficiency

Work power and energy

Simple stress and strain

Friction, Shear force and bending moment

Speed and velocity
AUTOCAD (8 Marks)
Introduction to AutoCAD

Basic commands

Drawing toolbar and modifying toolbar

Plotting and printing
The earlier you begin, the better it would be. Start preparing with Civilianz and you will never go wrong!!
Vaccinated students are eligible for admission.
Limited seats!! Book your seat at the earliest.
For more details and admissions,