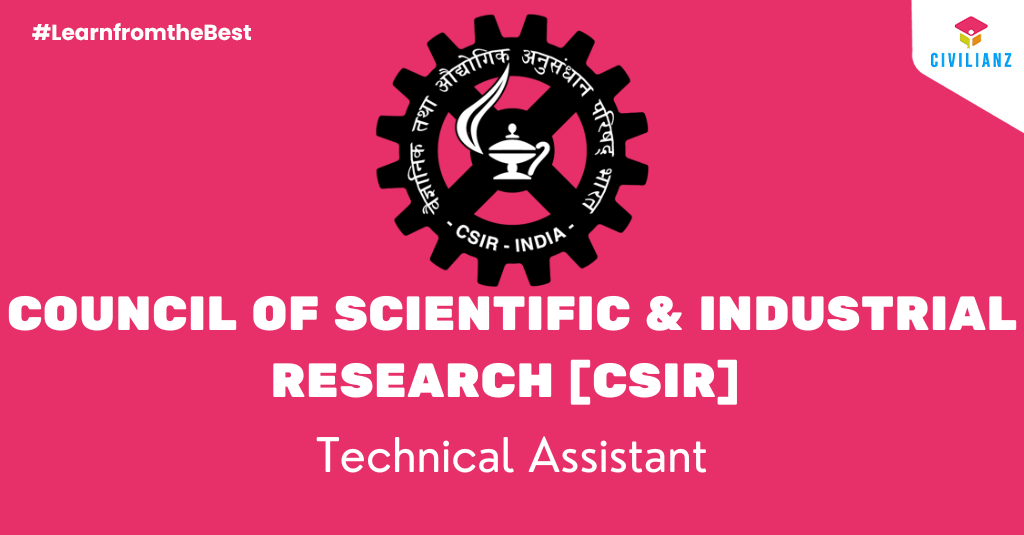 The Council of Scientific & Industrial Research [ CSIR ] established in 1942, is an autonomous organization registered under the Societies Registration Act, 1860, under the Department of Scientific and Industrial Research, Ministry of Science and Technology, Government of India. CSIR invites applications from suitably qualified, dynamic, result-oriented and dedicated Indian citizens for the following vacant posts of Technical Assistant on direct recruitment basis:
| | |
| --- | --- |
| Name of the Department | Council of Scientific & Industrial Research |
| Name of the Post | Technical Assistant |
| Vacancy | 03 |
| Educational Qualification | Diploma in Civil Engineering / Technology of at least 3 years full time duration, with minimum 60% marks |
| Upper Age Limit | 28 years |
| Pay Scale | Rs.35400-112400/- |
| Last Date to Apply | 17-01-2023 |
| Official Website | http://www.csir.res.in/ |

IMPORTANT DATES
| | |
| --- | --- |
| Start date for Online Application | 19-12-2022 |
| Last date for Online Application | 17-01-2023 |
QUALIFICATIONS REQUIRED
Diploma in Civil Engineering / Technology of at least 3 years full time duration, with minimum 60% marks and experience of 02 years in the relevant area/ field.

OR

Diploma in Civil Engineering / Technology at least 02 years full time duration in case of lateral admission in diploma course, with minimum 60% marks and experience of 02 years in the relevant area/ field.
EXAMINATION DETAILS
Mode of




Examination

OMR Based or Computer Based Objective Type Multiple Choice Examination

Medium of




Questions

The questions will be set both in English and Hindi except the
questions on English Language. 

Standard of exam

Diploma / Graduation Level

Total No. of




Questions

200

Total Time Allotted

3 hours
HOW TO APPLY
Eligible candidates are required to apply ONLINE by accessing the OFFICIAL website.
For online application process please refers "How-to-apply online" instructions, "Fee Payment Procedure' and 'Application Replica' available on the above- mentioned website.
The application is to be submitted in three distinct steps, as below: –
i) Registration [online]
ii) Fee Submission [online], if applicable.
iii) Application submission [online]
If the candidate does not have a valid email id, he/she should create a new valid email ID before applying online and should be kept active during the entire recruitment process.
Candidate is required to upload his/her recent passport size scanned colour photograph, signature each and also relevant certificates at the specified placed in the online application.
Application once made will not be allowed to be withdrawn and fees once paid will not be refunded under any circumstances nor can it be held in reserve for any other examination or selection.
When application is successfully submitted, it will be accepted provisionally. The print-out of the application, generated after online submission, duly accompanied by self-attested copies of the requisite certificates, mark sheets, age proof, education qualifications, experience and caste certificate, if applicable along with one recent passport size self-signed photograph affixed should be kept with him/her and produce the same along with original documents as and when required by the office.
Request of change/ correction in any particulars in the application form, once submitted, will not be entertained under any circumstances.
Candidates must fill their correct and active e-mail addresses and mobile number in the online application as correspondence may be made only through e-mail/ SMS.
In case of fake/ fabricated application/ registration by misusing any dignitaries name/ photo, such candidate/ cyber café will be held responsible for the same and liable for suitable legal action under cyber law/ IT act.
Candidates belonging to Government/ Autonomous/ PSUs are required to provide a No Objection Certificate at the time of Trade Test, failing which he/she will not be allowed to appear for the Trade Test.
FEE DETAILS
| | |
| --- | --- |
| Application fee |  500/- |
|  For SC/ST/PwBD/Women/CSIR Employees  | NA |
GENERAL INSTRUCTIONS
The prescribed educational qualifications should have been obtained from recognized
Board/Institutions/Universities.
The date of determining the age limit/experience/qualifications shall be closing date prescribed for filling up online application i.e. 17 January, 2023. The period of experience in a discipline/area of work, wherever prescribed, shall be counted after the date of acquiring the minimum educational qualification prescribed for that post.
A candidate can apply for multiple post codes subject to fulfilling all eligibility criterion attached to each individual post code. However, candidates need to fill the application [except primary/ registration details] with the requisite application fee separately for each post code.
The decision of the Competent Authority of CSIR in all matters relating to eligibility, acceptance or rejection of applications, conduct of Trade test and not to fill up all or any of the posts will be final and binding on the candidates and no enquiry or correspondence shall be entertained in this regard from any individual. Further, in case of a claim for qualification as equivalent qualification, the candidate is required to produce order/ letter in this regard by the Competent Authority.
The number of vacancies indicated against each category is provisional and may vary either way at the time of selection. This advertisement does not necessarily tantamount to the selection being actually made. The selection process is subject to the CSIR/GoI instructions prevalent at a given point of time during various stages of selection process.
Candidate should ensure that he/she possesses essential educational qualification/experience in the relevant area as required in the category/post, for which he/she is applying, on the last date of filling of online application. Mere fulfilling the minimum essential qualification does not entitle candidates to be called for Trade/ Written Test. The duly constituted Screening Committee may adopt its own criteria for shortlisting the candidates to be called for test.
The period of experience in the requisite discipline/area of work wherever prescribed shall be counted with effect from the date of acquiring the prescribed minimum educational qualifications required for that post.
Documentary evidence such as letter of appointment, joining notification, pay certificate and Experience certificate for the period claimed as experience must be submitted. The experience certificate should clearly state the duration of experience indicating from & to date i.e. date of joining and date of relieving of various organizations / universities concerned as claimed by the candidate. Further, experience certificate must be issued by the Authority, competent to issue such certificates, with respect of the organization[s]/ Institutes/ Universities concerned.
Any discrepancy found between the information given in application and as evident in original documents will make the candidate ineligible for the post[s].
If any document/ certificate furnished is in a language other than Hindi or English a transcript in English of the same duly attested is to be submitted.
The advertised posts are for CSIR HQ and its units. However, the selected candidates are liable to be posted at any Lab./Instts./Centre of CSIR.
Government/CSIR strives to have work force which reflects gender balance and women candidates are encouraged to apply.
Persons with Benchmark Disability [PwBD] fulfilling the eligibility conditions prescribed under GOI/CSIR instructions are encouraged to apply.
Only a single application will be entertained from each candidate for each post code.
Canvassing in any form and/or bringing in any influence political or otherwise will be treated as a disqualification for the post.
The recruitment for the above posts is governed by the "CSIR Service Rules, 1994 for Recruitment of Technical and Support Staff" as amended from time to time. Hence, all other terms and conditions not stipulated herein will be applicable as per the said Recruitment Rules.
For more details, Download Detailed Notification.
Download Detailed Notification
---

CIVILIANZ SOCIAL MEDIA PLATFORMS
Our Social media platforms are exclusively for Civil Engineering students, job candidates, teachers and all those who have a passion for Civil Engineering. You will get
Civil engineering quizzes and rewards

Regular job notifications

Exam notifications

PDF notes

Study tips

Civil related discussion and all in this group.
JOIN OUR SOCIAL MEDIA PLATFORMS
#learnfromthebest