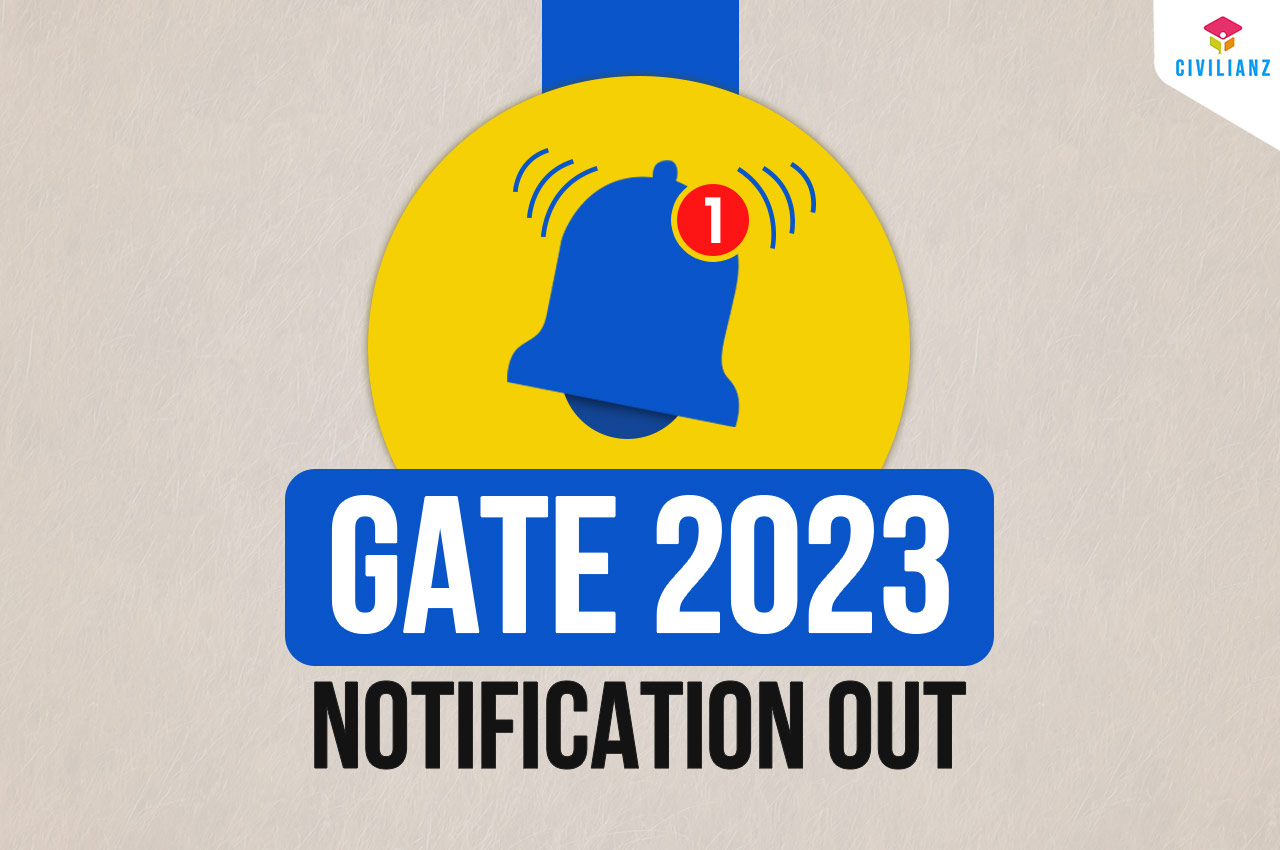 Graduate Aptitude Test in Engineering (GATE) is a national examination conducted jointly by the Indian Institute of Science (IISc), Bangalore and the seven Indian Institutes of Technology (at Bombay, Delhi, Guwahati, Kanpur, Kharagpur, Madras and Roorkee) on behalf of the National Coordination Board (NCB)-GATE, Department of Higher Education, Ministry of Education (MoE), Government of India. 
Qualifying in Gate is a mandatory requirement for seeking admission or financial assistance to
(i) Master's programs and direct Doctoral programs in Engineering/Technology/Architecture.         
(ii) Doctoral programs in relevant branches of Arts and Science, in the institutions supported by the MoE and other Government agencies. Even in some colleges and institutions, which admit students without MoE scholarship/ assistantship,the Gate qualification is mandatory.Further,many Public Sector Undertakings (PSUs) have been using the Gate score in their recruitment process.
 Use of GATE Score for Employment
In the past, several Public Sector Undertakings (PSUs) have used GATE score to shortlist the candidates for employment.A few such organizations are: Bharat Heavy Electricals Limited (BHEL), Bharat Sanchar Nigam Limited (BSNL),Coal India Limited (CIL), Centre for Railway Information Systems (CRIS), Chenab Valley Power Projects Limited (CVPPL), Damodar Valley Corporation (DVC), Electronics Corporation of India Limited (ECIL), Engineers India Limited (EIL),Gas Authority of India Limited (GAIL), Indian Oil Corporation Limited (IOCL), Mazagaon Dock Shipbuilders Limited (MDSL), National Aluminium Company Limited (NALCO), National Highways Authority of India (NHAI),NLC India Limited (NLCIL), National Mineral Development Corporation (NMDC),Nuclear Power Corporation of India Limited(NPCIL),National Thermal Power Corporation (NTPC),Oil and Natural Gas Corporation (ONGC),Power Grid Corporation of India (PGCIL),Power System Operation Corporation Limited (POSOCO),Rashtriya Ispat Nigam Limited (RINL),etc.Direct recruitment to Group A level posts in Central government, i.e., Senior Field Officer (Tele), Senior Research Officer (Crypto) and Senior Research Officer (S&T) in Cabinet Secretariat, Government of India, is now being carried out on the basis of GATE score. The details of the scheme of recruitment are normally published in National Newspapers /Employment News /Rozgar Samachar by the concerned authority.
About GATE 2023
IIT Kanpur is the organising institute for GATE 2023.
• Information website for GATE 2023
• GATE 2023 will be conducted for 29 subjects Based Test (CBT).
• The Computer Based Test examination papers will contain some questions of (i) Multiple Choice Question(MCQ) type, where only one option out of four options is correct.Remaining questions may be of (ii) Multiple Select Question(MSQ) type, where one or more than one options out of four options is /are correct, and /or (iii) Numerical Answers Type (NAT) where answer must be keyed in by the candidate using a virtual keypad.The candidates will use ONLY an on-screen virtual calculator provided for the examination.
• A candidate can appear in ANY ONE or UP TO TWO papers of the GATE examination.However, note that the combination of TWO papers in which a candidate can appear MUST be selected from the pre-defined list.Even if a candidate is appearing for TWO papers, the candidate should fill ONLY ONE application form.
• GATE 2023 examinations will be held during the forenoon and afternoon sessions on Saturday 4 th,Sunday 5th, Saturday 11th and Sunday 12th of February 2023.
• Examination for some of the papers in Gate 2023 may be held in multiple sessions. However , a candidate will be required to appear for the examination in only one of the multiple sessions of the same paper.
• Exact details of the complete examination schedule will be notified later on the GATE 2023 website

IMPORTANT INSTRUCTIONS
1. Candidates have to register and fill the application via ONLINE mode ONLY at GATE 2023 website
2. The entire process of filling up of the application form and uploading of certificates / documents, etc. is in ONLINE mode only. The candidates should NOT send any hard copy of their application forms / documents etc. to IIT Kharagpur or any of the zonal GATE offices.
4. The candidate has to appear at the GATE Examination Centre on the date and time specified in the Admit Card.
5. No request for any changes in the Centre or Location or Date/Time specified in the Admit Card will be entertained. Similarly, this being an examination body with certain constraints, candidates needing very special or specific facility for the examination may not be entertained (except scribe facility). Hence, candidates are requested to adhere to the facilities that are possible within the ambit and resources of GATE Examination Body
6. Physical calculators, mobile phones, any other electronic/communication devices, wallets, books, papers, loose sheets, data or handbooks, tables, pen/pencil box/pouch, watches of any form etc. are strictly prohibited in exam halls and candidates possessing these (even if not using) will be disqualified
7. Biometric information (such as, Photograph, Iris scan and Fingerprints etc.) for randomly selected candidates may be captured before the start or during the examination.
8. In all matters concerning GATE 2023, the decision of the GATE 2023 Committee will be final and binding on all the applicants.
9. Although GATE 2023 will be held at different test centres across the country, the Indian Institute of Technology Kharagpur, being the Organising Institute, bears the overall responsibility of conducting GATE 2023. In case of any claims or disputes arising with respect to GATE 2023, it is hereby made absolutely clear that the High Court of Calcutta in Kolkata alone will have the exclusive jurisdiction to entertain and settle them
10.TWO new papers called "Geomatics Engineering (GE)" and "Naval Architecture and Marine Engineering (NM)" are being introduced in GATE 2023.  

Eligibility for GATE 2023
Before starting the application process, the candidate must ensure that they meet the educational eligibility criteria of GATE 2023.
A candidate who is currently studying in the 3rd or higher years of any undergraduate degree program OR has already completed any government approved degree program in Engineering / Technology / Architecture / Science / Commerce / Arts is eligible for appearing in the GATE 2023 exam.
Degree/Program

Qualifying Degree/Examination
Description of Eligible Candidates

B.E. / B.Tech. / B. Pharm

Bachelor's degree in Engineering/Technology (4 years after 10+2 or 3 yearsafter B.Sc. / Diploma in Engineering / Technology)

Currently in the 3rd




year or higher or




already completed
GATE 2023 Examination Cities
A candidate can choose THREE cities from the list of examination citiesAll the three choices must be from the same GATE 2023 zone.If a candidate chooses a particular city (in a particular zone) as the first choice, then he/she will beable to choose the city of second and third choices ONLY from the same zone. Note that, becauseof the operational constraints, the GATE Committee reserves the right to add a new city or remove an existing one, and allot a city that may not be from any of the choices selected by the candidate.
Application Process
Application for GATE 2023 must be submitted ONLINE on website by paying necessary application fees. The photograph, signature, category certificate (SC / ST / PwD) and / or Dyslexic certificate, wherever applicable, must be uploaded during the online application. Candidates MUST enter the valid photo identity (ID) number specified in any one of the following IDs: Aadhaar-UID (preferable), Passport, PAN Card, Voter ID and Driving License. The candidates, who do not possess any of these identity cards, may please procure any one of them before making then application. Candidate MUST produce the SAME original valid photo ID proof during the examination for verification purpose. In the absence of the SAME original valid photo ID proof, candidate will NOT be allowed to appear for GATE 2023 examination.
GATE 2023 Application Fee
Details of the application fee per candidate per paper .The application fee is NEITHER refundable  NOR transferable. Payments have to be made online by using net banking / debit card / credit card / wallet / UPI / etc. As per the prevailing norms, additional online transaction charges or bank charges may be applicable. These charges will be specified on the payment portal.
| | | |
| --- | --- | --- |
| For Examination Centres in India | Regular Period (30thAugust to 30th Sept. 2022) | During the Extended Period (1stOct. to 7th Oct. 2022) |
| Female candidates (per paper) | ₹ 850 | ₹ 1350 |
| SC / ST / PwD category candidates (per paper) | ₹ 850 | ₹ 1350 |
| All other candidates (per paper) | ₹ 1700 | ₹ 2200 |

GATE Online Application Process
Gate provides an online interface to the candidate for interacting with the gate administration With this interface, a candidate can :
• Apply for the examination.
• Upload photograph, signature and other documents and category certificate and or Dyslexic certificate as applicable.
• Pay the application fee through any of the electronic payment modes.
• Check the Status of the application form: Received, under scrutiny, Accepted, Defect status, Status after rectification, rejected with valid reasons, Admit Card ready for download etc.
• Download Admit Card.
• View answers, marks and GATE score.
• Download GATE scorecard.
Registration: A candidate must first register by providing Full Name, a valid e-mail address, mobile number and by choosing a password. All communications from the gate offices will be sent to this e-mail address and /or mobile number.Give the personal mobile number and e-mail address, because most of the communication will be through e-mail and /or SMS.
Enrolment ID: Each registered candidate will be provided with an Enrolment ID.Upon registration, an e-mail containing the Enrolment ID will be sent to the candidate.This Enrolment ID will be the reference ID for all future communication until the examination gets over.
Password:The candidate has to choose a password during Enrolment.This password must be remembered along with the Enrolment ID to login in to your account. It is strongly recommended to choose a password that cannot be guessed easily Length of the password should be 8-15  characters. Keep your password information safe, secure and confidential.
Admit Card
Admit Card can ONLY be downloaded from the GATE 2023 website from 3rd January 2023. Admit Cards will NOT be sent by post or as an e-mail attachment.Candidates must bring a print-out of the downloaded Admit Card on A4 sized paper to theExamination for the verification along with the original and valid photo Identity Document .The Admit Card is valid IF and ONLY IF the candidate's photograph and signature images are clearand legible. The photograph on the Admit Card and that in the valid photo identity document SHOULD match with the appearance of the candidate on the day of examination. To ensure this, print the Admit Card on an A4 sized paper using a laser printer, preferably in colour. Both, the GATE 2023 Admit Card and Original ID proof are essential for entry into the examination hall.
Stay up for the Best GATE Coaching in Kerala 
You know that Effort is important, but knowing where to make an effort makes all the difference 
Here is the doorway to the bundle of oppurtunities and crack the back breaking entrance exam  GATE 2023 with CIVILIANZ!!
GATE 2023 Intensive Online PreRecorded Session 
Highlights of this course are:
🔰 Eminent faculty support
🔰 Unlimited Streaming
🔰 Assessment Test with each video lesson
🔰Model Tests
🔰 Offline streaming
🔰 6 month Duration
🔰 Organized Technical Support
Course Duration: 6 Months
Purchase now!!!
Join our early batches for effective preparation 
For more details 
📱9497498415
📱9097550099
Examination Duration
All the papers of the GATE 2023 examination will be of 3 hours duration and they consist of 65 questions for a total of 100 marks. Since the examination is a computer-based test (CBT), at the end of the stipulated time (3-hours),the computer screen will automatically close the examination inhibiting any further action.
Candidates will be permitted to occupy their allotted seats 40 minutes before the scheduled start of the examination.Candidates can login and start reading the instructions 20 minutes before the start of examination.The late login time recorded by the computer system MUST NOT be beyond 30 minutes from the actual starting time of the examination. Under NO circumstances,will a candidate be permitted to login after 30 minutes from the actual examination starting time. Candidates will NOT be permitted to leave the examination hall before the end of the examination.
GATE 2023 Pattern of Questions
GATE 2023 may contain questions of THREE different types in all the papers:
(i) Multiple Choice Questions (MCQ) carry 1 or 2 marks each, in all the papers and sections.These questions are objective in nature, and each will have choice of four answers, out of which ONLY ONE choice is correct. Negative Marking for Wrong Answers: For a wrong answer chosen in a MCQ, there will be negative marking. For 1-mark MCQ, 1/3 mark will be deducted for a wrong answer. Likewise, for 2-mark MCQ, 2/3 mark will be deducted for a wrong answer.
(ii) Multiple Select Questions (MSQ) carrying 1 or 2 marks each in all the papers and sections.These questions are objective in nature, and each will have choice of four answers, out of which ONE or MORE than ONE choice(s) is / are correct. There is NO negative marking for a wrong answer in MSQ questions. However, there is NO partial credit for choosing partially correct combinations of choices or any single wrong choice.
(iii) Numerical Answer Type (NAT) Questions carry 1 or 2 marks each in most of the papers and sections. For these questions, the answer is a signed real number, which needs to be entered by the candidate using the virtual numeric keypad on the monitor The answer may be in decimals as well, for example,10.1 (one decimal) or 10.01 (two decimals) or -10.001 (three decimals). These questions will be mentioned with, up to which decimal places, the candidates need to present the answer. Also, for some NAT type problems an appropriate range will be considered while evaluating these questions so that the candidate is not unduly penalized due to the usual round-off errors. Candidates are advised to do the rounding off at the end of the calculation (not in between steps). Wherever required and possible, it is better to give NAT answer up to a maximum of three decimal places
Important Dates Related to GATE 2023
Online Application Process Opens

30th August 2022

Closing Date of REGULAR online registration/ application process

30th September 2022

End of Extended period for online Registration / application (with late fee)

7th October 2022

Last Date for change of Category, Paper and Examination City (an additional fee will be applicable)

11th November 2022

Admit Card will be available for download

3rd January 2023

GATE 2023 Examination

4th February 2023
5th February 2023
11th February2023
12th February2023

Announcement of the Results in the Online Application Portal

16th March 2023
For Detailed Notification 
---
CIVILIANZ SOCIAL MEDIA PLATFORMS
Our Social media platforms are excusively for Civil Engineering students, job candidates, teachers and all those who have passion for Civil Engineering. You will get
Civil engineering quizzes and rewards

Regular job notifications

Exam notifications

PDF notes

Study tips

Civil related discussion and all in this group.
JOIN OUR SOCIAL MEDIA PLATFORMS
#learnfromthebest