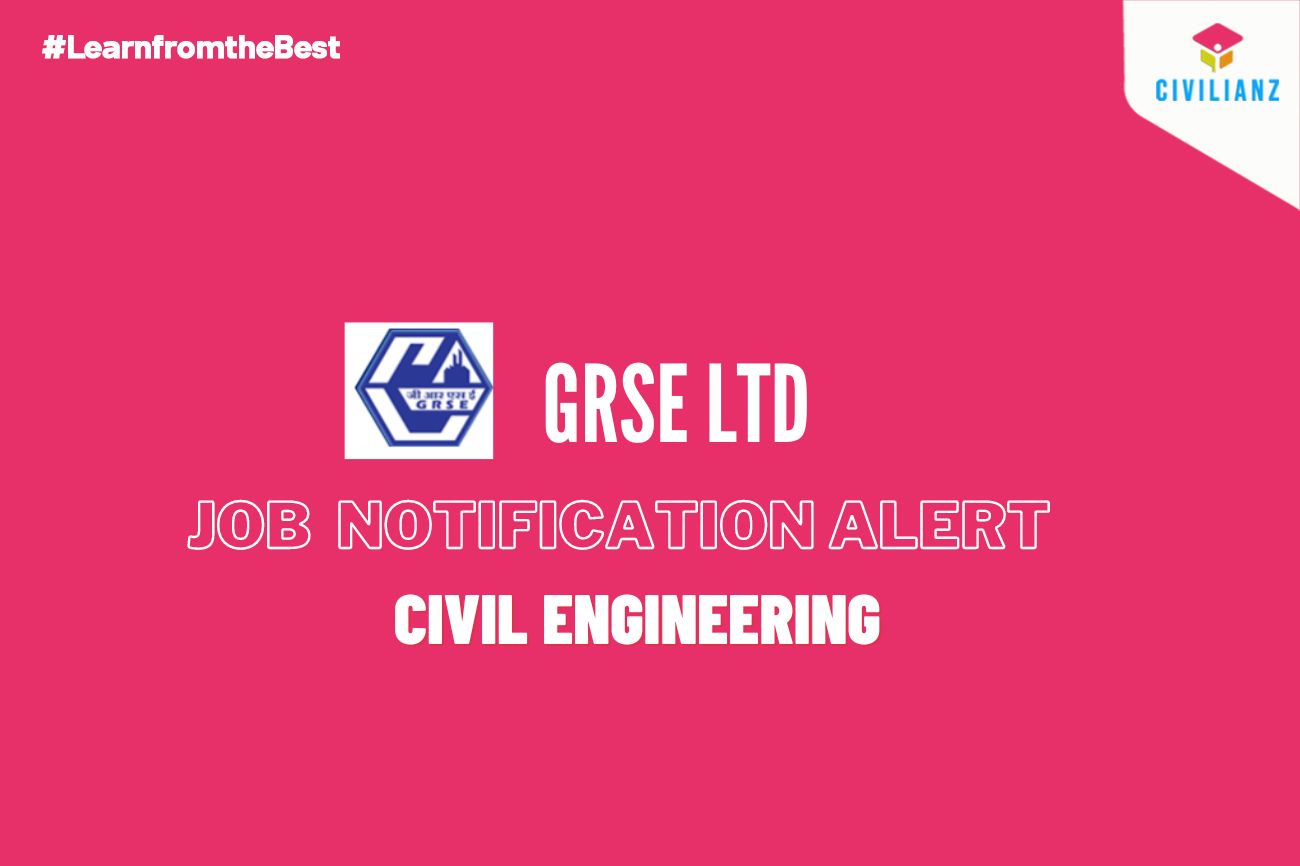 GARDEN REACH SHIPBUILDERS & ENGINEERS-GRSE LTD JOB NOTIFICATION 2022!!!
Name of the Department

Garden Reach Shipbuilders&Engineers Ltd

Name of the post

1. Graduate Apprentice




2.Technician Apprentice

Vacancy

46 (approx.)

Educational Qualification

Civil Engineering, Civil & Structural Engineering, Structural Engineering

Upper Age Limit

14-26 years

Pay Scale

Rs.10,000/-Rs.15,000/-

Start Date to Apply

16.07.2022

End Date to Apply

05.08.2022

Official Website

www.grse.com
EDUCATIONAL QUALIFICATION
Name of the post

1. Graduate Apprentice




2.Technician Apprentice

Disciplines

Civil

Subject fields in Engineering Degree Examination

Civil Engineering, Civil & Structural Engineering, Structural Engineering
HOW TO APPLY

i) The detailed advertisement and procedure of application are available in "Career Section" of GRSE 
ii) Online Application Process: All candidates have to submit ONLINE application through 'Career section' of GRSE Please refer "Guidelines to Apply Online" in the portal for further information.
iii) All candidates are required to apply through ONLINE mode ONLY. No other means / mode of submission of applications will be accepted
iv) Candidates are required to ensure eligibility as per the Detailed Advertisement before applying.
v) Applicants are advised to keep ready valid e-mail ID, mobile number and scan copy of his / her Passport size colour photograph (max. 100 KB size) before start filling the online application. The email ID and Mobile number provided in online application should remain valid for at least one year.
vi) Last date for online application is 05.08.2022

vii) Candidates are advised to apply well in time to avoid any last-minute technical problems.
viii) While applying, the applicants must ensure that the particulars furnished by him / her are correct in all respect. In case it is detected at any stage of selection process GRSE : Engagement of Apprentices  or even after engagement that he or she has furnished incorrect / false information or has suppressed any material fact or has submitted forged certificates / documents, his / her candidature will stand cancelled and apprenticeship liable to be terminated forthwith. Candidate may also render himself liable to criminal prosecution.
ix) After filing the Online Application, take print out of auto generated filled in Application Format and put signature of Candidate and Parent/Guardian at designated places.
x) Candidates should keep a copy of the Application printout. Hard copy of application is not required to be send to GRSE by post. However, the same will have to be produced by the candidates at the time of document verification in GRSE.


AGE RELAXATION
| | |
| --- | --- |
| Category | Maximum age limit relaxation |
| For Schedule Caste (SC) / Schedule Tribes (ST) candidates | By 5 years |
| For Other Backward Class – NonCreamy Layer (OBC-NCL) candidates | By 3 years |
| For Physically Handicapped (PH) / Differentially Abled candidates : | By 10 years |
SELECTION PROCESS
i) The mere fact that a candidate has submitted application against the advertisement and apparently fulfilling the eligibility criteria as prescribed in the advertisement would not bestow on him / her the right to be definitely considered for selection process.
ii) Candidates applying for Trade Apprentice (Ex-ITI) can opt for Training either at Kolkata or at Ranchi. They will be considered accordingly for preparing the Merit List.
iii) Merit List based on marks scored in the Qualifying Examination in each trade / discipline i.e. AITT under CTS for Trade Apprentice (Ex-ITI), Degree in Engineering examination for Graduate Apprentice and Diploma in Engineering examination for Technician Apprentice.
iv) Common Merit List based on marks scored in class 10th standard / Madhyamik or equivalent examination will be prepared for selection of Trade Apprentices (Fresher). Allotment of trade will be made after joining in order of merit and availability of seats.
v) In case final aggregate grades / marks is not mentioned in Certificate or in Final marksheet, average marks of all the semesters / years will be considered as the marks scored in the Qualifying Examination.
vi) Wherever CGPA or other grades in qualifying examination are awarded, equivalent % of marks should be indicated in the application as per norms adopted by concerned University / Institute. The candidate shall be required to submit a certificate to this effect from the University / Institute at the time of document verification. Where there are no laid down norms for conversion to equivalent % of marks, in such cases equivalency will be drawn by dividing the candidate's CGPA by the maximum possible CGPA and multiplying the result with 100.
vii) The date of declaration of final semester / year result / issuance of mark sheet shall be deemed to be the date of acquiring Degree / Diploma in Engineering qualification and there shall be no relaxation on this account.
viii) In case the date of declaration of result is not mentioned in the Mark Sheet, the candidate shall be required to submit a certificate mentioning the date of publication of result from the Principal of the Institute / College from where the candidate pursued his course, along with his application form.

ix) In the event of tie in total marks obtained by the candidates, age seniority will be considered i.e. candidate who is older will get preference.
x) Candidates will be called for document verification in the order of merit. They are required to submit ORIGINAL documents along with one set of self-attested photocopies of documents in regards to educational qualification, age and caste/PH (if applicable) and other documents as specified in the advertisement. Candidature will be rejected in case candidates failed to produce the original document or he/she is found not satisfying the eligibility criteria.
xi) Shortlisted candidates shall undergo Medical Examination and will have to be declared "Medically Fit" by GRSE Medical Officer before engagement as Apprentice in GRSE. Final selection of candidate is subject to medical fitness by Company's Medical Officer as per company's Rules.
xii) GRSE being a Government of India Undertaking under the Ministry of Defence, it is mandatory to submit Police Verification Report for residential address area from GRSE : Engagement of Apprentices  competent authority at the time of joining for training. Failure to submit the above report may lead to the cancellation of engagement as Apprentice.
xiii) If selected, candidates can be posted to any Unit / Department of the Company for the Apprenticeship Training.
xiv) The selected candidates must execute a Contract with respective authority as per the Apprenticeship Act.
STIPEND
| | |
| --- | --- |
| Apprentice Category | Stipend per month |
| 1.Graduate Apprentice | Rs.15,000/- |
| 2.Technician Apprentice | Rs.10,000/ |
GENERAL INSTRUCTION

i) The above mentioned trades / disciplines and numbers are indicative and subject to change without prior notice. The decision of the GRSE management will be final and no appeal will be entertained.
ii) GRSE reserves the right to increase / decrease the number of seats. Filling up of seats is solely at the discretion of the management based on suitability of candidates and no claim will arise for engagement, if some of these seats are not filled due to any reason.
iii) ITI / Degree Engineering / Diploma Engineering qualification acquired through Part-time / Distance learning mode will not be considered.
iv) Only Indian Nationals can apply.
v) No TA/DA will be paid to the applicants called for any stage of the selection process.
vi) In case of any ambiguity / dispute arises on account of interpretation in versions other than English, the English version will prevail.
vii) Information related to engagement process like document verification schedule, medical examination schedule, selection etc. will be hosted in GRSE website.
viii) After completion of training, the Apprenticeship contract will be terminated. It shall not be obligatory on the part of GRSE to offer any employment to the apprentice on completion of period of apprenticeship training.
ix) Suppression of information / facts will lead to disqualification at any stage of selection process.
For Detailed Advertisement
DOWNLOAD DETAILED ADVERTISEMENT
---
CIVILIANZ SOCIAL MEDIA PLATFORMS
Our Social media platforms are exclusively for Civil Engineering students, job candidates, teachers and all those who have a passion for Civil Engineering.
You will get
Civil engineering quiz and rewards

Regular job notifications

Exam notifications

PDF notes

Study tips

Civil related discussion and all in this group.
JOIN OUR SOCIAL MEDIA PLATFORMS
#learnfromthebest