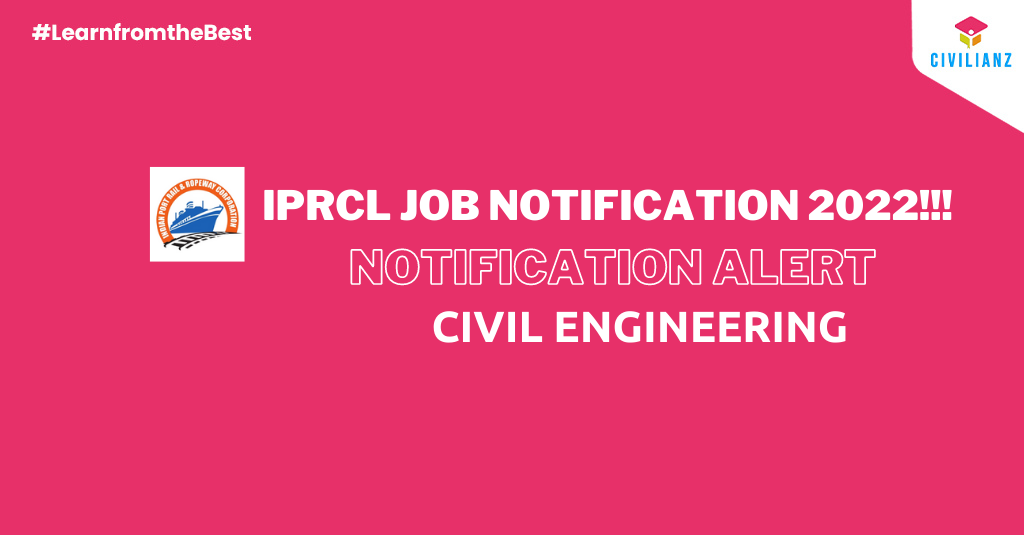 IPRCL JOB NOTIFICATION 2022!!!
| | |
| --- | --- |
| Name of the Department | IPRCL |
| Name of the Post | Project Site Engineer |
| Vacancy | 06 |
| Educational Qualification | should be presently working in railway PSUs  |
| Upper Age Limit | 32 years |
| Pay Scale | 54000/- |
| Start Date to Apply | 10-03-2022 |
| End Date to Apply | 04-04-2022 |
| Official Website | www.iprl.com |
VACANCY
| | |
| --- | --- |
| Name of the Post |  Project Site Engineer |
| Vacancy | 06 |
EDUCATIONAL QUALIFICATION
| | |
| --- | --- |
| Name of the Post | Project Site Engineer |
| Educational Qualification | should be presently working in railway PSUs Likes |
Should be presently working in Railway PSUs like RITES, IRCON, RVNL, DMRC, KRCL, JV Companies in the field of Railways under Govt. Control or in which State Govt. or Central Govt. is having its shareholding and must have at least 2 years post qualification experience in the field of Railway Civil Works in any of the aforesaid organization.­­­­­
 PAY SCALE
| | |
| --- | --- |
| Name of the Post |  Project Site Engineer |
| Pay Scale | renumeration : 54000/- |
The monthly remuneration of Project Site Engineer will be around Rs. 54000/- plus HRA (HRA will be Rs. 10,000/-, Rs.7500/- and Rs.4,000/- at 'X', 'Y' & 'Z' class cities respectively, if accommodation is not provided by the Company), Medical Insurance for self and immediate family (Spouse and Dependent Children) and Employers' Contribution of PF of 12% shall be given. An annual increment as per the government policy i.e. 3% plus annual inflation on the basic pay shall be given.
UPPER AGE LIMIT
Maximum age 32 years as on closing date of receiving applications. Age relaxation of 5 Years for SC/ST & 03 years for OBC candidates will be applicable as per Govt. Instructions.
DURATION OF CONTRACT
The contract will be initially for a period of three years which may be extended further for another two years based on the satisfactory performance of the candidate and the requirement of the projects undertaken by the Company.
SELECTION PROCEDURE
The actual scheme/criteria of the selection will be decided by the Selection Committee depending upon the requirements of the job for which recruitment is made. Marks will be awarded to the candidates applying for the vacancies on the basis of the following: i. Marks of qualifying examination (Engineering Degree) for the post — 30% ii. GATE Score-20% iii. Additional relevant qualification -10% iv. Relevant Experience for the desired post – 40%
Note: Candidates need to furnish their relevant experience with exact nature of assignment handled in Railway Works in the concerned discipline duly certified by the project head.

HOW TO APPLY
1.Before applying candidates should ensure that they satisfy all the necessary conditions and requirements of the position. Applicants fulfilling the eligibility criteria and willing to be considered for the post should submit their application.
2.The application in the prescribed format complete in all respects, along with photograph and self attested important documents as mentioned below Para-10 at (a) to (g) along with detailed CV may be submitted either in online mode at the link available in the HR/Vacancy caption on IPRCL website  or hard copy as per the proforma given at Annexure-I by post or courier within due date Super Scribing as "APPLICATION FOR THE POST OF " on the Left Top Side of the Envelope addressed to 
General Manager ,Indian Port Rail& Ropeway
Corporation limited corporate office
4th floor Nirman Bhavan,Mumbai
Port trust building.M.P.road
Mazagon(E)Mumbai-400010
Applications received after the due date, incomplete applications, applications not made in prescribed format and applications without enclosures of requisite documents shall be summarily rejected.
IMPORTANT NOTES
1.Applications not conforming to the prescribed format or incomplete in any respect or without self- attestation listed above shall be summarily rejected.
2.The responsibility of establishing the eligibility for the post without any doubt shall be that of applicant by way of attaching sufficient documents. The process of scrutiny of application/documents does not involve contacting applicant or collection of additional document from applicant at any stage.
3.In case information furnished in the application format or the Certificates/testimonials are found to be false or incorrect, candidature of such applicants is liable to be cancelled at any stage of the selection or thereafter, besides such other penal action as deemed fit.
4.The applicants working in the Govt. departments / PSUs should note that these are short- tenure posts on contract and they are required to get their applications forwarded through proper channel or submit NOC along with application. However, in case of difficulty in forwarding application through proper channel or getting NOC, they shall be required to submit a proper relieving letter at the time of joining failing which he/she shall not be allowed to join.

5. Applicants should clearly note that IPRCL will in no case be responsible for non-receipt of their application or any postal delay in receipt thereof on any account whatsoever.
6. The duration spent on summer trainings, apprenticeship or as trainees which may be mandatory for obtaining the qualifying degree shall not be counted towards mandatory experience mentioned in this vacancy circular. Thus, only the experience gained after obtaining the requisite degree/diploma will be taken into consideration.
7.Management reserves the right to cancel/ restrict/ enlarge/ modify/ alter the selection/ recruitment process at any stage, without issuing any further notice or assigning any reason thereafter.
1.Legal jurisdiction will be Mumbai in case of any dispute.
2.Canvassing in any form will be a disqualification.
DOWNLOAD ADVERTISEMENT
DOWNLOAD ADVERTISEMENT
CIVILIANZ SOCIAL MEDIA PLATFORMS
Our Social media platforms are excusively for Civil Engineering students, job candidates, teachers and all those who have passion for Civil Engineering.
You will get
Civil engineering quizz and rewards

Regular job notifications

Exam notifications

PDF notes

Study tips

Civil related discussion and all in this group.
JOIN OUR SOCIAL MEDIA PLATFORMS
#learnfromthebest