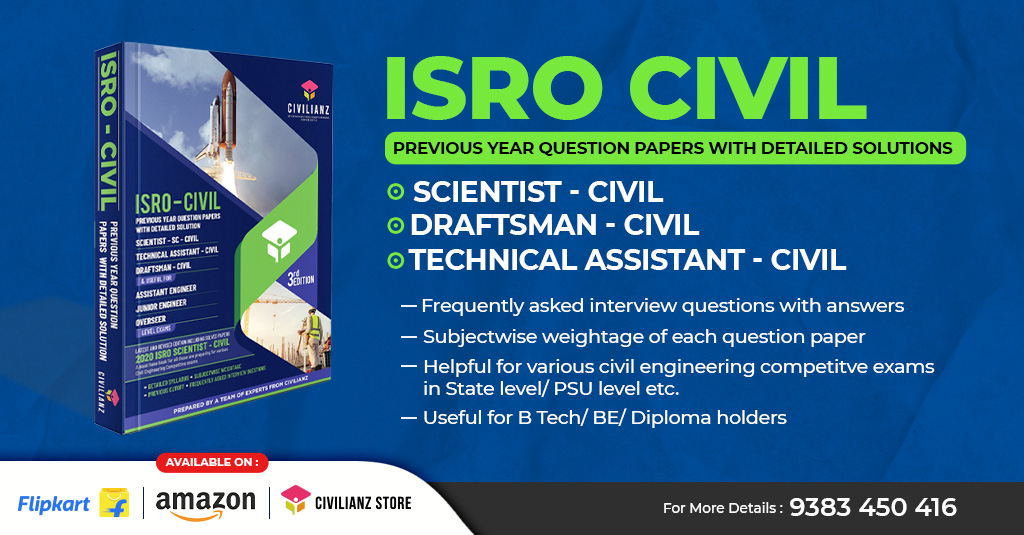 ISRO CIVIL ENGINEERING PREVIOUS YEAR QUESTION PAPERS – AN IMPORTANT TOOL FOR VARIOUS CIVIL ENGINEERING COMPETITIVE EXAMS
In order to serve the nation and advance society as a whole, the Indian Space Research Organization conducts research and development activities in the fields of space application, space science, and Space Technology. Working in such organization is a dream of every individual. The Indian Space and Research Organization conducts various recruitment examinations for scientists and engineers in different fields. Infrastructure development is crucial to support ISRO's launching activities. Every year, Civil Engineers are hired for planning, design, and construction tasks.
ISRO-CIVIL ELIGIBILITY CRITERIA
| | |
| --- | --- |
| SCIENTIST-SC-CIVIL | BE/B. TECH or its equivalent qualification in Civil Engineering with a minimum of 65% marks or CGPA 6.84/10 aggregate |
| TECHNICAL ASSISTANT-CIVIL | CIVIL Diploma in Civil Engineering from a recognized university. An aggregate of 65% or 6.48 CGPA/CPL |
| DRAFTSMAN-CIVIL | Education qualification of SSLC/SSC/MATRIC + ITI/NTC/NAC |
RECRUITMENT PROCESS
Written test
Candidates who apply for ISRO Recruitment 2023 must appear in the preliminary phase written test, which consists of 80 questions drawn from the theoretical and numerical parts of the relevant discipline. It is necessary to pass the ISRO ICRB Written Test in order to appear in the ISRO Scientist Engineer interview, thus applicants should carefully review the ISRO Scientist Engineer Syllabus and prepare for the ISRO Scientist Engineer Exam.
Interview
The candidates will be scheduled for an interview with the ISRO panel based on their performance in the written test. In the ISRO Interview 2023, candidates will be judged based on a variety of factors, including technical (academic) knowledge, general awareness relevant to the technical specialization, presentation/communication skills, etc. There will be a minimum of 10 applicants total who will be chosen for an interview in a ratio of 1:5. A total of 100 marks will be awarded for the ISRO Scientist Engineer interview.
HOW CAN WE CRACK THE EXAM?
You may refer to an array of textbooks and study resources when getting ready for a test to help you do well. But is that enough to suffice? Of course not. When preparing for any exam, it is crucial to refer to prior year's test questions. An updated edition of a book that includes previous year's questions and a detailed solution is therefore essential for acing the ISRO exams.
THE FINEST STUDY MATERIAL
CIVILIANZ, the best Civil Engineering Coaching Centre is here with an one stop solution.
ISRO – CIVIL PREVIOUS YEAR QUESTION PAPERS WITH DETAILED SOLUTION.
A must have book for all those who are preparing for various Civil Engineering Competitive Exams.
FEATURES OF THE BOOK
Previous year question papers with detailed solution

  SCIENTIST – SC – CIVIL




  TECHNICAL ASSISTANT – CIVIL




  DRAFTSMAN – CIVIL

Latest and revised edition

Solved Papers from 2013 to 2020

Useful for

ASSISTANT ENGINEER




JUNIOR ENGINEER




OVERSEER level exams &




for all PSU level exams.

Also includes

Detailed Syllabus




Subject wise Weightage




Previous Cutoff &




Frequently Asked Interview Questions.
TABLE OF CONTENTS
SCIENTIST/ENGINEER 'SC' – ICRB

Question Paper- 2013




Question Paper- 2014




Question Paper- 2015




Question Paper- 2017




Question Paper- 2018




Question Paper- 2019




Question Paper- 2020

ISRO SCIENTIST 'SC'

VSSC- 2015

ISRO TECHNICAL ASSISTANT

VSSC- 2015




VSSC- 2016




SAC- 2015




SHAR- 2017




NRSC- 2018




VSSC- 2019




IPRC- 2020

ISRO DRAUGHTSMAN B

ISAC- 2016




SHAR- 2016




NRSC- 2018




IPRC- 2018

PREVIOUS YEARS INTERVIEW QUESTIONS & ANSWERS

 
HOW TO ORDER
WHY THIS BOOK?
This study material is an exclusive and a custom-made book for Civil Engineering aspirants. As you know, for various Civil Engineering competitive exams, the most important thing in the prepation is to follow previous year question papers and to plan your learning as per the weightage of the subjects. What to leran and what not to, which chapter to concentrate more, which one should be skipped, which chapter should be focused etc. are some of very confusing parts in the preparation. 
You can get solution for all your questions from this single material. 
Purchase now
Download sample pages,
CIVILIANZ SOCIAL MEDIA PLATFORMS
Our Social media platforms are exclusively for Civil Engineering students, job candidates, teachers and all those who have passion for Civil Engineering.
You will get
Civil engineering quiz and rewards

Regular job notifications

Exam notifications

PDF notes

Study tips

Civil related discussion and all in this group.
JOIN OUR SOCIAL MEDIA PLATFORMS
#learnfromthebest
ISRO CIVIL ENGINEERING PREVIOUS YEAR QUESTION PAPERS