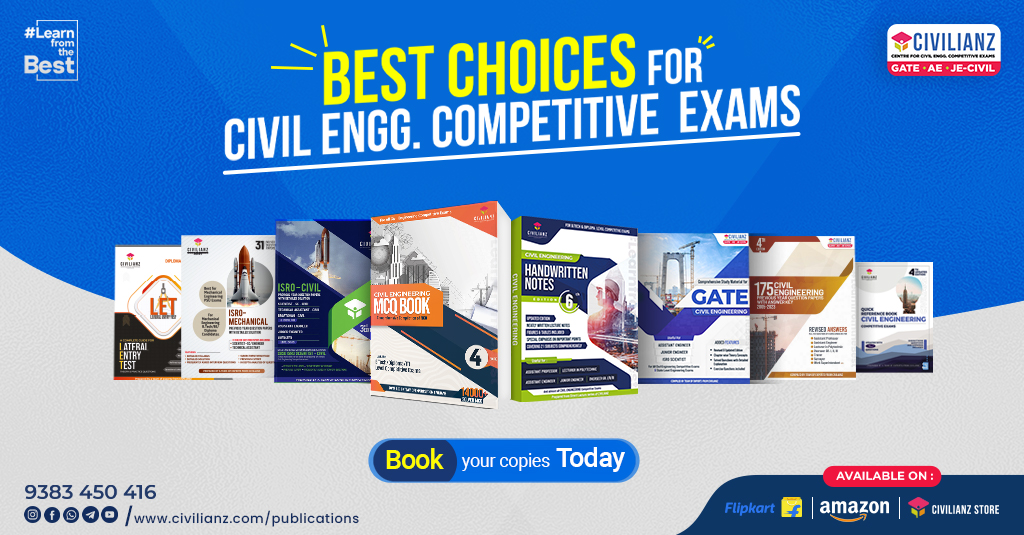 BEST BOOKS FOR CIVIL ENGINEERING COMPETITIVE EXAMS 
Choosing the best study materials for Civil Engineering Competitive Exams can be a daunting task. But now it's easy. CIVILIANZ provides a one-stop resource hub for conquering the challenges of Civil Engineering competitions. We've curated a treasure trove of knowledge, strategies, and insights to empower aspiring Civil Engineers on their journey to success.
Comprehensive Material For All Your Civil Engineering Competitive Exams
Best books for civil engineering competitive exams BEST SELLER BOOKS
🎓 Civilianz books in top of chart🔥
Kerala PSC Civil Engineering books
Introduction to civil engineering books – Top civil engineering books
Grab your copies of our #Best books for civil engineering competitive exams and #Learn_from_the_Best
Are you aiming to become an ISRO Scientist? Then this is your best companion for accomplishing your dream. Master ISRO exams with ISRO Civil-Previous Year Question papers with detailed solutions. This book is a compilation of previous test questions and their in-depth solutions from ISRO exams for civil engineering positions. 
ISRO Engineer/Scientist, Technical Assistant-Civil, and Draftsman-Civil question papers are all included.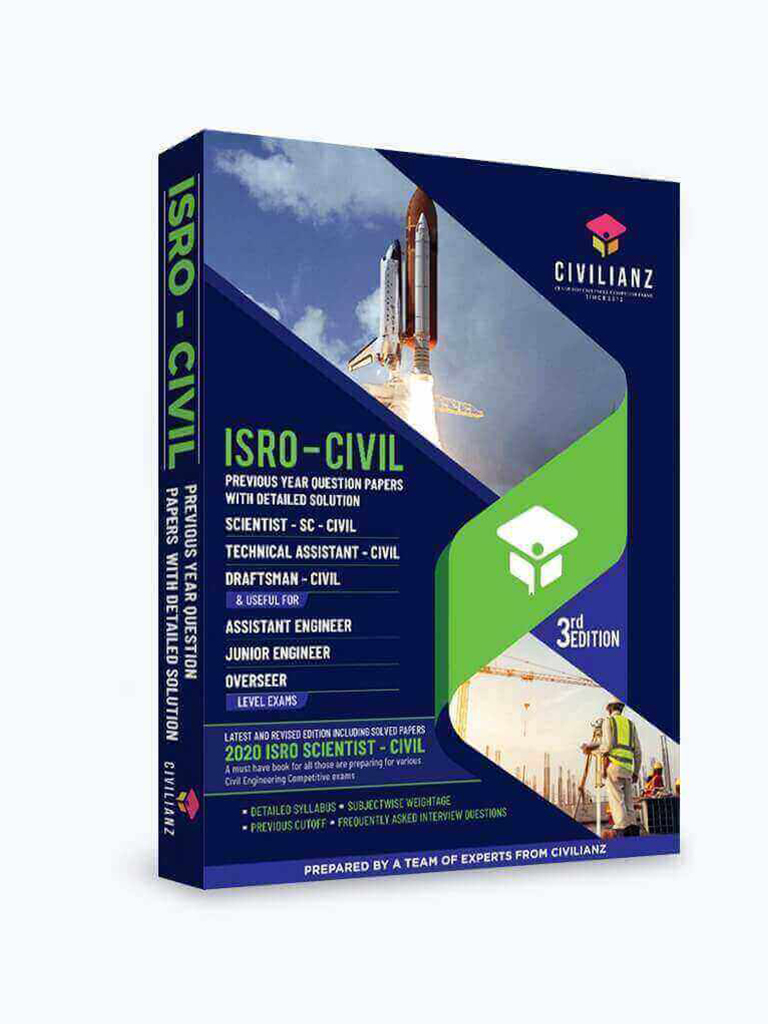 This book would be helpful for B. Tech., Diploma holders in Civil Engineering in preparation for exams from various PSUs and Assistant Engineer, Overseer level exams from various state recruiting agencies. It covers formulas for civil engineering used in competitive exams. Aspirants will study the questions from the options themselves with the help of a detailed explanation of each answer and supporting data. It is one of the top civil engineering books and is helpful for civil engineers.
🔥Special Features
📗Previous years Question papers with detailed solutions of Scientist SC, Technical Assistant and  Draftsman exams
📕 Useful for PSU & other State level PSU exams
📘 Subject wise Mark Weightage Analysis for each paper
📕 Detailed Syllabus of exams
📙 Previous years Interview questions
Avail your copies @
Among the books for civil engineering competitive exams, this was one of the top Kerala PSC Assistant Engineer Civil Books.
This book has 175 questions from the previous year's Kerala PSC Assistant Engineer, Overseer/Tracer level Civil Engineering examinations. There are questions and an answer key supplied. Each set of questions comes with a practice worksheet. Detailed syllabus of previous exams published by Kerala PSC is also included.
Features📝
🪩 175 set of Questions with Answer Key.
🪩Revised and Updated 4th Edition.
🪩17500 Questions with Answers.
🪩 Including Question Papers from 2005 to 2023
🪩Full Test Questions of Exam Conducted for:
✨Assistant professor
✨Assistant Engineer
✨Lecturer in Polytechnic
✨Overseer GR.I,II,III
✨Tracer
✨Surveyor
✨Work Superintendent etc.
Being one of the best books for students pursuing civil engineering, this one includes:
⭐ 14000+ questions with answer keys categorized into chapters of each subject
⭐ Answer key is available in separate booklet
Comprehensive and the largest compilation of MCQ with Answer key

Questions completely cover syllabus of AE exam.
Also useful for:
Junior Engineer exams 

ISRO Scientist/Engineer exams

Overseer exams

And all other B Tech/Diploma/ITI level Civil Engineering Competitive Exams
The most thorough study tool available to assist civil engineers in getting ready for the Assistant Engineer Civil test and landing their dream career is the Civilianz Quick Reference Guide. It is a question bank for assistant engineers in civil engineering for the Kerala Public Service Commission. One of the top objective books for civil engineering, according to reviews. The first edition of this KPSC AE civil study material being a market hit, proudly presenting the revised edition of
The Civilianz Quick Reference Guide for Kerala PSC Assistant Engineer (Civil) and Overseer Level Exams. 
This book features
Subject wise coverage of syllabus

Key points and rank scorer questions

Easy and quick reference pattern

An elaborated version with more added points and explanations

Standard Specifications and all the important things that you need to know about each and every Civil Engineering subject
CIVILIANZ STORE
The handwritten notes for civil engineering in this section were created from Civilianz actual class lectures. Simply put, they are Kerala PSC civil engineering notes. This book is one of the easy engineering civil books in the Civilianz'  book series.
At the Assistant Engineer Level, this thoroughly covers 22 disciplines. All of the notes have been written at the Assistant Engineer level, and they can be used to prepare for a number of civil engineering competitive exams, including Junior Engineer and ISRO Scientist-Civil.
This book features
Building Materials & Construction

Estimation

Surveying

Engg. Graphics

Concrete Technology

Transportation

Railway Engg.

Airport & Harbour Engg.

Hydrology

Irrigation Engg.

Engg. Mechanics

Mechanics of Solids

Structural Analysis

Reinforced Cement Concrete

Steel Structures

Fluid Mechanics

Geotechnical Engg.

Construction Management

Environmental Engg.

Workshop Calculations

Urban Planning Architecture
Exclusive material for all GATE Civil Aspirants Compiled by Team of Experts from CIVILIANZ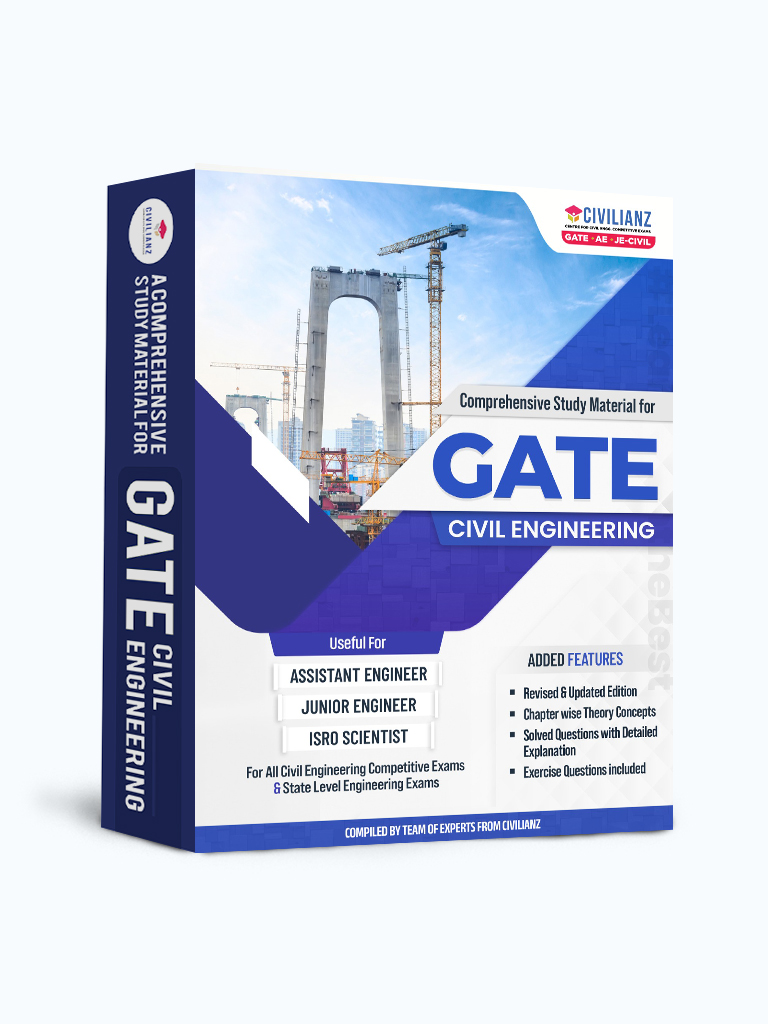 🔓Unlock the features
✒Revised & updated content.
✒Chapter wise Theory Concepts.
✒Exercise questions.
✒Solved questions with detailed explanations.
Also Perfect for Assistant Engineer, Junior Engineer, ISRO Scientist, and all other Civil Engineering Competitive Exams and State Level Engineering Exams.
AMAZON
FLIPKART
Previous Year's Question Papers of Scientist-SC-Mechanical and Technical Assistant-Mechanical exams with their detailed solutions
✨ Detailed syllabus of exams 
✨ Subject wise weightage 
✨ Previous cutoff
✨ Frequently asked interview questions
This is a must buy book for all those who are preparing for Lateral Entry Exam. It includes theory and practice questions.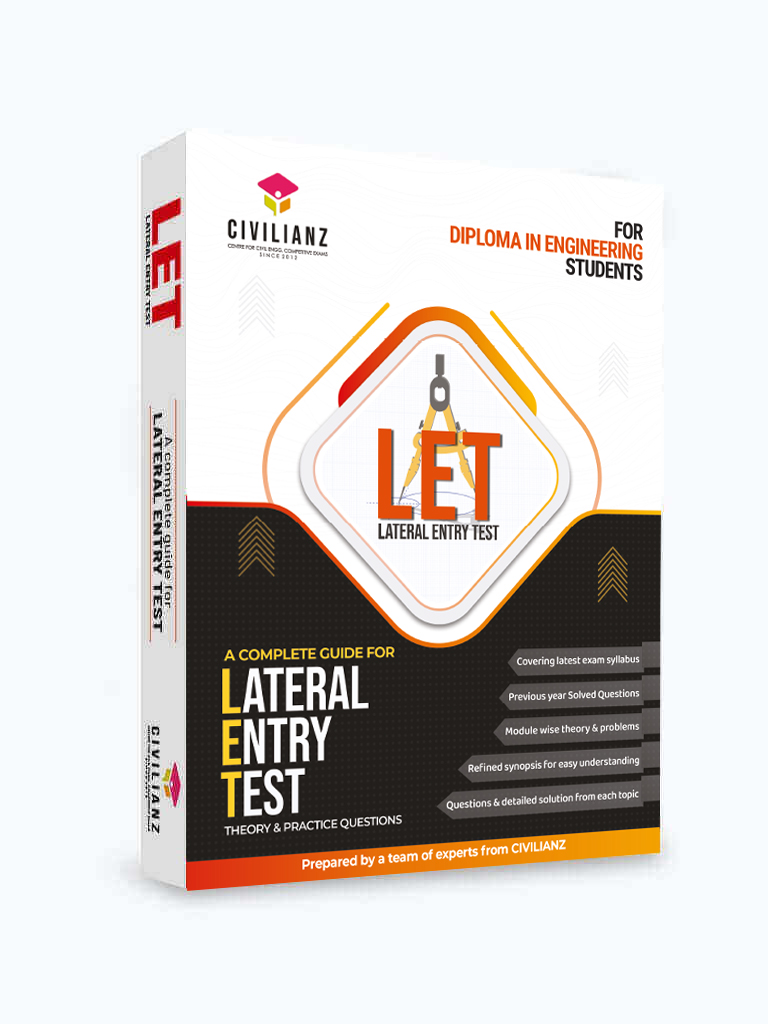 Features
Covering latest exam syllabus

Previous year Solved Questions

Module wise theory & problems

Refined synopsis for easy understanding

Questions & detailed solution from each topic
No more waiting
#learn_from_the best
---
CIVILIANZ SOCIAL MEDIA PLATFORMS
Our Social media platforms are exclusively for Civil Engineering students, job candidates, teachers and all those who have passion for Civil Engineering.
You will get
Exam notifications

Study tips

Civil related discussion and all in this group.
JOIN OUR SOCIAL MEDIA PLATFORMS
#learnfromthebest
BEST BOOKS FOR CIVIL ENGINEERING COMPETITIVE EXAMS