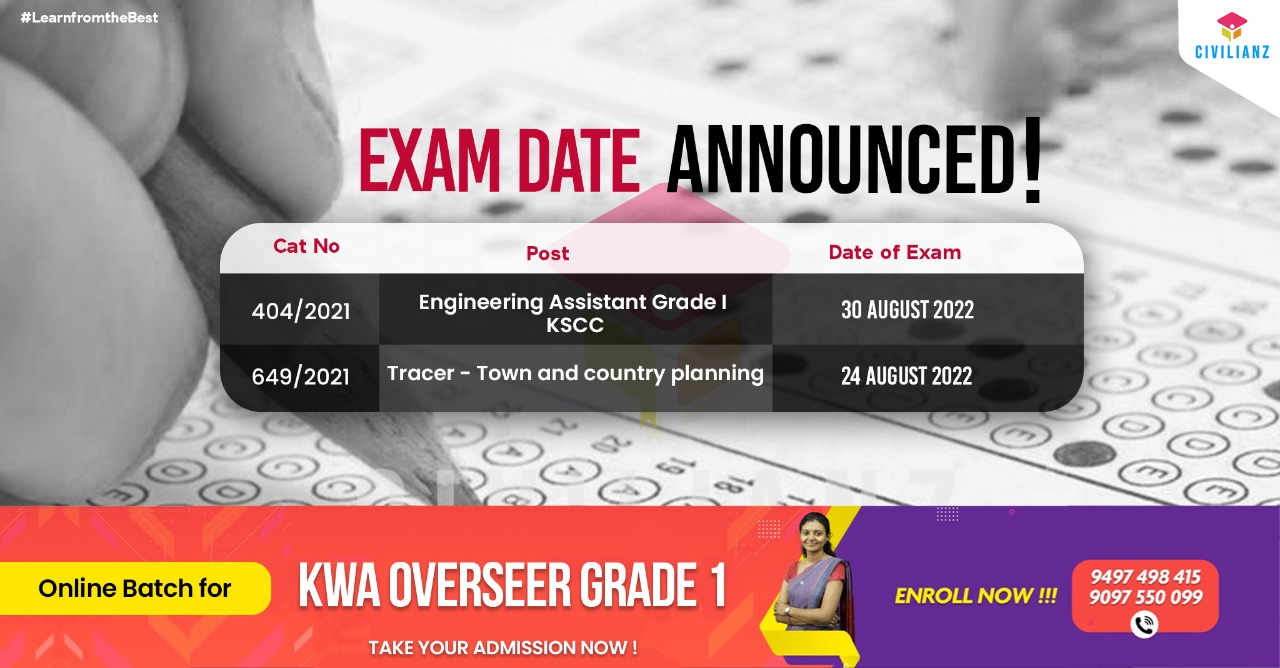 KERALA PSC EXAM DATES FOR ENGINEERING ASSISTANT GRADE I & TRACER ON 30.08.2022 & 24.08.2022
| | | | |
| --- | --- | --- | --- |
| Sl.No | Name of post | Category Number | Date of Examination |
| 1 | Tracer – Town and country planning | 649/2021 | 24.08.2022 |
| 2 | Engineering Assistant Grade I KSCC | 404/2021 | 30.08.2022 |
Candidates can submit their confirmation for writing this examination through one-time registration profile from 23.05.2022 to 11.06.2022.
Candidates who successfully submit their confirmation on or before 11.06.2022 can download the Admission Tickets through their One Time Registration Profile on the website from 10.08.2022 and 16.08.2022.
KERALA PSC EXAM DATES FOR ENGINEERING ASSISTANT GRADE I & TRACER ON 30.08.2022 & 24.08.2022

Special Information
While submitting confirmation for the confirmation required posts of this examination program, candidates can select the District of their Communication Address as the choice of their examination centre. For the same, changes can be made in Communication Address if necessary and special attention is to be taken to submit confirmation only after making necessary changes in their Communication Address in the Profile.
For detailed exam calendar,

The Race 🏃 is NOT over yet ❗
Success can only be achieved by running with the times.
Here it comes, OVERSEER STANDARD 2022 with Live and Recorded Live videos of all subjects for the upcoming Overseer Exams.
Course Highlights :
👉🏼 Live/ Recorded Live videos covered in Overseer syllabus
👉🏼 Daily Assessment tests
👉🏼 Weekly & Monthly Model Tests
👉🏼 Live Interactive Quiz
👉🏼 Overseer Test series
👉🏼 Faculty support
👉🏼 PYQ Discussions
This course will be a sure shot help for the upcoming exams like
Overseer Gr.I,II & III – LSGD, PWD/Irrigation, KWA, KLDB, KLDC etc.
⏳ Course duration – 1 year
Lets make every adverse situation into possible one with this intensive ONLINE COACHING from CIVILIANZ
Why waiting ⁉️
Reach us on
📱9497498415
📱9383450415
📱9097440099
📱9097550099
#learnfromthebest
#beawinner
---