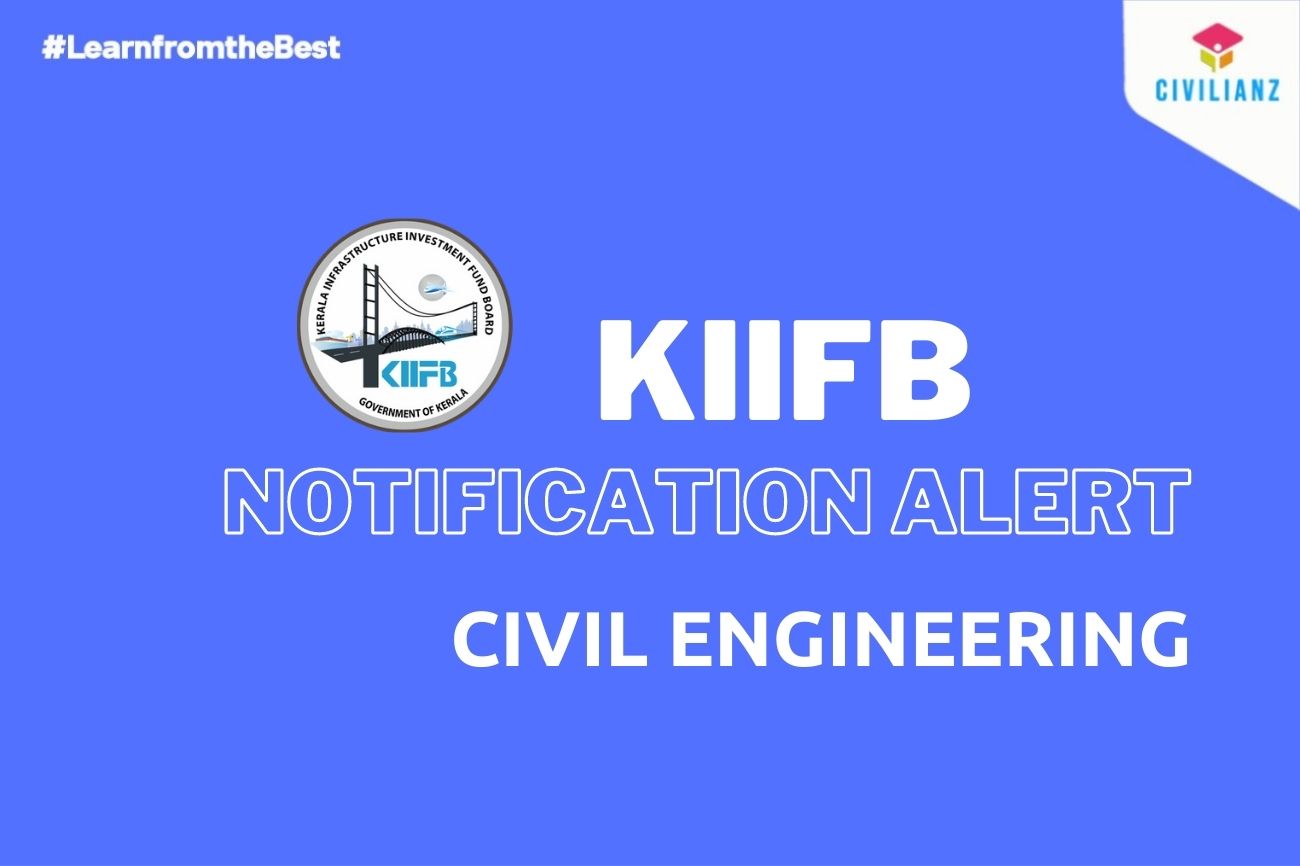 KERALA INFRASTRUCTURE INVESTMENT FUND BOARD – KIIFB JOB NOTIFICATION 2021
Name of organization

KERALA INFRASTRUCTURE INVESTMENT FUND BOARD

Name of post

1. Assistant Project Manager




2. Project Manager




3. Project Engineer




4. Technical Appraisal Trainee




5. Project Coordinator

Vacancy

1. Assistant Project Manager – 01




2. Project Manager – 01




3. Project Engineer – Anticipated




4. Technical Appraisal Trainee – 01




5. Project Coordinator – 20

Salary

Rs 30000 to 2,00,000

Age

1. Assistant Project Manager – 45 years




2. Project Manager – 50 years




3. Project Engineer – 35 years




4. Technical Appraisal Trainee – 25 years




5. Project Coordinator – 35 years

Location

Kerala

Starting date to apply

09.06.2021

Last date to apply

23.06.2021

Official website

www.cmdkerala.net
The Kerala Infrastructure Investment Fund Board (KIIFB), a statutory body under Finance Department, Government of Kerala, invites application from qualified and competent candidates for appointment to the posts of Assistant Project Manager, Project Manager, Project Engineer, Project Cordinator and Technical Appraisal Trainee on contract basis. Interested candidates may apply via ONLINE mode only by filling the prescribed application form given in the website of Centre for Management Development (CMD), Thiruvananthapuram
NUMBER OF POSTS
| | |
| --- | --- |
| Name of post | Vacancy |
| Assistant Project Manager | 01 |
| Project Manager | 01 |
| Project Engineer | Anticipated |
| Technical Appraisal Trainee | 01 |
| Project Coordinator | 20 |

EDUCATIONAL QUALIFICATION
Name of post
Educational qualification
Pay scale

Assistant Project Manager

Graduate in Civil Engineering

Rs, 80,000/- per month

Project Manager

Graduate in Civil Engineering

Rs.1.25 lakh per month

Project Engineer

Graduate in Civil Engineering

Rs. 40,000/- per




month

Technical Appraisal Trainee

Graduate in Civil Engineering

Rs. 30,000/- per




month

Project Coordinator

Post-Graduation in Engineering

Rs. 1,00,000 –




Rs.2,00,000
UPPER AGE LIMIT
| | |
| --- | --- |
| Name of Post | Maximum age |
| Assistant Project Manager | 45 years |
| Project Manager | 50 years |
| Project Engineer | 35 years |
| Technical Appraisal Trainee | 25 years |
| Project Coordinator | 35 years |
GENERAL INSTRUCTIONS
1. Admittance to all stages of the recruitment will be provisional only. Detailed scrutiny of the applications/credentials will be conducted before interview/appointment. Any discrepancy found in the application during the detailed scrutiny, at any stage of the recruitment process, will result in the rejection of candidature.
2. Candidates are required to ensure that they fulfill the eligibility criteria as specified in the notification published in the website of Centre for Management Development before submitting the application.
3. Candidates are required to submit applications via ONLINE mode only accessing the website of Centre for Management Development. Applications received in no other medium will be accepted.
4. Candidates will have to upload their passport size photograph (taken within six months) and signature while submitting the application. The photograph and signature must be in JPEG format. The size of the photograph must be less than 200 kb and the size of the signature should be less than 50 kb.
5. Candidates must enter the mobile number and email address with utmost care as all further intimations will be made either via mobile number or via email.
6. Kerala Infrastructure Investment Fund Board (KIIFB) reserves the right to accept or reject any or all the applications without assigning any reason whatsoever.
SELECTION PROCESS
The selection process may comprise of Written Examination/Group Discussion and /or Personal Interview. KIIFB/CMD reserves the absolute right to decide as to whether to use any of these modes for selection for the notified posts.
IMPORTANT DETAILS
1. The applicants are required to go through the detailed notification carefully and decide themselves about their eligibility for this recruitment before applying and enter the particulars completely Online
2. CMD is not responsible for any discrepancy in submitting the application through Online.
3. Applicants must compulsorily fill-up all relevant fields of applications and submit application through Online
4. ncomplete/incorrect application form will be summarily rejected. CMD under any circumstances will not entertain the information, if any,
furnished by the candidate subsequently. Applicants should be careful in filling-up the application form at the time of Submission.
5. The applicant should not furnish any false, tampered, fabricated Information or suppress any material information while filling up the
application form. If the particulars furnished in the Online application form do no tally with the Original documents produced by the Candidates his/her candidature will be rejected.
6. KIIFB reserves the right to fill or not fill the post advertised.
7. Only Post- Qualification experience of candidates/applicants will be considered
8. Applicants should have a valid personal email ID and mobile no., which should be kept active till the completion of this Recruitment Process.
9. The copy of the Appointment letters, Salary Certificates, pay slip etc. will not be accepted in lieu of work experience certificate
IMPORTANT DATES
| | |
| --- | --- |
| Starting date to aply | 09.06.2021 |
| Last date to apply | 23.06.2021 |
For detailed advertisement for the post of Assistant Project Manager, Project Manager, Project Engineer and Technical Appraisal Trainee,
DOWNLOAD
For detailed advertisement for the post of Project Coordinator,
DOWNLOAD