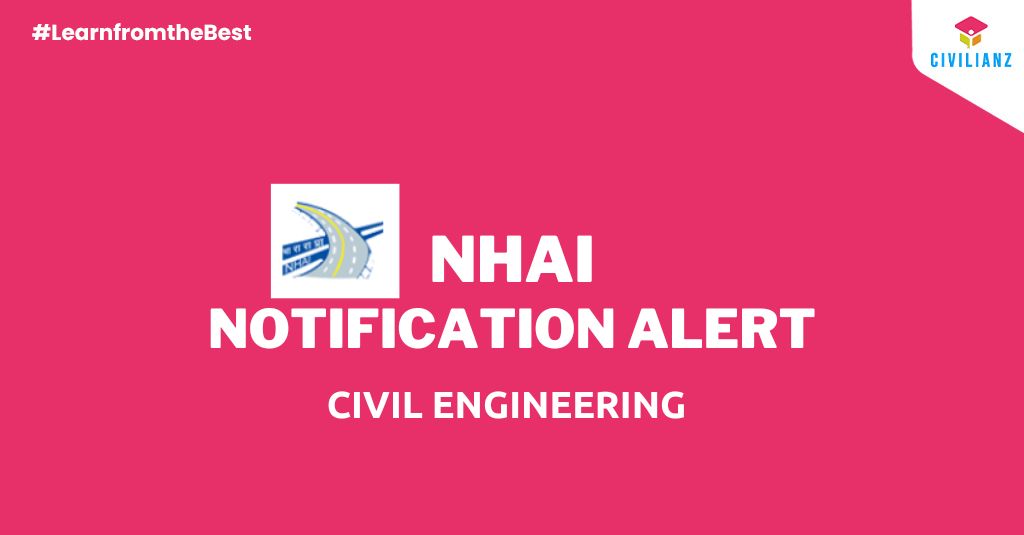 | | |
| --- | --- |
| Name of the Post | Deputy Manager |
| Name of the Department | National Highways Authority of India |
| Vacancy | 50 |
| Upper Age limit | Not exceeding 30 years |
| Educational Qualification | Degree in Civil Engineering from a recognized University / Institute; |
| Pay Scale | Rs.15,600-39,100/- |
| Start Date to Apply | 14.06.23 |
| End Date to Apply | 30.06.2023 |
| official website | www.nhai.gov.com |
National Highways Authority of India (NHAI) invites applications for filling up 50 posts of Deputy Manager (Technical) in the Level 10 of Pay Matrix of 7th CPC (Pre-revised: PayBand-3 [(Rs.15,600-39,100/-) + Grade Pay of Rs.5400/-)] with Central DA on Direct Recruitment basis from candidates who have appeared for the interview (Personality Test)of Engineering Services (E.S) Examination (Civil), 2022 conducted by UPSC: –

EDUCATIONAL QUALIFICATIONS
All applicants must fulfill the essential  requirements of the post and other conditions stipulated in the advertisement. They  are advised to satisfy themselves before applying that they possess at least the  essential qualifications laid down for the post. No inquiry asking for advice as to  eligibility will be entertained.
| | |
| --- | --- |
| Name of the Post | Deputy Manager |
| Vacancy | 50 |
HOW TO APPLY
Applicants can apply ONLINE only. The procedure to be followed for filling up the ONLINE application is given below: –

a). The applicant may visit NHAI website http://www.nhai.gov.in for applying Online. It may be accessed on Google Chrome or Mozila Firefox.

b). Click on the tab About Us → Recruitment → Vacancies →Current → Click on the advertisement of Deputy Manager (Technical) →Online Application

c). Fill up the form and furnish the requisite informationd). Following documents are required to be uploaded: –
• Photograph – Scanned copy of colour passport sizephotograph in only 'jpg / 'jpeg' or 'png' or 'gif' image types not exceeding 1 MB. Page 4 of 6• Signature – Scanned copy of signature in only 'jpg / 'jpeg' or 'png' or 'gif' image types not exceeding 1 MB.

• Class –X Certificate indicating date of birth in only 'pdf' image types not exceeding 2 MB.

• Caste/Category Certificate in support of SC/ST/OBC- NCL/EWS/PwBD (as per prescribed format attached) in only 'pdf' types not exceeding 2 MB.

• Degree in support of passing in Civil Engineering in only 'pdf' image types not exceeding 2 MB.


• Copy of Interview Call letter issued by UPSC for appearing in interview of .E.S Examination 2022 (Civil) only 'pdf' image types not exceeding 2 MB.

• Copy of final mark sheet of E.S Examination 2022 (Civil) containing marks of written test & Personality Test issued by UPSC only 'pdf' image types not exceeding 2 MB.

d). Click 'Next' button.

e) Application Preview may be seen.|

f) Option of 'Edit' and final Submit button, are also available.

g) If the Applicant is satisfied with the information furnished, click "Submit" button for submitting the application form throughOnline. The application form Online may be submitted by 30.06.2023 (6:00 PM).

h) After submission of Application Form, a "Unique Reference Number" alongwith details entered by the Applicant with subject "Application Acknowledgement" will be generated automatically.

j) Automatically generated "Application Acknowledgement" would be sent to the E-mail id provided by the Applicant.

k) The applicant is required to keep a copy of "Application Acknowledgement" in safe custody for producing / submitting to NHAI alongwith supporting documents in respect of entries made by applicant with regard to his / her date of birth / educational qualification / SC/ST/OBC-NCL/EWS certificate (if applicable)/PwBD certificate/Other supporting documents (viz. experience certificate, NOC from the employer, etc.), if applicable.





GENERAL CONDITION




Candidates are advised to fill their correct and active Email Addresses  in the online application as all correspondence will be made by the NHAI through E-mail only. It is clarified that NHAI does not entertain transfer of service bonds in case of selected candidates who are working in any other Government Organisation. Therefore, no request/ query in this regard will be entertained.

2) The applicants are advised to fill the ONLINE application form carefully in accordance with the eligibility criteria and experience mentioned above. It may be noted that the entire selection process shall be carried out on the basis of the entries made by the applicant in his / her application form and no request shall be entertained under any circumstances for any alteration / modification / change in theentries made by the applicant in the application form.

Note: The candidates are advised to submit the Online Recruitment Application we l l in advance without waiting for the closing date.

3) It may be noted that in case of multiple application filled by the applicant, NHAI shall consider only the last application filled by the applicant and the entries made therein shall be taken into consideration for processing the recruitment for the said post. Accordingly, the earlier application(s) submitted by the applicant shall be rejected.

4) The applicants who apply for the post with respect to this advertisement shall not be allowed to withdraw his/her candidature subsequently.

5) Crucial date for determination of eligibility shall be the last date prescribed for the receipt of ONLINE applications.

6) Candidates belonging to SC/ST/Minority Communities/ladies/PwBD are especially welcome and should apply in large numbers.



7) Canvassing or bringing influence in any form will disqualify the candidature.

8) Applications received through any other mode would not be accepted and summarily rejected.

9) Corrigendum or Addendum or cancellation to this advertisement, if any, shall be published only on the website of NHAI. Therefore, the Applicants are advised to check the website of NHAI regularly.
To know more, Download Detailed Notification

Get Excited Now 🤩
Are you a person who can't perform well with constant effort for Civil Engineering Competitive Exams ❓
It's the time to Step Up 🎓 yourself because Civilianz offering the ever best Rank Booster Course exclusively for you. 🥳
Course Features:
🔰 Daily live class on 5 days in a week from 7pm to 8.30 pm
🔰 Intensive Workout sessions
🔰 Live Interactive Sessions
🔰 Weekly test on every Sunday
🔰 e – book of Handwritten Notes
🔰 Workout Notes
🗓️ Course Duration: 6 Months 
Get your Rank Booster Course at 1200/- per month 
Special offer available exclusively for Civilianz Previous students 🤩.
For more details, please contact 👇🏻
📱9383450415
📱9097550099

CIVILIANZ SOCIAL MEDIA PLATFORMS
Our Social media platforms are exclusively for Civil Engineering students, job candidates, teachers and all those who have a passion for Civil Engineering. You will get
Civil engineering quizzes and rewards

Regular job notifications

Exam notifications

PDF notes

Study tips

Civil related discussion and all in this group.
JOIN OUR SOCIAL MEDIA PLATFORMS
#learnfromthebest