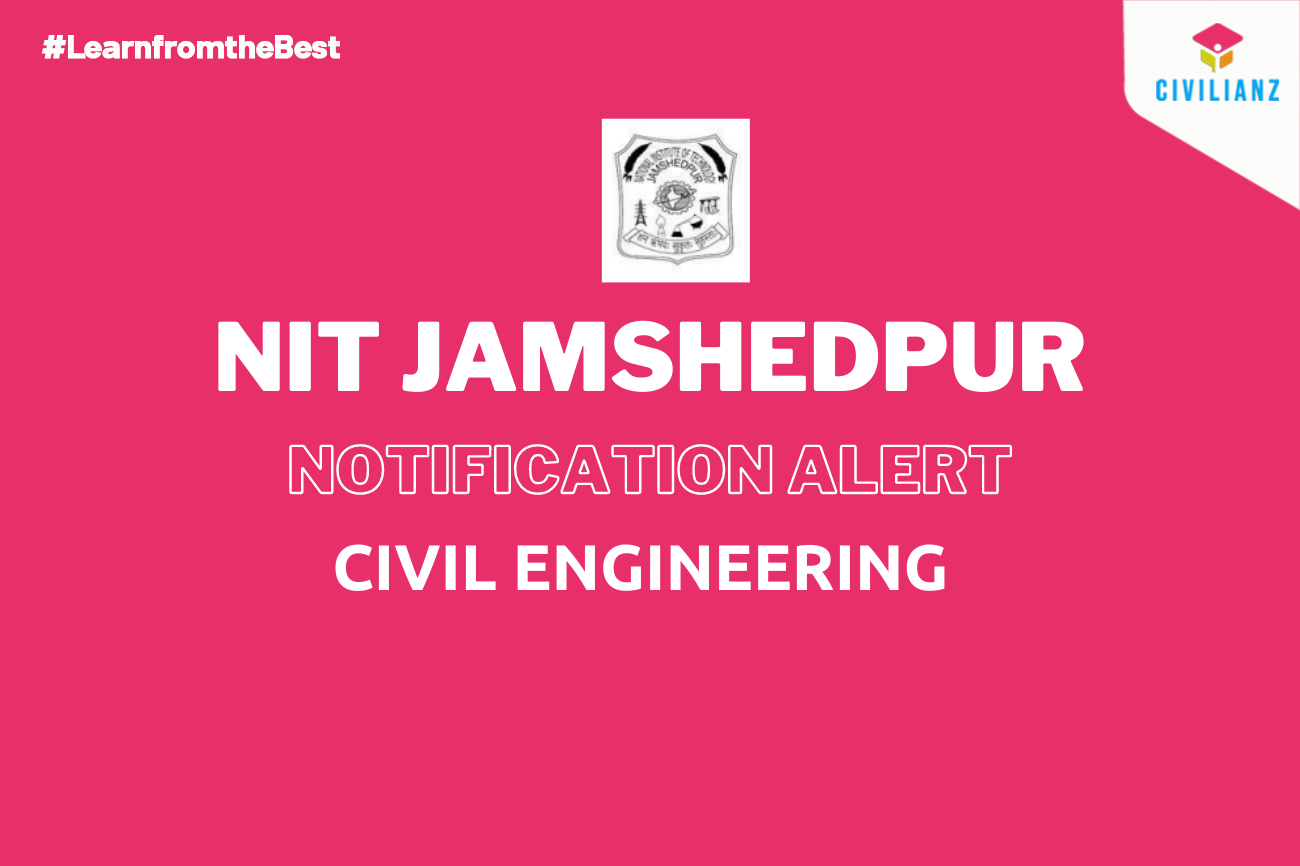 NIT JAMSHEDPUR JOB NOTIFICATION 2022!!!
| | |
| --- | --- |
| Name of the Department | NIT Jamshedpur |
| Name of the post | Assistant Professor |
| Vacancy | 64 |
| Upper Age Limit | maximum 60 years |
| Educational Qualification | Ph.D. |
| Application Fee | 1500 |
| Start Date to Apply | 18.05.2022 |
| End Date to Apply | 10.06.2022 |
| Official Website | www.nitjsr.com |
AGE LIMIT
Fresh appointment beyond the age of 60 years is discouraged except the case of faculty with an exceptionally brilliant research career and with on-going or approved externally funded research project.  Period of Probation: One year for Assistant Professor Level-12 in AGP 8000/- (extendable as per extant provisions).

REQUIREMENTS
Name of the post

Essential Requirements

Assistant Professor,PB-3, AGP Rs.7000/-(6th CPC) equivalentLevel 11 as per (7th CPC)Grade-II

One year post Ph.D experience of Teaching and Research in Institution of repute or Industry

Assistant Professor,PB-3, AGP Rs.8000/-




(6th CPC)equivalentLevel 12,




as per (7th CPC)Grade-I

Three years after Ph.D. or six years total teaching and research experience in reputed academic Institute/ Research and Development Labs or relevant Industry.
APPLICATION FEE
Non-Refundable application fee of Rs. 1500/- (Rupees One Thousand Five Hundred) only for UR/OBC/EWS applicants (Male only). The application fee should be remitted through SBI Collect only. No other mode of fee payment will be accepted.

POLICY
To avoid in-breeding following policies will be followed:
I. Candidates who have obtained their most recent degree (Ph.D.) form NITJamshedpur will normally  be not considered for recruitment, except where there is a 3-years gap between leaving the Institute and the last date as on the closing date i.e., online submission of forms under this advertisement.
II. This condition is not applicable to existing serving faculty members of the Institute, already working at AGP 6000/7000 or equivalent pay level in 7th CPC.
SPECILIZATION
Name of the post

Desirable Specializations

Civil Engineering

• Water Resources Engineering




• Transportation Engineering




• Environmental Engineering




• GIS and Remote Sensing




• Geotechnical Engineering




• Structural Engineering
GENERAL INSTRUCTIONS AND INFORMATION

1. The candidates are advised to fill online application form on Institute website (www.nitjsr.ac.in). The candidates are advised to download the same from Institute website and keep a hard copy of the duly filled application. The duly completed application form, along with duly self-attested supporting documents, such as the self- attested copies of relevant testimonials, certificates, enclosures etc.must be sent be speed /registered post only so as to reach to "The Registrar, NIT Jamshedpur, Adityapur, Jamshedpur-831014, India" by 15.06.2022 failing which their candidature will not be considered. The envelope containing the application be super-scribed as "Application for the Post of in the Department .
2. Last date of submission of online application is 10th June 2022 by 17:30Hrs.
3. Last date of receipt of hard copy of duly filled application form, along with all supporting documents, duly self-attested is 15th June 2022 by 17:30Hrs.
4. The Institute will not be responsible under any circumstances for any sort of postal lost/delay.
5. The Institute shall retain the applicant data for non-shortlisted candidates only for three months after the completion of recruitment process.
6. Candidates who wish to apply for more than one post should apply separately for each post in the prescribed manner and separate online application form.
7. Application form without relevant supporting enclosures shall be summarily rejected. No correspondence shall be entertained in this regard.
8. Candidates shall indicate two references of eminent persons in the field/profession, with full postal address, email, and telephone number, who may be contacted by the Institute for their recommendations.
9. The Institute has the right to set higher norms than minimum and areas of specialization while short-listing. Norms may not be uniform across the departments/ posts of the Institute and shall be binding on all the applicants. The decision of the Institute related to all matters pertaining to the recruitment shall be final and binding on the applicants.
10. The date for determining eligibility of candidates in every respect, i.e., qualifications, experience and age limit etc. shall be considered ason the closing date, i.e., the last date of the submission of online application form.
11. The requisite experience will be considered as per the extant Statutes.
12. The eligible candidates may be required to appear for test/presentation/seminar, in addition to facing the Selection Committee. No TA/DA will be paid for attending test/Interview.
13. Persons serving in Govt/ SemiGovt./ PSUs/ Universities/ Educational Institutions should send their applications either THROUGH PROPER CHANNEL or should furnish a NO OBJECTION CERTIFICATE from the competent Authority of the organization serving, at the time of interview otherwise they may not be allowedfor interview. However, they can submit the advance copy of the application form.
14. Relevant Caste/Category certificates in prescribed format (as per attached Annexures) are required to be submitted at the time of written test / presentation / Interview, if shortlisted. No other certificate will be accepted as a sufficient proof.
15. The differently abled persons (PWD) shall be required to submit the Disability /Medical Certificate in the prescribed form(as per attached Annexures) issued by the competent medical authorities for the purpose of employment as per Government of India norms at the time of presentation/interview. Persons suffering from 40% of the disability or more shall only be eligible for the benefit of reservation under this category
16. Original documents along with one set of self-attested copies will have to be produced at the time of interview for verification.
17. The applicants are advised/required to visit the Institute websit www.nitjsr.ac.in regularly. The list of candidates short listed for further participation in the selection process such as written test /presentation /interview will be displayed on the Institute website. The Institute in this regard shall make no separate communication/intimation.
18. Legal disputes, if any, with NIT Jamshedpur will be restricted within the jurisdiction of Jamshedpur only.
19. Three years cooling off period is required for the Candidate obtained their last degree from NIT Jamshedpur.
20. Candidate having degree in inter disciplinary branches/areas and eligible for teaching the interdisciplinary subject may also apply.

21. This being an advertisement governed by the Four Tier Flexible Recruitment Rules for NITs & IIEST Shibpur, relevant instructions issued from MoE / BOG till the date of Interviews will be applicable on this advertisement.
22. Self-attested copies of the Documents /certificates are required to be attached with printout of the Online Application Form, failing which the application would be summarily rejected.
23. Those applicants who have applied earlier against advertisement no.NITJSR /REG /ADVT /CD /2019-20 /365 Dated 04.06.2019 and NITJSR /REG /ADVT /CD /2019-20/ 585 Dated 17.08.2021 MUST update their application form online and resend hard copy of application form along with required documents. They need not to pay the application fee again wherever applicable.
24. OBC/SC/ST and differently abled persons (PWD) under Special Drive against Backlog who have applied earlier against advertisement No /ESS /CD /2021-22 /1622, Dated 15th February 2022 may update their applications. They need not to pay the application fee again wherever applicable. The applicants need to apply online and submit the hardcopy of the application form along with self-certified testimonials through speed/registered post within specified date. 
For detailed Advertisement
DOWNLOAD DEATILED ADVERTISEMENT