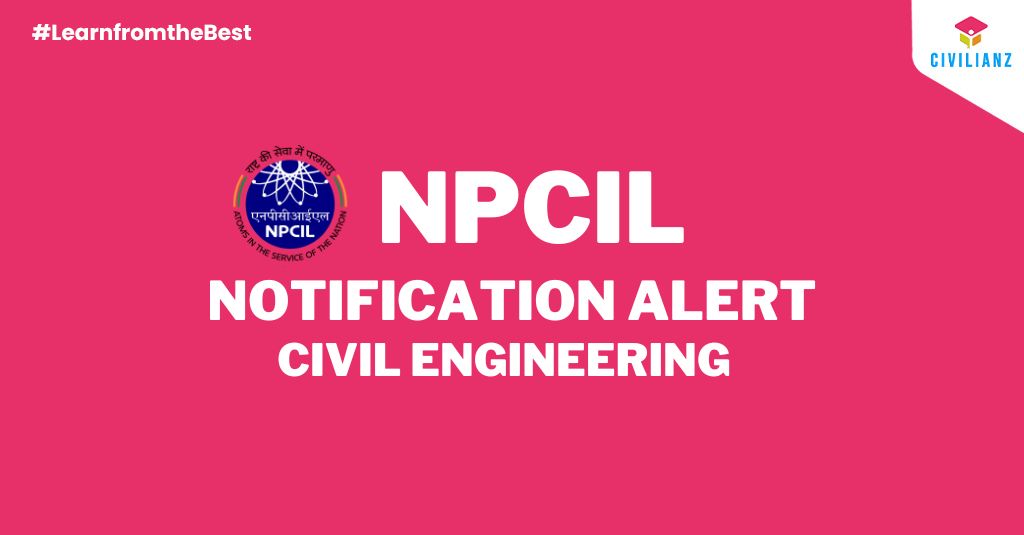 Nuclear Power Corporation of India Limited ,a premier Public Sector Enterprise under Department of Atomic Energy, Government of India having comprehensive capability in all facets of Nuclear Technology viz. Site Selection, Design, Construction, Commissioning, Operation, Maintenance, Renovation, Modernization & Upgradation, Plant life extension, Waste Management and Decommissioning of Nuclear Reactors in India under one roof, invites applications from the candidates passed out from ITI Courses are invited for engagement of Trade Apprentices under the Apprentices Act, 1961 and Apprenticeship Rules, 1992 as amended from time to time in the Tarapur Maharashtra Site, in Palghar District, Maharashtra to make it more responsive to the needs of youth and industry.
| | |
| --- | --- |
| Name of the Department | Nuclear power Corporation of India Limited |
| Name of the post | Civil engineer |
| Vacancy | 45 |
| Upper Age Limit | 26-41 |
| Educational Qualification | BE/BTech in  Civil Engineering |
| Pay Scale | 55000 |
| Start Date to Apply | 11/04/2023 |
| Last Date to Apply | 28/04/2023 |
| Official Website | www.npcilcareers.com |
| | |
| --- | --- |
| Name of the post | Civil engineer |
| Application fee | 500 |
SELECTION PROCESS
The selection process will comprise of the following:
1. Shortlisting of candidates for personal interview for the posts of Executive
Trainee 2023 will be done in the order of merit drawn on the basis of valid GATE 2021, GATE 2022 and GATE 2023 Scores by applying ratio of 1: 12.
If there are more than 01 candidate with the same cut off mark (while short listing for interview), then all the candidates with the same mark will be shortlisted for interview.

ii. Candidates obtaining valid GATE 2021, GATE 2022 and GATE 2023 scores shall only be eligible. Please note that only GATE 2021, GATE 2022 and GATE 2023 score is valid for this recruitment exercise in NPCIL under this advertisement. GATE score of 2020 or of previous GATE examination shall not be entertained.
iii. Equal weightage will be given to GATE 2021, GATE 2022 and GATE 2023 Scores.
iv. 'Persons with Benchmark Disabilities' (PwBDs), will be shortlisted separately by applying 1: 12 ratio in each category of disability for which vacancies are reserved.
v. Discipline and category wise cut off shall be displayed on recruitment web portal of NPCIL. Result of shortlisting for interview shall be made available to candidates under 'Application Status' link through individual login on www.npcilcareers.co.in.
vi. Intimation of interview date/time/venue will be communicated to shortlisted candidates through Email/SMS. Call letter for appearing for interview will be made available for shortlisted candidates in the website for downloading.

vii. Final selection will be done on the basis of performance in the Personal Interview subject to medical fitness. No weightage will be given to GATE Score during the final selection.

viii. Separate merit list based on interview marks will be prepared for each PwBD category for which vacancies are reserved & PwBDs will be selected in the order of merit from this list.

ix. Result of the interview shall be made available to the candidates through individual login on recruitment website of NPCIL www.npcilcareers.co.in. Text of the Offer of appointment will also be made available for downloading to the empanelled candidates on this website under individual login.

x. On receipt of Offer of Traineeship, Empanelled candidates will be required to submit their Acceptance form whether they want to join NPCIL or not through email within the stipulated date.

xi. Tie breaking principle:
In the event of a tie in interview marks, following criteria will be adopted in sequence for deciding position in merit list:
a) In case of candidates with equal interview marks, candidate with higher GATE score will be ranked higher.
b) Wherever, both interview marks as well as GATE score is equal, candidate senior in age will be ranked higher.


| | |
| --- | --- |
| Name of the post | Civil engineer |
| Eligibility Criteria | BE/BTech /5 year integrated Mtech  |
HOW TO APPLY
a. Registration number provided on the Admit Card for GATE 2021, GATE 2022 and GATE 2023, as the case may be, issued by GATE Authorities has to be used for applying in NPCIL. Candidates need to ensure that they fill up the GATE Registration Number correctly and apply for the relevant discipline in Online Application Form. Requests for correction in GATE Registration number or Discipline will not be entertained.
b. Eligible applicants may apply through online registration system of NPCIL. Applications submitted in any other form including handwritten/ typewritten applications in hard format delivered in person or by other means will not be entertained. DO NOT SEND any of the documents/ application form etc to NPCIL before interview.
GENERAL CONDITIONS
a) Only Indian Nationals above 18 years of age are eligible to apply.

b) Before applying, the applicants should ensure that she/he fulfils the eligibility criteria.

c) For queries, candidates may refer the Frequently Asked Questions (FAQs) section.

d) All qualifications should be from a University /Institute recognized by UGC/ AICTE appropriate statutory authority.

e) Applicants appearing in the final year/ semester examination should bring their identity card of the Institute/College/University at the time of . appearing for interview.

f) Interested & eligible serving employees of NPCIL after applying online are required to take the print out of online application form and send it through proper channel.

g) Interview Call Letter will not be generated, if the application fee has not been received in NPCIL account on or before 28/04/2023 in respect of those applicants who are required to pay application fee.



h) The candidate's appointment will remain provisional subject to caste/category certificates being verified from appropriate authorities and verification of other testimonials. The candidate's services will be liable to be terminated forthwith without assigning any reason in case the above verification reveals that her /his claim for belonging to EWS /SC/ ST/ OBC (NCL) /PwBD category and other testimonials is found false. NPCIL also reserves its right to take such further action against the candidate as it may deem proper, for production of such a false caste certificate/ testimonials.

i) Category (SC/ST/OBC(NCL)/EWS/PwBD) once filled in the online application form will not be changed and no benefit of other category will be admissible later on.

j) Original documents (for verification) and self-attested copies as detailed in the advertisement along with duly signed hard copy of the Online Application are required to be produced at the time of Personal Interview.

k) Appointment of the candidate in NPCIL is provisional and subject to verification of Character & Antecedents and Special Security Questionnaire by the prescribed authorities.

L) If applicant is not interviewed due to not meeting the eligibility criteria or non-production of the required documents, NOC etc. or fails to submit travel ticket/boarding pass etc., no travelling expenses will be reimbursed. m) Mere fulfilling the minimum eligibility criteria will not entitle any applicant to be called for interview/ appointment.

n) The email id and mobile number entered in the online application form should remain active for at least one year. No change in the email id will be allowed once entered. All future correspondence would be sent via email.

o) In case of any ambiguity/ dispute arising on account of interpretation in versions other than English, the English version shall prevail.

p) NPCIL reserves the right to cancel/restrict/enlarge/modify/alter the recruitment process, if need so arises, without issuing any further notice or assigning any reason thereof.

q) In case of multiple applications against same GATE Registration number, only the latest application will be considered.

r) In case of any dispute, legal jurisdiction will be Mumbai.

To know more, Download Detailed Notification


DETAILED NOTIFICATION DOWNLOAD
---
HEY ASPIRANTS ⭐

ഇനിയുള്ള ദിവസങ്ങൾ തീവ്രപരിശീലനത്തിനായി വിനിയോഗിക്കാം സിവിലിയൻസിനോടൊപ്പം ✨
പരീക്ഷകൾക്ക് തയ്യാറെടുക്കുന്നവർക്കായി CIVILIANZ തയ്യാറാക്കിയിരിക്കുന്നു Overseer Plus Bundle course 🔥
Course features
✅ Updated syllabus അനുസരിച്ചുള്ള Civil and Mechanical Engineering വീഡിയോ ക്ലാസ്സുകൾ
✅ ഓരോ ക്ലാസ്സിനോടൊപ്പവുമുള്ള assessment test
✅️ NIMI Book test series
✅️ Overseer test series
✅️ E Book (Handwritten notes)
CIVILIANZ SOCIAL MEDIA PLATFORMS
Our Social media platforms are exclusively for Civil Engineering students, job candidates, teachers and all those who have a passion for Civil Engineering. You will get
Civil engineering quizzes and rewards

Regular job notifications

Exam notifications

PDF notes

Study tips

Civil related discussion and all in this group.
JOIN OUR SOCIAL MEDIA PLATFORMS
#learnfromthebest