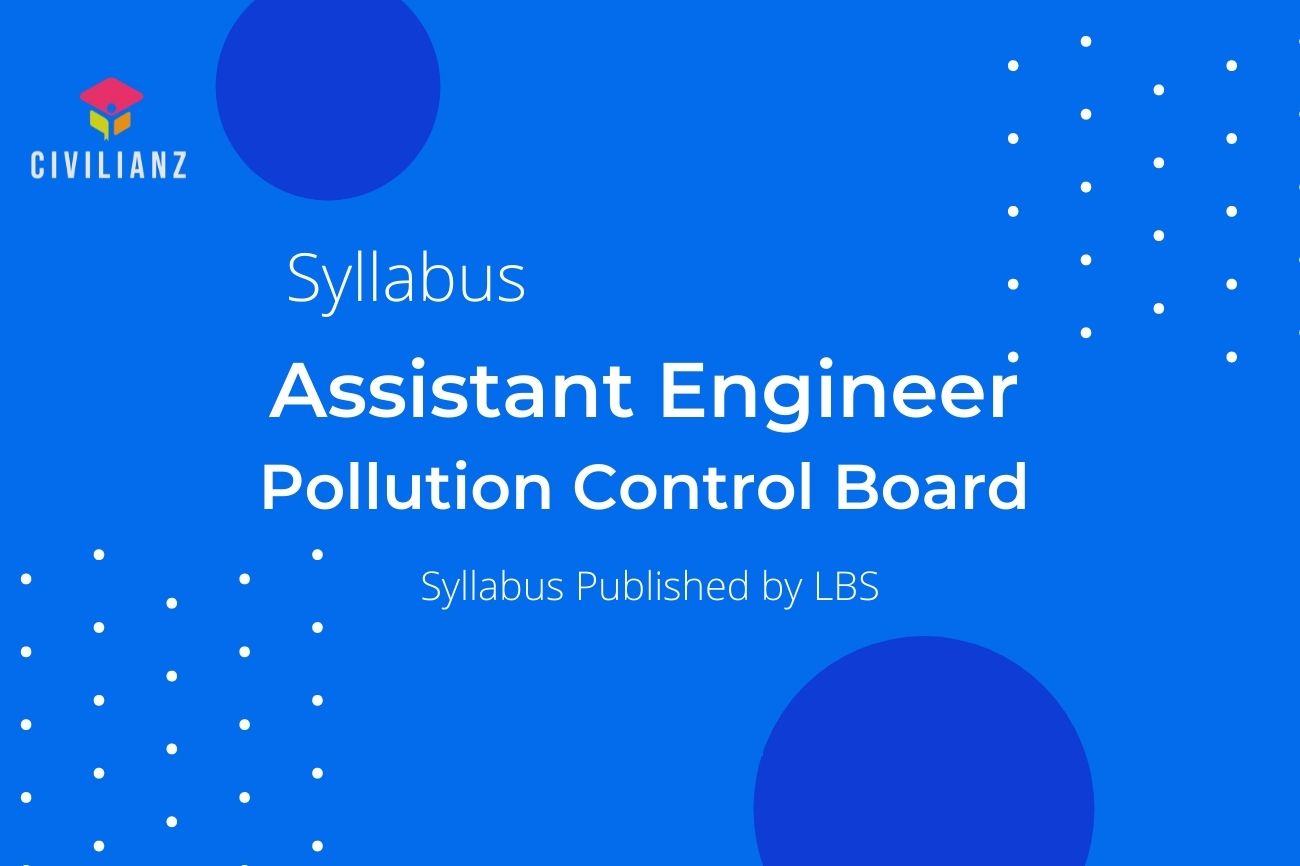 New syllabus published by Kerala PSC – Click Here
ENVIRONMENTAL ENGINEERING
Water:-
Quality standards, basic unit processes and operations for water treatment. Drinking water standards, water requirements, basic unit operations and unit   processes for surface water treatment, distribution of water.
Wastewater:-
Sewage and sewerage treatment, quantity and characteristics of wastewater. Primary, secondary and tertiary treatment of wastewater, sludge disposal, effluent discharge standards. Domestic wastewater treatment, quantity of   characteristics   of domestic wastewater, primary and secondary treatment Unit   operations   and   unit processes of domestic wastewater, sludge disposal. Advanced wastewater treatment like nutrient removal.
Fluid mechanics and Hydraulic machines:-
Fluid statics, Bernoulli equation, flow through pipeline systems, flow meters, pumps and compressors, packed and fluidized beds, elementary boundary layer theory, centrifuge and cyclones; thickening and classification, filtration, mixing and agitation; conveying of solids. Properties of fluids, principle of conservation of mass, momentum, energy and corresponding equations, potential flow, applications of momentum and laminar and turbulent flow, flow in pipes, pipe networks.
Air Pollution:-
Types of pollutants, their sources and impacts, air pollution meteorology, air pollution control, air quality standards and limits.
Municipal Solid wastes:-
Characteristics, generation, collection and transportation of solid wastes, engineered systems for solid waste management   (reuse/ recycle, energy recovery, treatment and disposal).
Noise Pollution:-
Impacts of noise, permissible limits of noise pollution, measurement of noise and control of noise pollution.
Project management:-
Project cycle, organization, planning, scheduling, monitoring, updating and management system in construction Bar chart, Milestone chart, Work down structure and preparation of networks. Application of network, Techniques like PERT, GERT, CPM, AON and AOA techniques.
This is the syllabus published by LBS Institute for Assistant Engineer – Pollution Control Board in 2015. Please note that apart from the syllabus mentioned, questions may be asked from the standard syllabus of prescribed Educational Qualification for the post. It is decided that KPSC will conduct examination for the post of Assistant Engineer – KPCB. So latest syllabus will be published by KPSC.
For 

AE PCB 

detailed Old Syllabus pdf 
DOWNLOAD
🎓 CIVILIANZ
🔥Again introducing our best in class Assistant Engineer Standard Bundle🔥
Join now for deftly cracking upcoming Assistant Engineer exams with Kerala's No 1 PSC coaching centre.
Streamed directly from the studio of Civilianz, bringing you the best classes at your fingertips!
Highlights
▶️Daily Live Interactive Sessions
▶️Classes by Best faculty team
▶️Intensive study plan
▶️Unlimited streaming of recorded sessions within the course period
▶️Comprehensive coverage of kerala psc civil AE and overseer syllabus
▶️Highly trained and dedicated faculty team in Kerala
▶️Free Assistant Engineer Test series
▶️Daily Assessment tests
▶️Handwritten notes as E-book
▶️Onboard support and doubt clearance from the faculty
▶️Result oriented study circle
▶️Shortcut memory tips
▶️Guidance from rank holders
And here is another bonus you are getting the recorded version of our latest OVERSEER COURSE + Mechanical Engg portions absolutely Free of cost
Course duration – 1 year
PURCHASE NOW
ENQUIRE NOW
We often say learn from the best. We mean it and we prove it, its upto you to choose wisely
Call us for details:
📲 9497498415
📲 9383450415
#learnfromthebest