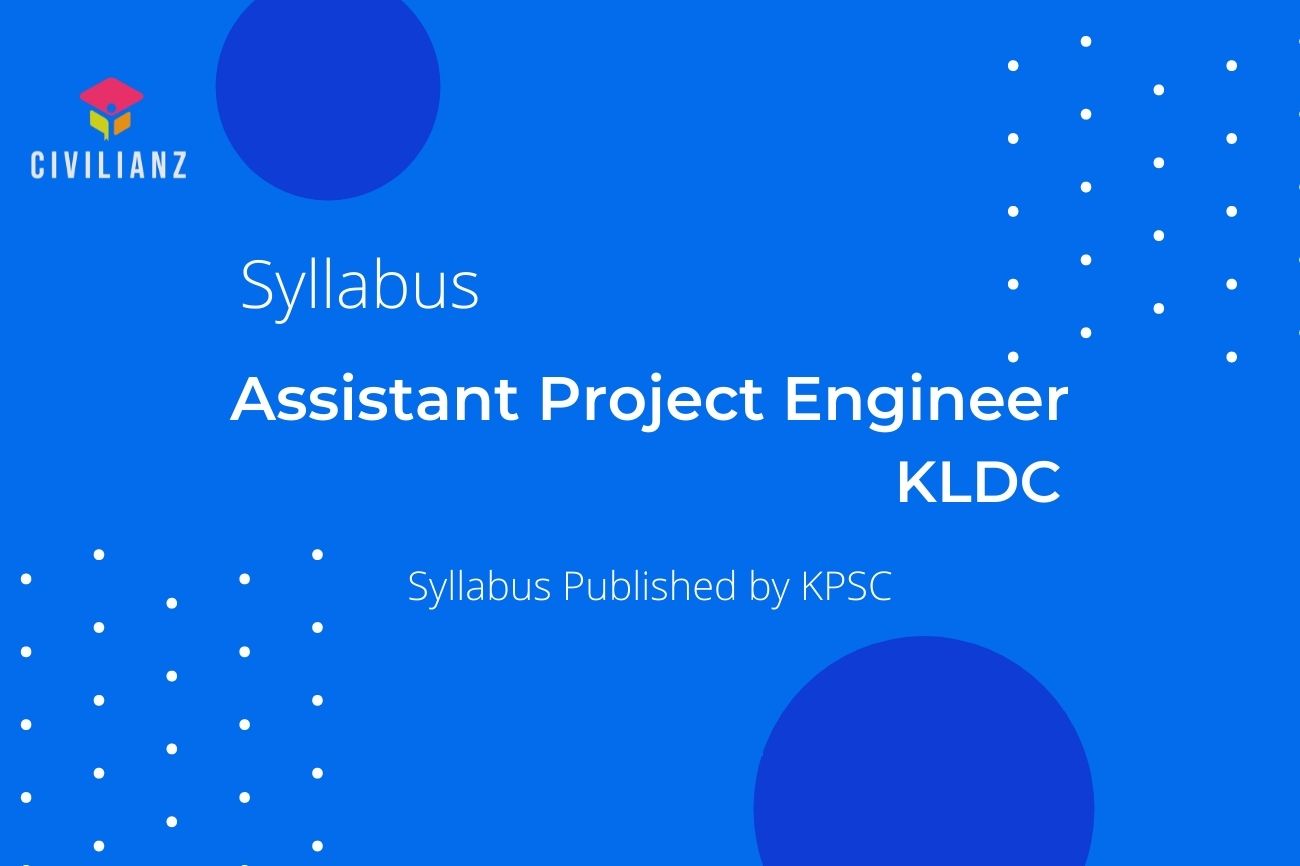 KLDC ASSISTANT PROJECT ENGINEER SYLLABUS
The syllabus published by Kerala PSC for Assistant Project Engineer Kerala Land Development Corporation
Category No: 4/2014
Engineering properties of soils, fundamental definitions and relationships, index properties of soils & soil classification by IS methods; Permeability and seepage analysis; Shear strength of soils, Mohr's Circle of stress; Active & passive earth pressures- Rankine's & Coulomb's, Stability of retaining walls; Stability Analysis of Slopes; Subsurface exploration methods, details, sampling
Hydrological cycle; meteorological parameters and their measurement, analysis of precipitation data; Abstraction from precipitation; runoff; Hydrograph analysis; unit hydrograph theory and application; stream flow measurement; flood routing, hydrological reservoir and channel routing
Measurement of distance and area; chain surveying, methods of traversing, traverse computations; measurement of angles and bearings, plane table surveying; types of levelling; contouring; instruments for surveying and levelling; computation of areas & volumes (earth work).
Hydraulic Machines – Impulse momentum principle, Turbines-classification and comparison of velocity triangles for Pelton wheel and reaction turbines (Francis and Kaplan), work done and efficiency, specific speed, draft tube- different types, cavitation in turbines. Pumps- classification of pumps – Centrifugal & Reciprocating pumps- types, work done, efficiency, minimum and installation.
Lacey's theory & Kennedy's theory for irrigation channel design, comparison, defects; Cross section, balancing depth, spoil bank, land width, back berm, counter berm, maintenance of irrigation channel & service roads, canal breaches, measurement of discharge of canal; Water logging & canal lining; terraces and bunds; vegetative waterways; gully control structures, drop, drop inlet and chute spillways; earthern dams; water harvesting structures, farm ponds, watershed management.

Soil-water-plant relationship, water requirement of crops; consumptive use and evapo-transpiration; irrigation scheduling; irrigation efficiencies; measurement of soil moisture, irrigation water and infiltration; surface, sprinkler and drip methods of irrigation; design and evaluation of irrigation methods. Engineering and agronomical methods of soil conservation
Drainage coefficient; planning, design and layout of surface and sub-surface drainage systems; leaching requirement and salinity control; irrigation and drainage water quality. Groundwater occurrence confined and unconfined aquifers, recharge.
Thermodynamic principles of I.C. engines; I.C. engine cycles; engine components; fuels and combustion; lubricants and their properties; I.C. engine systems – fuel, cooling, lubrication, ignition, electrical, intake and exhaust; selection, operation, maintenance and repair of I.C. engines; power efficiencies and measurement; calculation of power, torque, fuel consumption, heat load and power losses
For kldc psc Syllabus pdf,
DOWNLOAD