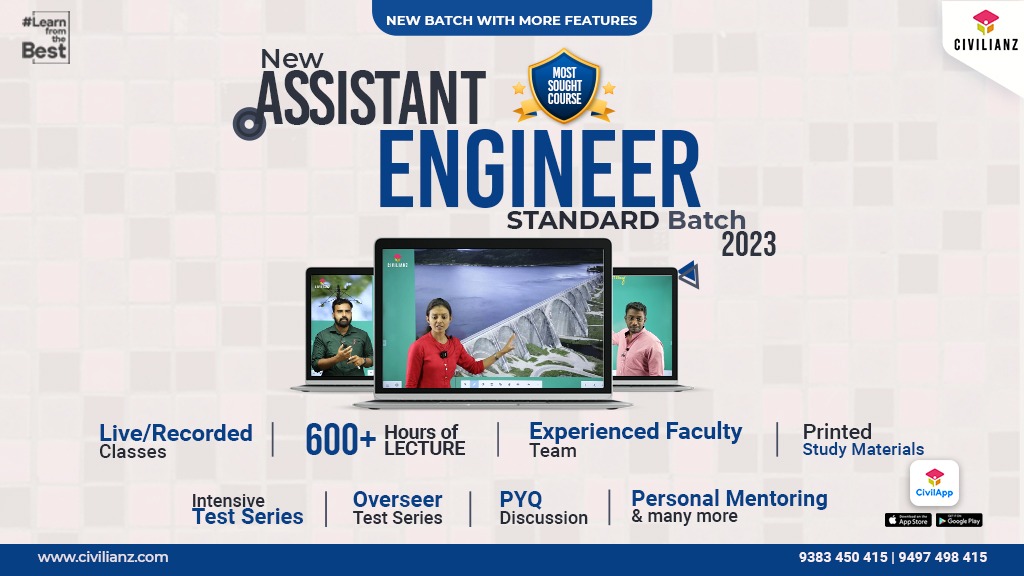 Online coaching for KPSC Assistant Engineer/Overseer Exams
Assistant Engineer is a dream job for almost every B Tech graduates aspiring to get placed in public sector. Better social status, job security, salary, opportunities and service to society aspect makes this job an awesome option for every aspirants. Assistant Engineer recruitments for Govt. departments is conducted through OMR exam followed by Interview by Kerala PSC. Recruitments to Kerala PWD, LSGD, Irrigation, Water Authority, Pollution Control Board etc. is done through this exam. Also SIDCO, Kerala Financial Corporation, KTDC, Kerala State Housing Board, KSEB etc. recruits through the same examination. Coming to the core, online coaching for Kerala PSC Assistant Engineer exam, you should definitely know the following aspects.
Assistant Engineer Standard Batch by Civilianz:
Our Assistant Engineer course is designed as Online coaching for Kerala PSC Assistant Engineer Exams with a crafted pedagogy to teach students from basic to advanced levels of each subject. Classes are directly streamed from studio of Civilianz and Students can access the recorded versions of the live classes, even if they miss any class during their busy schedule. Exclusive doubt clearance sessions and discussion forums are enabled after each day's class and students can get their doubts solved by our expert academic team. We will comprehensively cover the Assistant Engineer exam syllabus in latest pattern itself. With our specialized rank making pedagogy, we have the best results including first ranks for the latest Assistant Engineer Exams in Kerala. 
HISTORIC RESULTS IN ASSISTANT ENGINEER-OVERSEER KERALA PSC EXAMS
Timing and Duration:
As you all know, this batch is about Online classes, but maybe you are not aware about the timing. 18th of January 2022 will be an orientation session and classes officially kickstarts from 19th January 2022. Speaking about the timing, this happens in three sessions either in the morning, which is from 9:30 AM to 1:00 PM or in the afternoon from 2:00 PM to 5:00 PM or in the evening from 6:00 PM to 8:30 PM. 
Total course consumes a duration of about 6 to 7 months to complete. But it may slightly vary accordingly. Anyway you will get access to the course for a duration of 1 year starting from the date of purchase or from date of commencement of live streaming (whichever is later).
Course features:
Recorded Sessions of Live class:
This will be a boon to students if they missed out the regular live sessions. Recorded version of live class will be uploaded in CivilApp within 24 hours after live class. Even if you missed the live session, you can watch the class later and ask your doubts in discussion. Our faculty will clear your doubts in due course of time.
Regular Model Tests:
Regular model test, subject wise so as the complete syllabus wise will be ensured to keep you in good nicks. Model tests will be conducted every week, every month on a predetermined schedule with the topics covered in class. This tests will be conducted online and have similar pattern of KPSC Assistant Engineer exam. This may help to boost the confidence level of aspirants attending the actual exams. Questions were prepared by our expert panel based on previously asked question pattern. 
Number of test Series that flows to you during this course will be surplus, say it AE test series, Overseer Test series.
Handwritten E Book Study Material:
If at any chance you missed some points from the interactive session live and find it difficult to adjust the time for the recorded version, and still you want those points, for that we have E-book which includes the complete handwritten note prepared exclusively for Assistant Engineering and Overseer level exams.
Printed Study Material and Workout Session:
A printed study material will be parcelled to you which incorporates thousands of multiple choice questions and previous year's questions (sorted subject-wise) along with its answer key. Questions in this book are worked out after each class from the concerned topic studied. You will get familiarized with almost all types of questions which may be asked for exams.
Exams cannot be cracked by theory classes alone. You need to work out the question varieties from each topic. Worry not, We have sorted it out for you!!! We have our team in research mode for finding the level 2 questions which will cover the portions and questions exclusively for our students. This will help you in clearing even tougher questions and sometimes GATE level questions too!

Personal Mentoring:
Each student will be assigned under a Mentor who will monitor his/ her performance. The respective mentor will ensure that student is consistently preparing for the exam. The student can approach the mentor for any help or extra care in any subject.
Motivational Sessions:
Motivation, both intrinsic and extrinsic, is a key factor in the success of students at all stages of their education, and teachers can play a pivotal role in providing and encouraging that motivation in their students.
Interactive Quizzing Sessions:
We have that for you as well, exclusive interactive quizzes for you to invoke the competitive spirit in you. 
Talk With Topper Session:
Talk with the topper session to know about their preparation strategy to crack a competitive civil exam, the Do's and Do not's all comes under this umbrella.

Student feedback session:
May be you might fell some issue with some class, chances are rare , but still it could happen and for that we have a regular student feedback session, where you can talk about any issue either be it with the CIVILAPP, the recorded video features or faculty. Anything that affects your study in which civilianz is responsible. We take the responsibility and solve it for you.
Discussion Board:
For Raising your doubts even after the lesson is over is now not a concern for you. A dedicated team of faculty is available with Discussion board, where doubts can be raised any time
Much much more to come along with these, so be ready for an eventful 6-7 months with civilianz. Lets enlighten the duration with knowledge and finish on a bright side.
Course Highlights :
✅ Daily Live sessions taken by expert faculty team
✅ Streaming of recorded sessions within the course period
✅ Comprehensive coverage of syllabus
✅ Assessment tests corresponding to each class
✅ Weekly Model Tests
✅ Mentor support
✅ Discussion board for doubt clearance
✅ Handwritten notes – E book
✅ AE Test Series
✅ Overseer Test Series
✅ NIMI Book Test Series
✅ PYQ Discussion sessions
✅ Workout sessions
✅ Best study material – Civil Engineering MCQ Book by CIVILIANZ
✅ Talk with topper sessions
✅ Live Interactive quiz sessions

Hurry up ! Start learning and be the winner !! 🥇
For more details, contact 👇🏻
📱9497498416
📱9497498417
📱9497498415
📱9383450415