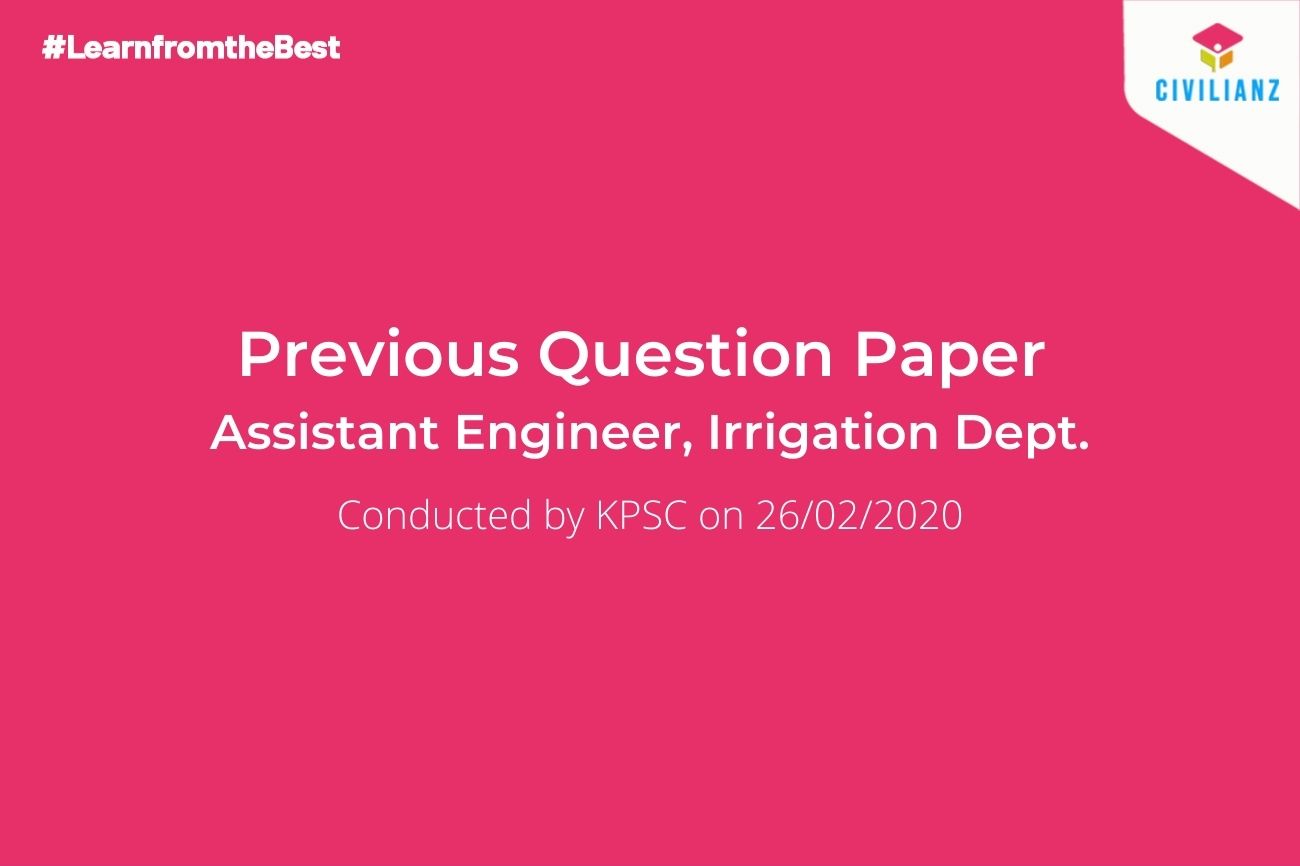 Kerala PSC Assistant Engineer Civil Previous Question Paper and answer key
CAT NO: 083/2019
Question Paper Code: 013/2020
CODE: A
PREVIOUS YEAR QUESTION PAPER FOR ASSISTANT ENGINEER EXAM,
PREVIOUS YEAR QUESTION PAPER FOR ASSISTANT ENGINEER EXAM Answer key,
Assistant Engineer Exam Pattern
The Exam Pattern for the Assistant Engineer in Kerala PSC is:
The medium of Question: English

Number of Questions: 100

Maximum Marks: 100

Exam Duration: 01 hours 15 minutes
100 days to your dream .. Assistant Engineer | Overseer Gr.1
Early Bird Offer is ending soon‼️‼️
Awestruck 😱 by the long train of KPSC Exams⁉️
Don't miss out the stroke of luck💫
This really is the big time 🔥 to ride your dream of bagging a Govt. Job. CIVILIANZ!!
The best Civil Engineering Coaching Centre in Kerala with its loftiest success story escorts you😎 100 days to your dream The Elite Crew of Civil Engineers in Kerala is here to train you for the Assistant Engineer and Overseer Grade 1 exams with our Pre-recorded classes👩🏻‍💻.
The features of our Pre-recorded classes include:
✅ Best quality recorded classes
✅Chapter wise assessment test
✅ Handwritten E-Book
✅AE test series
✅ Overseer test series
✅PYQ discussion sessios
✅ Study Plan
✅Unlimited Streaming
Course fee : Rs. 5000 + Tax
Limited offer To purchase our course 👇🏻
https://bit.ly/100daysaeovr
Enquire now👇🏻
https://www.civilianz.com/contact
Call us for details:
9497498415 I 9497498416 9383450415 I 9097550099
Be a winner! Learn from the best!
🎓 Are you ready to take a Skill Test??
Are you ready to check how much you already know?
Why waiting?
Take a skill test and assess your knowledge in technical subjects!
New skill tests everyday Only on CivilApp
📌 Absolutely Free for all🎉
For more details visit CivilApp.
Download CivilApp👇🏼
Kerala PSC Assistant Engineer Civil Previous Question Paper and answer key