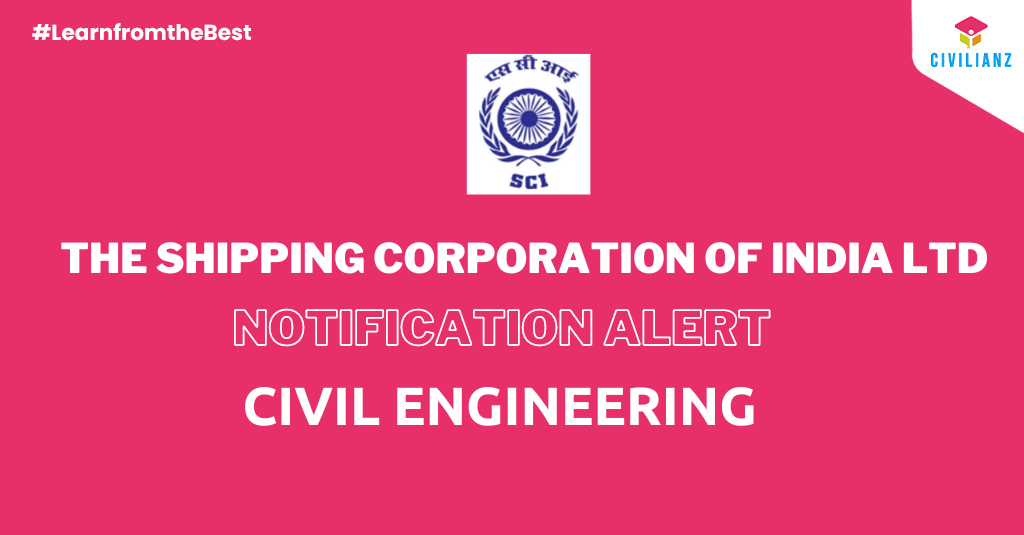 THE SHIPPING CORPORATION OF INDIA LTD JOB NOTIFICATION 2022!!!
Name of the Department

Shipping Corporation Of India Ltd

Name of the Post

Assistant Managers on Contract(civil)

Vacancy

01

Educational Qualification

Bachelor's Degree in Civil Engineering with minimum of 60%

marks.

Pay Scale

Rs 1,20,000/-

Upper Age Limit

27 year

Start Date to Apply

16th July 2022

End Date to Apply

16th August 2022

Official Website

www.shipindia.com
The Shipping Corporation Of India Ltd , a Navratna PSU, is the largest and premier Indian shipping which has a significant presence on the global maritime map. It occupies the NumeroUno position with its diversified fleet, operating in nearly all segments of shipping viz. Container services, liquid and dry bulk services, offshore services, passenger services and break-bulk services. The Company also mans and manages vessels on behalf of various Government bodies and it continues to grow through strategic alliances and new business opportunities
PROBATION CUM TRAINING PERIOD
There will be a probationary cum training period of one year. On successful completion of probationary cum training the candidate will be confirmed on contract.
PERIOD OF CONTRACT
The period of contract will be for three years. There is a possibility of regularization of posts after the completion of the period of contract following due procedures.
| | |
| --- | --- |
| Name of the Post | Period of Contract |
| Assistant Managers on Contract(civil) | 3 yrs |
HOW TO APPLY

Candidates are requested to read the complete instructions here under before proceeding to fill in the application form.

1. Candidates are required to apply online through SCI's website
2. Candidates are advised to apply after carefully going through the detailed advertisement and instructions placed on the Company's website. All fields must be filled carefully with correct details. Hence, candidates applying for the posts advertised should ensure that they fulfil all the eligibility criteria. Candidates should note down their unique registration number that is generated after applying, and quote the same in all future correspondence.
3. In the online form all the fields marked with red asterisk (*) are compulsory fields. If the form is successfully submitted a confirmation email will also be received by the candidate.
4.Educational Qualifications from Institutions /Colleges and Universities /Deemed Universities should be duly recognized by AICTE/UGC. Wherever CGPA /OGPA or Letter Grade in a degree is awarded, equivalent percentage marks should be indicated in the online application (as per norms adopted by the University/Institute). No rounding off of percentage would be allowed i.e. 59.99% will be treated as less than 60%. Where no norms have been specified, the CGPA/OGPA will be presumed to have been provided on a 10 point scale. The candidate will have to produce a copy of these conversion norms/no norms with respect to his/her University/Institute at the time of Interview.
5. Candidates are required to upload the scanned copies of following documents, as may be applicable, while filling the application form. (jpg upto 300kb of size)
i. Educational qualification mark sheet/Completion Certificate
ii. CGPA/OGPA or Letter Grade conversion to percentage Letter from University/Institute
iii. Experience Certificates
iv. Caste Certificate/Non-creamy layer certificate (Central Govt. Format only)
v. Disability Certificate
vi. Date of Birth proof (Birth Certificate/School Leaving Certificate)
vii. Membership Certificate For CA/CMA qualified candidates
viii. Identity Proof (Aadhar /PAN /Passport /Election Photo Identity Card /Driving Licence)
6. Candidates are also required to upload their Photo and Signature. The image file should be JPG or JPEG format. The size of Photo should be 20-50kb and signature should be 10- 20kb.The resolution should be minimum of 200 dpi. The application is not completed until the Photo and Signature as specified are uploaded.
7. After submitting the application form, an e-mail for confirmation will be received by the candidates on the e-mail id declared in the application form.
8. Once the application form is submitted, no editing/modification of master data is possible or will be entertained.
9. Candidates are required to furnish a valid e-mail and current telephone/mobile numbers which are to be entered in the Online Application Form. All intimations to the candidates regarding the recruitment/selection process shall be provided by SCI through this e-mail. They are further requested to check regularly the Corporation's website and their e-mail for any communication from the SCI. SCI will not be responsible for failure of delivery of e-mail sent to the candidate.
10. Candidates should visit the SCI's website to download the test Admit Card for eligible candidates. The admit card can be downloaded from SCI's website www.shipindia.com as per the schedule. The Admit Card will bear the candidates full name, unique registration number, category and the test centre. Space will be provided to affix a passport size photograph. The candidate is required to carry this Admit Card to the test centre and the same will be submitted to the supervisor after admission into the test centre. Details/requirements pertaining to the Online Test will be mentioned on the Admit Card.
11. The selected candidates will be required to submit the caste certificates in original, as per the format prescribed by the Government of India on joining. Hence, candidates are advised to take advance action in procuring the same
12. It may be noted that an applicant can apply in only one stream. Candidates with multiple applications will be rejected.
| | |
| --- | --- |
| Name of the Post | Application Fees |
| Assistant Managers on Contract(civil) | 500 |
SELECTION PROCESS
1) The selection process will consist of two stages.I. Stage I: Online Examination:
i. Candidates who fulfil all the eligibility criteria like age, qualification, caste certificate etc. will be called for Online Examination consisting of Quantitative Aptitude,  Reasoning, General Awareness, English and Domain Knowledge.
ii. The candidates will have an option to have the online test in English or Hindi. The English section will have to be answered in English only. In case of any difference in interpretation between the Question paper in English and Hindi the English version shall prevail.
iii. The online test will be conducted at the following centres – Mumbai (including Thane and Navi Mumbai), Chennai, Kolkata, Bangalore, Guwahati and Delhi& NCR. Candidates will be required to provide 3 centres of their choice in preferential order. The centres will be allotted on first come basis and in case the centres in particular city are filled the candidates will be allotted centres in cities in their preferential order.
iv.The test centre once chosen at the time of registration shall be final and cannot be changed. The SCI reserves the right to change or add or cancel any of the above mentioned Test Centres, at its sole discretion.
v. There is no negative marking.
vi. The candidates will be shortlisted in the ratio of 1:4 on the basis of their performance in Online Examination for Stage II.
vii. In case of a tie in Online Exam score, the candidates with the same score will be called for the second stage.
viii. The candidates will be allowed to appear in the online examination based on the data provided in the application form and preliminary scrutiny of documents uploaded, however detailed document verification will be done for the shortlisted candidates before being allowed to participate in Stage II of the selection process. II. Stage II: Final Selection Process (GD & PI)
ix. The shortlisted candidates will be called for Document Verification, Group Discussion (GD) and Personal Interview (PI).
x. The short listed candidates will be informed by an e-mail and the result of online exam will also be published on the SCI's website www.shipindia.com .

3) Candidates presently employed in PSUs /Central /State Govt. /PSBs /Autonomous Bodies will be required to produce NOC at the time of Interview. The documents will be verified prior to the candidates being allowed to participate in the Group Discussion/Personal Interviews. At any stage of the selection process, in the event the information furnished is found to be incorrect/false the candidature will be rejected. The Corporation reserves the right to disallow a candidate to appear for the Group Discussion/Interview in case the caste certificate is found to be invalid. If the caste certificate/disability certificate is in vernacular language, an English version of the same duly attested by a Gazetted officer or a person holding equivalent rank must be submitted.
4) Candidates must produce an attested copy of caste certificate issued by Competent Authority in the prescribed format as prescribed by Government of India (Central Government format only) in English.
5) Candidates have to make their own arrangements for stay for the selection process. SC/ST/PWD Candidates called for Final Selection Process shall be reimbursed 2nd class train fare for any mode of travel from their correspondence address/place of work in India to Mumbai on production of actual tickets by the shortest route. (PWD category candidates will be reimbursed travel cost as above, for one attendant wherever applicable, as per Govt. guidelines). Local Travel cost, if any, shall be borne by the candidates.
6) Candidate will appear for the Online Exam and/or Interview at their own risk and SCI will not be responsible for any injury or losses etc. of any nature.
7) Management reserves the right to cancel/ restrict/ modify/ alter the selection/ recruitment process at any stage, without issuing any further notice or assigning any reason thereafter.
8) In case of a tie in final results, following criteria shall be adopted in sequence for deciding position of merit list:
a. Candidate with higher marks in Online Exam
b. Candidate with higher marks in required qualification
c. Candidates date of birth (candidate with earliest date of birth will be placed higher in the merit list)
GENERAL INFORMATION

1. Indian Nationals only need to apply.
2. All queries pertaining to recruitment including selection process may be addressed to our Recruitment Team only through an e-mail at support@applygov.ind.in
3. Limited and reasonable waitlist panel considering the number of posts advertised will be kept, which will be valid for a period of one year from the date of empanelment and shall be applicable in case of selected candidates not joining for any reason or selected candidates separating from the organization.
4.Candidates are advised in their own interest not to furnish any particulars that are false, tampered, fabricated or suppress any information while filing up the application form or during the verification process. In any such case, the candidature /appointment made shall be treated as null/void at any stage in the selection process.
5. Candidates are advised to regularly check their e-mail and the Corporation's website for information.
6. The appointment of selected candidates will be subject to their being declared medically fit by the approved Hospital and by the Medical officer of the Corporation. The medical examination will be conducted at Mumbai.
7. The appointment of selected candidates will also be subject to verification of their character, antecedents and caste certificates and eligibility conditions.
8. SCI, at various stages, may capture photo/ thumb impression of the candidates for verification of genuineness of the candidates at 3 stages i.e. Online Exam, GD and Interview stage and at the time of joining in SCI. Candidate will ensure that the correct impression is captured at various stages and any inconsistency will lead to rejection of the candidature. In case of any candidate found to be not genuine, apart from taking legal actions against him/her, his/ her candidature will be cancelled. As such, they are advised not to apply any external matter like mehndi, ink, chemical, etc. on their hands. Decision of Biometric data verification Authority with regard to its status (matched or mismatched) shall be final and binding upon the candidates.
9. The short listing of candidates for the final selection process shall be at the discretion of the Corporation and the decision in this matter will be final and binding.
10. SCI will not bear any liability on account of salary/leave salary/gratuity/pension contributions etc, if any of previous employment of any candidate already working in Government/Public Sector Undertakings.
11. The decision of SCI Management regarding eligibility criteria, acceptance or rejection of applications to the post etc. shall be final and binding on all candidates. Mere fulfilment of the minimum qualification, experience and job requirement will not vest any right on candidates for being called for document verification/Interview.
12. Any corrigendum /addendum this advertisement will be displayed only on the Company's website.So candidates are advised to keep checking the Company's website regularly for any update.
For Detailed Advertisement
Download the deatailed advertisement
---
CIVILIANZ SOCIAL MEDIA PLATFORMS
Our Social media platforms are exclusively for Civil Engineering students, job candidates, teachers and all those who have a passion for Civil Engineering.
You will get
Civil engineering quiz and rewards

Regular job notifications

Exam notifications

PDF notes

Study tips

Civil related discussion and all in this group.
JOIN OUR SOCIAL MEDIA PLATFORMS
#learnfromthebest