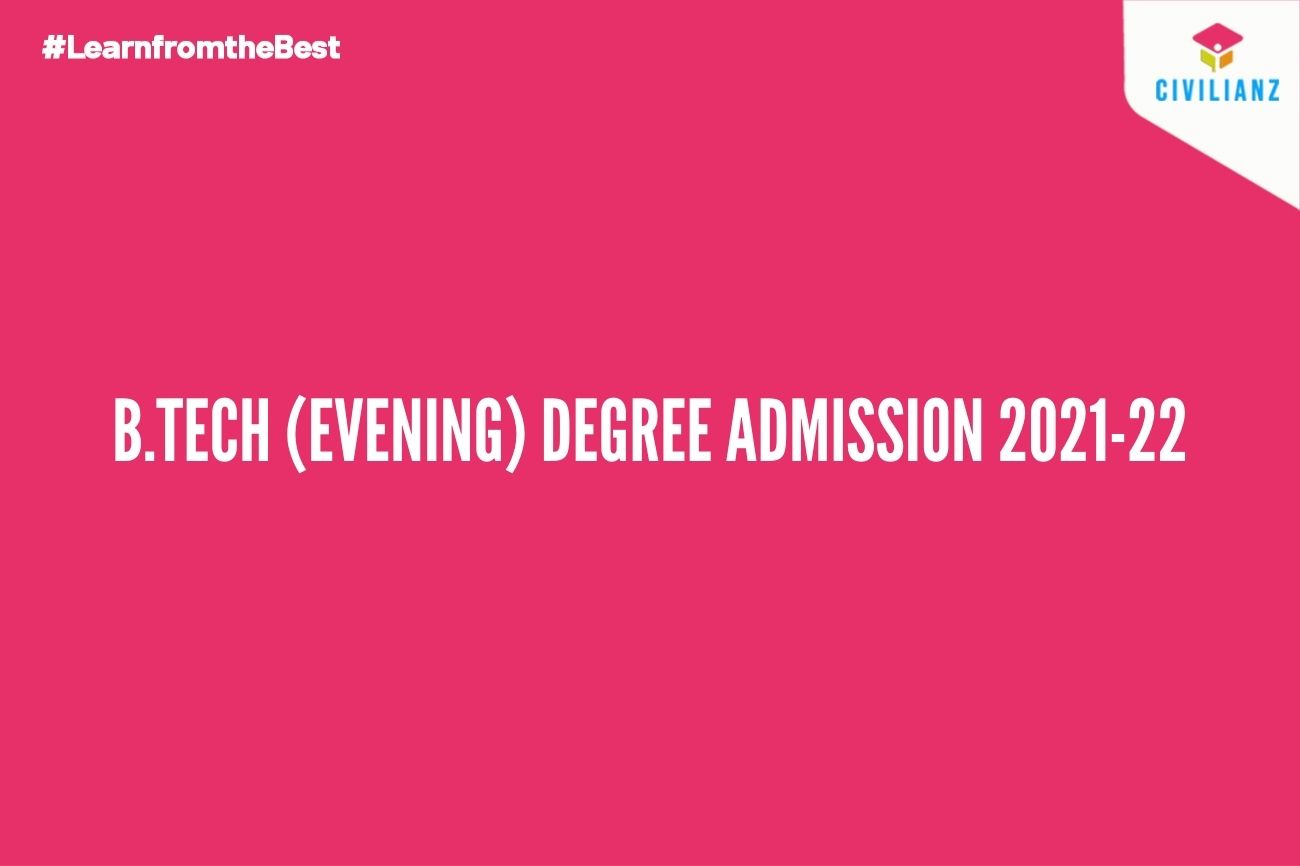 B.TECH (EVENING) DEGREE ADMISSION 2021-22 NOTIFICATION OUT!!!
Evening (Formerly Part-time) Degree Courses are offered in selected Engineering Colleges of the State for students possessing Diploma to acquire Bachelor Degree in Engineering. The course extends over a period of four academic years. The classes will be conducted normally in the evening on all working days and on holidays, if necessary, in accordance with the syllabi of the APJ Abdul Kalam Technological University. The prospectus issued during the previous years is not valid for the year 2021-22.
Institutions, Courses and Number of Seats 
The list of institutions, courses offered and the total numbers of seats available in each branch. The course is for 4 years (8 Semesters) duration and will include Lectures, Laboratory works, Seminars, Project work and Thesis. The hours of work will be from 5.45 pm to 9.15 pm, normally 5 days a week.
| | |
| --- | --- |
| Name of Institution | College of Engineering Trivandrum |
| University | APJ Abdul Kalam Kerala Technological University |
| Branch | Civil Engineering |
| Intake | 40 |
Fee Structure of B.TECH (EVENING) DEGREE ADMISSION 2021-22
Admission Fee

Rs. 1050/- to be paid at the time of admission.

Tuition Fee

Rs. 13130/- per Semester

Special Fee

Rs. 3150/- per year.

Caution Deposit

Rs. 2000/- to be paid at the time of admission (refundable).

Pre Matriculation




Registration Fee

as prescribed by the University
Eligibility for Admission for B.TECH (EVENING) DEGREE ADMISSION 2021-22
1. Candidates shall have passed Diploma in Engineering /Technology awarded by the Kerala State Board of Technical Education or equivalent.
2. At the time of applying for the course, the candidate shall be in employment in
Government Organizations.
Quasi- Government Organizations.
Industrial firms duly registered under Co-operative Society's Act
Public or Private Limited companies registered under Companies Act
Private-Aided Polytechnics and Private-Aided and un-aided Engineering Colleges in the state
Self Employed Diploma Holders
In the absence of eligible candidates with minimum one year after acquiring diploma as on 1 st AGUST, application from those who are having less than one year may also be considered. There will not be any marks for experience awarded to such candidates. A separate rank list will be published for them and the admission from that rank list will be considered only after the admission of professionally eligible candidates.
Equivalency of Branches
Candidates will be admitted only to the branch of Engineering in which they have obtained the Diploma. However, certain branches of Diploma are considered equivalent to certain other branches for admission to the B.Tech (Evening) Degree Courses.
Application Fees
| | |
| --- | --- |
| Candidates other than SC/ST candidates | Rs 600/- |
| SC/ST Candidates | Rs.300/- |
Selection
1. Selection of candidates will be made by the Director, Directorate of Technical Education, Thiruvananthapuram.
2. A rank list based on an index mark will be prepared and published at the websites
3. The index mark is calculated as the sum of the aggregate percentage of marks obtained in all the semesters/years in the Diploma Examination and marks for the period after acquiring diploma calculated as 2 marks per year. Maximum marks awarded towards experience will be limited to 10. The date of issue of final year/ final semester mark list will be considered for counting the qualifying experience.
4. In the case of those who have passed Diploma in supplementary examination, minimum pass marks in the subject for which he/she had failed will be considered for arriving at the total marks.
5. In the case of tie in the index marks, candidates having higher age will be
given preference.
Allotment to the Institution
1. Allotment to Institution will be done based on the rank and the candidate's preference to the Institution. The allotment will be published in the websites. Allotment letter can be downloaded from the website
2. If a candidate is not joining in an Institution as per the allotment, his further claim for admission will be automatically cancelled.
3. If a candidate is not joining in an Institution as per the transfer effected based on his Institutional preference, his/her admission will be automatically cancelled
4. If a candidate prefers to continue in a particular Institution as per the allotment, he is permitted to cancel all his higher options by giving a written request for the same to this office immediately after joining that Institution
5. Selected candidates shall produce a No Objection Certificate in the format given at the time of joining
Cancellation of Courses
1. If the number of eligible candidates opted for any branch in an institution is less than 60% of the sanctioned intake, the course will not be conducted at that institution.
2. Any other details not specifically covered by the clauses given will be decided by the Director of Technical Education and his decision will be final.
3. Any admission found to be not in order subsequent to the admission will be liable for cancellation.
IMPORTANT DATES
| | |
| --- | --- |
| Downloading Prospectus and submission of application form | 2nd August |
| Closing date for submission of application form | 17th August 5 P.M |
| Extended Closing date for submission of application form | 31 st August Mid Night |
For detailed prospectus,
DOWNLOAD
Our Social media platforms are excusively for Civil Engineering students, job candidates, teachers and all those who have passion for Civil Engineering. You will get
Civil engineering quizz and rewards

Regular job notifications

Exam notifications

PDF notes

Study tips

Civil related discussion and all in this group.
JOIN OUR SOCIAL MEDIA PLATFORMS
#learnfromthebest