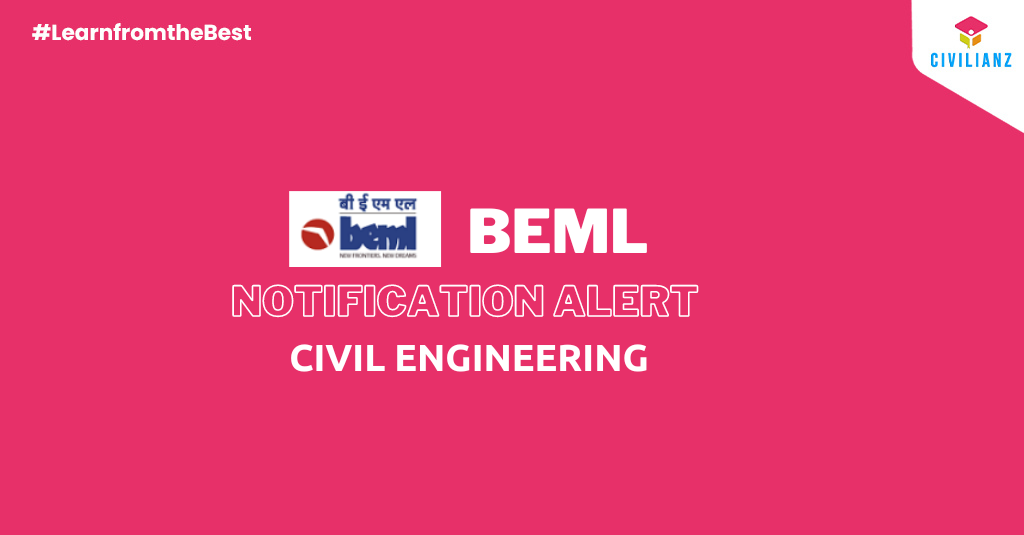 | | |
| --- | --- |
| Name of the Department | BEML Limited |
| Name of the Post | Junior Executive |
| Vacancy | 1 |
| Educational Qualification | Degree in Engineering (with aggregate 60% Marks) in Civil Engineering |
| Upper Age Limit | 27 Years |
| Pay Scale | Rs.28,000-Rs.34,000 |
| Start Date to Apply | 02-11-22 |
| End Date to Apply | 06.11.2022 |
| Official Website | www.bemlindia.in. |
BEML Limited, a diversified Central Public Sector Company, known for its innovation, Inclusion and Integration across the various Business Verticals as a pathway of success.BEML has attained the requisite competitive edge by developing its in-house capabilities inProduct-design, Manufacturing & servicing as a part of the Business Ecosystem & has become the Flag-bearer of India's Engineering Sector. It supplies global standard products to multiSectors such as Defence & Aerospace, Mining & Construction, Rail & Metro across India and overseas.
BEML is looking for bright & young professionals as Junior Executives on Fixed Tenure Basis on Contract (with 0-2 years' experience). He/ She must demonstrate drive for problem solving,excellence & time-bound execution. The incumbent must have the passion for constant learning and applications. We encourage Professionals meeting the following criteria to apply as per the process:
| | |
| --- | --- |
| Name of the Post | Min Post Qualification Experience Required |
| Junior Executive | 0-2 Years |
SELECTION PROCESS
The candidates will be selected based on the Company selection process, as applicable,  including Written Test.
| | |
| --- | --- |
| Name of the Post | Application Fee |
| Junior Executive | Rs.500/- |
GENERAL CONDITIONS
i. Only Indian Nationals may apply.

ii. Age, Qualification & Experience stipulated above should be as on 06.11.2022.

iii. The upper age limit indicated above is with relaxation as applicable to SC /ST /OBC in line with Government guidelines.

iv. SC /ST candidates are required to submit SC /ST Caste Certificate in the format as applicable for appointment to posts under Government of India.

v. OBC candidates are required to submit Other Backward Class Certificate ('NonCreamy Layer) (Certificate should be in the format as applicable for appointment  to posts under Government of India). OBC candidates are also required to furnish a selfundertaking that they belong to OBC (Non-Creamy Layer) by filling and signing the selfundertaking in the format provided along with the application format.

a. OBC Candidates: Candidates belonging to those Communities which are recognized as a backward class by the Government of India for the purpose of reservation in services as per orders contained in Department of Personnel and Training Office Memorandum No.36012/22/93-Estt.(SCT) dated 08.09.1993.
b. Non- Creamy Layer : The gross annual income of parents of the candidate should not be more than Rs.8 lakhs in last three consecutive years .




vi. PWD candidates are required to submit PWD Certificate in the format as applicable forappointment to posts under Government of India.

vii. EWS candidates are required to submit EWS Certificate in the format as applicable for appointments to the posts under Government of India

viii. Candidates employed in Government /Quasi-Government /PSU, should send their online application through proper channel or compulsorily produce NOC at the time of test as the case may be, as and when called.

ix. The candidates should ensure that he/she fulfills the eligibility criteria and other norms mentioned in the advertisement as on the specified dates and that the particulars furnished are correct in all respect. In case, it is detected at any stage of the recruitment process that a candidate doesn't fulfill the eligibility norms and/or that he she has furnished any incorrect/false information or has suppressed any material /fact (s),his/ her candidature shall stand automatically cancelled.If any of the above shortcoming (s) is/are detected even after appointment, his/her services are liable to be terminated without notice.

x. Mere meeting the conditions of the advertisement by the candidate(s) will not automatically entail them to be called for Test / Selection & Appointment.

xi. Management reserves the right to restrict the number of candidates (increase the Qualifing % based on number of appliations received).


xii. Management also reserves the right to cancel the advertisement and / or the selection process at its discretion.

xiii. Management reserves the right to increase / decrease the vacancies based on Business requirements.

xiv. Intimation regarding written test etc., will be sent only through e-mail.  Also the list of shortlisted /selected candidates for final selection, will be uploaded in Company's website.

xv. Eligible and interested candidates applying for the above positions need to pay a non-refundable fee of Rs.500/- by clicking the "Pay Application Fee Online" at the end of the application form
HOW TO APPLY
i. The candidates are required to apply ON-LINE only (which is mandatory), by clicking the"Apply ON-LINE" Link and after going through the prescribed guidelines and ensuring correctness of the data entered in the portal / form.

ii. The candidates can access the on-line application form in our career page at The on-line registration site would be available till 18.00 Hrs on 06.11.2022 .

iii. The 'Application number' generated may be noted for all future correspondences.

iv. Along with the Online application, the candidates are required to upload the following without which their applications will be incomplete and rejected.
a. X-th Marks card
b. XII-th Marks card
c. B.E/ B.Tech Marks cards along with Certificate (as applicable)
d. Identity card issued by Government of India (for eg. Aadhar, Passport, Driving
License, PAN Card, etc.)
e. Detailed Resume.
f. SC/ST/OBC/PWD/EWS certificate (as applicable)

v. Only candidates meeting all eligibility criteria mentioned herein viz., Qualification, experience, age, caste (as applicable) need to apply.

vi. For any queries on the matter, candidates may contact Manager (HR), Recruitment Cell on Phone No: 080 – 22963279 (between 3:00pm to 5:00pm) & Mail Id: recruitment@beml.co.in.
Detailed Notification
DOWNLOAD THE DETAILED NOTIFICATION
---