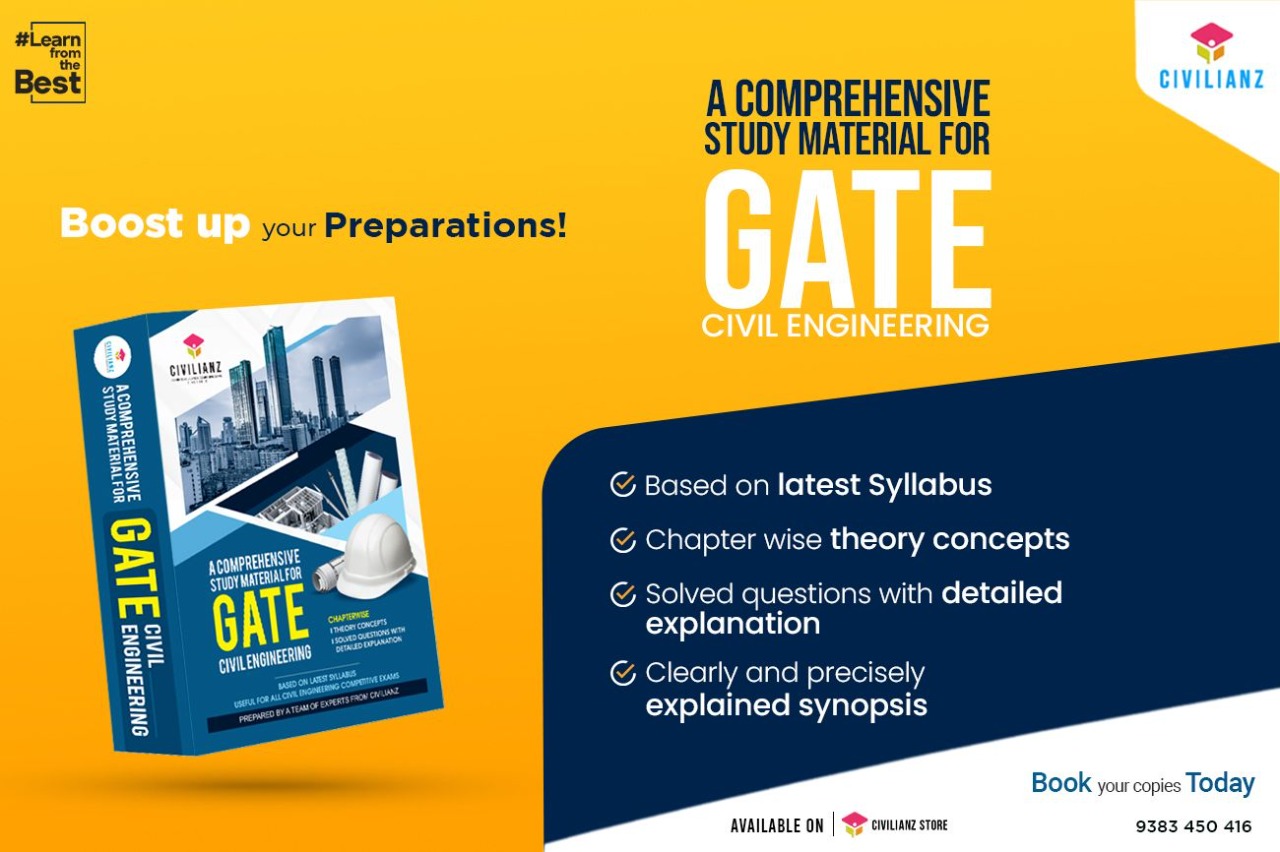 BEST STUDY MATERIAL FOR GATE CIVIL ENGINEERING
When it comes to preparation for the GATE exam 2022, the prerequisite and the must have part is a good study material. If you are a person self-preparing for GATE exam after your B Tech, you may have a dozen text books of your UG course.
Referring standard textbooks is always good in preparation but this should be done only for some doubt clearance or when you want to know more about a topic. This is because textbooks are deep and vast and not filtered as per the GATE exam requirement. This can also fetch you a good score in GATE, but the time taken for that would be twice or thrice the time you need to spend with a good and tailor made study material.
Thus, a complete and an exam focused material is a high-priority in the successful preparation of GATE exam.
CIVILIANZ, the best GATE Coaching Centre in Kerala is here with a Comprehensive Study Material for GATE Civil Engineering. Literally, this is everything for GATE under one roof!!
https://www.civilianz.com
The material is prepared as per the latest syllabus by the Elite Crew of Civil Engineers in Kerala.
The features of the book are:
A comprehensive and flawless study material for GATE as per the latest syllabus

Subject wise & Chapter wise Relevant Synopsis Theory as per GATE syllabus

Previous Questions of GATE and other relevant questions also included Chapter wise

Problems solved with detailed explanation

Useful for all Civil Engineering Competitive exams

Total 17 Subjects

Includes Quantitative Aptitude, Reasoning, Verbal Ability, Engineering Mathematics etc. in addition to Civil Engineering Subjects
A QUICK RUNDOWN INTO THE ABSTRACT OF THE BOOK:
This all-in-one book for GATE covers the entire syllabus for the exam including General Aptitude and Engineering Mathematics in addition to Civil Engineering subjects. The entire book has been sorted into 17 Subjects, which has been again divided into several chapters.
| | |
| --- | --- |
| Sl.no | Subject |
| 1 | Engineering Mechanics |
| 2 | Strength of Materials |
| 3 | Concrete Structures |
| 4 | Steel Structures |
| 5 | Structural Analysis |
| 6 | Construction Material and Management |
| 7 | Geotechnical Engineering |
| 8 | Fluid Mechanics |
| 9 | Hydrology |
| 10 | Irrigation Engineering |
| 11 | Environmental Engineering |
| 12 | Transportation Engineering |
| 13 | Geomatics Engineering |
| 14 | Engineering Mathematics |
| 15 | Quantitative Aptitude |
| 16 | Reasoning |
| 17 | English |
ENGINEERING MECHANICS
Engineering Mechanics is an easy-to-score subject and the syllabus of this subject is also limited. The expected weightage of this subject is 1 to 2 marks. It has been divided into 8 Chapters namely Forces and moment system, Properties of bodies, Friction, Kinematics of particle, rectilinear and curvilinear motion, Kinematics of rigid bodies fixed axis rotation & general plane motion, Kinematics of particle and rigid body, Work energy principle and impulse momentum equation and Virtual work.
STRENGTH OF MATERIALS
This subject carries a weightage of 5 to 7 marks. It is important to know what is more important to study in this subject. This has been divided into 13 Chapters. They are Simple stresses and strains, Complex stresses and strains, Shear force and bending moment, Theory of simple bending, Centroid and moment of inertia, Shear stress distribution, Torsion, Slopes and deflections, Columns and struts, Shear centre, Strain energy, Theory of failures and Springs.
CONCRETE STRUCTURES
The topics we study for UG degree in this subject is plenty when compared to that required for GATE. Selective study is much important in this subject as well. The weightage for this subject is 3 to 5 marks. It has been divided into 15 Chapters namely Materials and testing, Comparison of WSM, ULM and LSM, Design of singly reinforced rectangular sections in LSM, Design of doubly reinforced beams in LSM, Design of flanged sections in LSM, Limit state of collapse – Shear, Limit state of collapse- Torsion, Bond, Slabs, Limit state of collapse- Compression, Footings, Limit state of serviceability: Deflection and cracking, Fundamentals of pre-stressed concrete, Analysis of pre-stressed concrete members and Losses in pre-stressed concrete.
STEEL STRUCTURES
Here you have to be very much choosy on what you have to prepare. The contents in this book have been judiciously filtered in that way. The subject carries a weightage of 2 to 3 marks. It has been divided into the following 11 Chapters: Material and specification, Riveted and bolted connections, Welded connections, Design of tension members, Column bases, caps and column splices, Design of compression members, Design of beams, Design of plate girders, Design of gantry girders and Roof trusses.
STRUCTURAL ANALYSIS
This subject carries a weightage of 5 to 7 marks. The whole subject has been sorted into 10 Chapters namely Static and kinematic indeterminacy, Method of structural analysis, Analysis of trusses, Energy theorems, Moment distribution method, Slope deflection method, Plastic theory, Moving loads and influence lines, Arches, and Matrix method.
CONSTRUCTION MATERIAL AND MANAGEMENT
This subject deals with the materials of construction and also the techniques used in construction management. It has a weightage of 2 to 3 marks. The subject has been classified into 6 Chapters. They are: Structural steel, Concrete, Bricks and mortar, Timber, Bitumen and Construction management.
GEOTECHNICAL ENGINEERING
Geotechnical engineering which carries the highest weightage occupies the first place in the order of importance for preparation of GATE exams. It has to be prepared without skipping any topics. This subject has a weightage of 13 to 14 marks. The subject has been sorted into 18 Chapters namely Origin of soil, Clay mineralogy and soil structure, Basic definitions and properties of soil, Index properties of soil – Particle size analysis, Index properties of soil – Consistency limit, Soil Classification, Permeability of soil, Effective stress, Seepage analysis, Stress distribution in soil, Consolidation, Compaction, Shear strength, Earth pressure theories, Stability of slopes, Shallow foundation, Deep foundations and Sub-surface investigation.

FLUID MECHANICS
The weightage of Fluid mechanics ranges from 8 to 10 marks. This comes under the second set of important subjects after Geotechnical and Environmental engineering in the case of core subjects of Civil. This subject consist of 12 Chapters which are: Properties of fluid, Pressure measurements, Buoyancy and metacentric height, Fluid kinematics, Fluid dynamics, Viscous flow, Turbulent flow, Flow through pipes, Boundary layer theory, Impact of jets, Dimensional analysis and Open channel flow.
HYDROLOGY
Hydrology carries a weightage of 2 to 4 marks. It consists of 6 Chapters which includes: Hydrologic cycle, Precipitation, Losses in precipitation, Runoff, Flood estimation and Ground water hydrology.
IRRIGATION ENGINEERING
We can expect questions for 1 to 2 marks from Irrigation engineering. This subject is divided into 8 Chapters. They are: Irrigation – types and methods, Crops – types & water requirements, Diversion head works, Canal types, Cross drainage works, Quality of irrigation water, Dams and Spillways, canal falls.
ENVIRONMENTAL ENGINEERING
The second most important subject for GATE exam after Geotechnical engineering is Environmental engineering. In this subject you can get questions counting to 10 to 12 marks. The whole subject has been sorted into 14 Chapters namely Water demands, Population forecasting, Sources and conveyance of water, Quality parameters of water, Treatment of water, Water distribution system, Miscellaneous water treatment, Characteristics of sewage, Design of sewage system and sewer appurtenances, Sewage treatment, Disposal of sewage effluent, Sludge treatment and disposal, Solid waste management and Air pollution and control.
TRANSPORTATION ENGINEERING
Questions from Transportation engineering are usually asked for 7 to 10 marks. The subject is mostly theoretical and is among the second set of important subjects for GATE like fluid mechanics. This subject in this book is divided into 14 Chapters. They are Highway alignment and surveys, Highway geometric design, Gradient, Horizontal curves, Set back distance and curve resistance, Transition curve, Vertical curves – Summit curve, Vertical curves – Sag curves, Highway materials & testing, Pavement design, Traffic engineering, Railway engineering and Airport engineering.
GEOMATICS ENGINEERING
Here you can expect questions for 4 to 6 marks. The subject itself is very vast and doesn't carry much weightage when comparing with the volume of the topics. Hence, it's better to adopt a selective study approach for the subjects. In this book, Geomatics engineering has been divided into 12 Chapters namely Fundamentals of survey, Linear measurements and chain surveying, Compass survey, Plane table survey, Theodolite, Traversing, Tacheometry, Levelling, Contouring, Areas and volumes, Curves and Advanced surveying.
ENGINEERING MATHEMATICS
Apart from Civil engineering subjects, one of the very important subjects for GATE is Engineering Mathematics. It carries a fixed and sure shot weightage of 13 marks every year for GATE exam. The subject has been sorted into 5 Chapters. It includes: Linear algebra, Calculus, Ordinary differential equation, Partial differential equation and Probability and statistics.
QUANTITATIVE APTITUDE
Quantitative aptitude is a part of General Aptitude (GA) and in this book it has been divided into 4 Chapters namely Applied probability, Data interpretation, Percentage exercise and Ratio, proportion and partnership.
REASONING
Reasoning is also a part of General Aptitude (GA) and this subject is sorted into 2 Chapters. They are: Analytical aptitude and Spatial aptitude
ENGLISH
English or Verbal Aptitude is also a part of General Aptitude. This has been divided into 13 Chapters. They are: Tense, Articles, Adjectives, Conjunctions, Idioms and phrases, proverbs, Words, Adverbs, Prepositions, Concord, Nouns, Pronouns, Verbs and Reading and comprehension / critical reasoning.
The General Aptitude which comprises of Quantitative Aptitude, Reasoning and Verbal Ability has a fixed weightage of 15 marks every year for GATE exams.
WHY THIS BOOK?
This study material is an exclusive and a custom-made book for GATE aspirants. As you know for GATE exam the most important thing in the preparation is to plan your learning as per the weightage of the subjects. What to learn and what not to, which chapter to concentrate more, which one should be skipped, which chapter should be focused for problems etc. are some of the very confusing parts in the preparation.
You can get solution for all your questions from this single material which is prepared as per the subject and also topic wise weightage for the examination.
Purchase now
No more waiting
#learn_from_the best
BEST STUDY MATERIAL FOR GATE CIVIL ENGINEERING