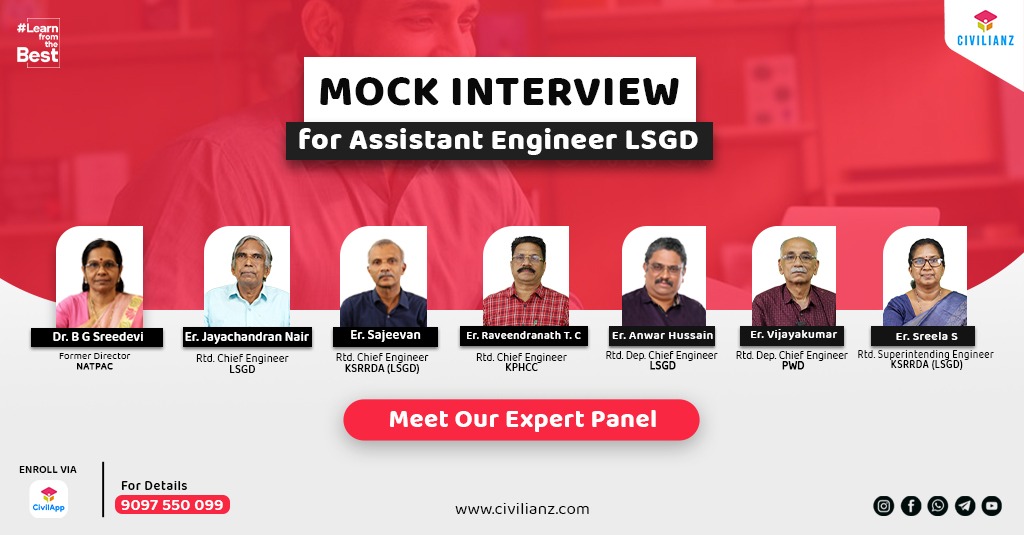 Civilianz LSGD AE Mock Interview – Meet our panel members
Department: Local Self Government Department  
Category Number: 125/2020  
🎓 Civilianz LSGD Dept AE Mock Interview – Meet our panel members
Our expert team of panel members (Rtd. Professionals) from various departments is ready here to give you the same experience as that of an actual interview.
Get the best guidance and break the stage fear by attending Online Mock Interview session for the post of Kerala LSGD Assistant Engineer.The course includes:
✅An online orientation session with details of the interview program, interview preparation strategies and important tips from experts.
✅An online mock interview session conducted through Google Meet/Zoom in the same pattern as that of PSC Interview carried out by an expert panel of interviewers.
✅You can even choose a direct interview session instead of the online mock interview.
✅ 3 recorded videos of an ideal interview session
✅ Experience sharing session by qualified candidates
✅Exclusive discussion forum through which your doubts and queries regarding the interview can be cleared
✅ E-book including frequently asked questions and desirable answers for interviews.
Our panel will be lead by
1️⃣ Dr. B.G Sreedevi
Former Director NATPAC
2️⃣ Er. Jayachandra Nair
Rtd. Chief Engineer- LSGD
3️⃣ Er. Sajeevan
Rtd. Chief Engineer- KSRRDA (LSGD)
4️⃣ Er. Raveendranath T. C
Former Chief Engineer,
Kerala Police Housing & Construction Corporation Ltd. & Ex. Superintending Engineer, Kerala State Irrigation Department
5️⃣ Er. Anwar Hussain
Rtd. Deputy Chief Engineer- LSGD
6️⃣ Er. Vijayakumar
Rtd. Deputy Chief Engineer- PWD
7️⃣ Er. Sreela S
Rtd. Superintending Engineer
KSRRDA- LSGD
Course fee:- 1000₹
If you are a Civilianz Student, Just dial on
9097550099
9497498415
9497498416
9383450415
---
CIVILIANZ SOCIAL MEDIA PLATFORMS
Our Social media platforms are excusively for Civil Engineering students, job candidates, teachers and all those who have passion for Civil Engineering. You will get
Civil engineering quizz and rewards

Regular job notifications

Exam notifications

PDF notes

Study tips

Civil related discussion and all in this group.
JOIN OUR SOCIAL MEDIA PLATFORMS    
#learnfromthebest