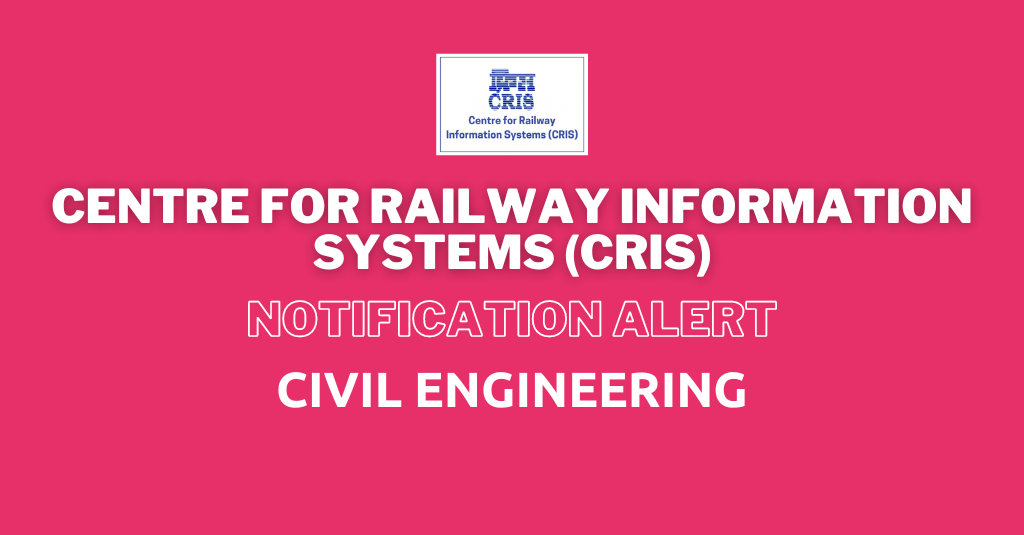 | | |
| --- | --- |
| Name of the Department | Centre for Railway Information Systems (CRIS) |
| Name of the Post | Junior Civil Engineer |
| Application method | Online |
| Vacancies | 1 |
| Pay scale  | Rs. 35,400 (i.e Rs.48,852 incl. of DA (38%) as on date)  |
| Age limit | 22-28 years |
| Last date for applying  | 20/12/2022 |
| Official website | www.cris.com |
IMPORTANT DATES
| | |
| --- | --- |
| Opening Date for Online applications | 21/11/2022 |
| Last date for Online Registration and application fee | 20/12/2022 |

APPLICATION FEE
| | |
| --- | --- |
| For all candidates except the fee concession categories |  ₹1200 (Bank Charges + GST Tax Extra) |
| For PwBD/Female/Transgender/Ex-Servicemen candidates and candidates belonging to SC/ST/Economically Backward Class. This Fee of ₹ 600 shall be refunded, if candidate appears for Exam (Bank Charges + GST are non-refundable). | ₹600 (Bank Charges + GST Tax Extra) |
After depositing the application fee through online mode, you may check the status of application.
EDUCATIONAL QUALIFICATION
3 Years diploma in Civil Engineering recognized by the Directorate of Training & Technical Education of any State Govt/Govt. of India. Minimum 60% marks or equivalent CGPA (55% for SC/ST/PwBD Candidates). Diploma should be recognized by Directorate of Training and Technical Education of any state/Government of India. In candidates with a degree in Civil Engineering, the Degree should be recognized by UGC/AIU/AICTE. Degrees through Distance Education should be recognized by Distance Education Bureau of UGC. 
CBT (COMPUTER BASED TEST) SYLLABUS
Part – I (24 Questions):
General Knowledge
General Aptitude/ Reasoning
Part –II (96 Questions):
Building Materials
Estimating, Costing and Valuation
Surveying
Construction Engineering
Soil Mechanics & Geotechnical Engineering
Hydraulics and Water Resource Engineering
Irrigation Engineering
Transportation Engineering
Environmental Engineering
Structural Engineering

Land Development & Land Scaping




HOW TO APPLY
1. Candidates must apply online through the link available on CRIS website under tab "Careers". 

2. Detailed Instructions for filling online application are available on the 'Instruction Page'. Candidate should read the instructions carefully before making any entry or selecting options.
3. After submitting the online application, the candidates are required to take printout of the finally submitted online application and retain the same with them.
4. Candidates are not required to submit the printouts of their online applications or any other document to CRIS either by post or by hand.
5. The candidates are advised to submit only single online application. However, if somehow, he/she submits multiple online applications, then he/she must ensure that online application with the higher "Application Sequence Number" is complete in all respects including fee.
6. Application once submitted cannot be withdrawn and fee once paid will neither be refunded nor adjusted (except the concession categories mentioned in Application fee table).
7. Candidates should have a valid personal email id and should ensure that it is active during the entire recruitment process.
8. Application Sequence Number, User ID, Password and all other important communication will be sent on the same registered email id.
9. Candidates should take utmost care in furnishing/providing the correct details while filling up the online application.YOU CAN EDIT THE INFORMATION BEFORE SUBMISSION OF APPLICATION. Once the application is submitted, it cannot be edited.
10. Candidates are advised in their own interest to apply online much before the closing date.
11.Before applying online, candidate will be required to have a scanned (digital) image of his/her recent passport size colored photograph, signature and all relevant documents/details related to eligibility criteria viz. 

MODE OF SELECTION
Online Computer Test would be conducted for placing the candidates in order of merit according to the marks obtained. In case the marks obtained are same, then the one with the earlier date of birth would be placed higher in the order of merit. In case of tie in date of birth also, candidate with higher marks/percentage in the qualifying degree required will be placed higher in the order of merit. Candidates will be considered in the order of merit only.

MEDICAL FITNESS
Short-listed candidates would have to pass the medical examination before joining as per CRIS Rules.
POSTING
The selected candidates could be posted at CRIS Headquarters in New Delhi or at any of the Regional Offices at New Delhi, Kolkata, Mumbai, Chennai, and Secunderabad (Hyderabad), or any project site in India, for specified duration as per the need and requirement of CRIS.
SERVICE AGREEMENT BOND
The selected candidates will be required to execute a service agreement bond of Rs. 2,00,000/ (Rupees Two Lakh only) to serve CRIS for at least 3 years after joining.
GENERAL INFORMATION AND INSTRUCTIONS
1. Candidates appearing or awaiting results on the closing date of application are NOT eligible to apply.
2.  All qualifications should be from a University/ Institute recognized by AICTE/ UGC.
3. Only online applications are allowed. Manual/ paper applications will not be entertained . Applications sent through other modes will not be accepted/ entertained and no further intimation will be sent in this regard.
4. Candidature of a candidate is liable to be rejected at any stage of the recruitment process or after recruitment or joining if any information provided by the candidate is found to be false or the candidate is not found to conform to the eligibility criteria advertised.
5. All correspondence with CRIS should be through the registered email id of the candidate.
6. Candidates shortlisted for selection are required to submit their original Diploma/Engineering Degree certificate and mark sheets of all semesters/years as documentary proof of having passed the qualifying Engineering Degree examination in relevant discipline/branch with minimum prescribed percentage of marks as indicated above, at the time of document verification.
7. The decision of CRIS in all matters relating to eligibility,acceptance or rejection of the applications, mode of selection, place of first posting, etc. will be final and binding on the candidates and no enquiry/ correspondence will be entertained in this regard.
8. CRIS reserves the right to cancel /restrict /enlarge /modify /alter the recruitment process if the need so arises, without issuing any further notice or assigning any reason whatsoever.
9. Legal jurisdiction will be of NCT of Delhi in case of any dispute/legal point.

10. All further communications in this regard will be displayed on CRIS website.
Download notification
DOWNLOAD DETAILED NOTIFICATION
CIVILIANZ SOCIAL MEDIA PLATFORMS
Our Social media platforms are exclusively for Civil Engineering students, job candidates, teachers, and all those who have a passion for Civil Engineering. You will get
Civil engineering quizzes and rewards

Regular job notifications

Exam notifications

PDF notes

Study tips

Civil-related discussion and all in this group.
#learnfromthebest