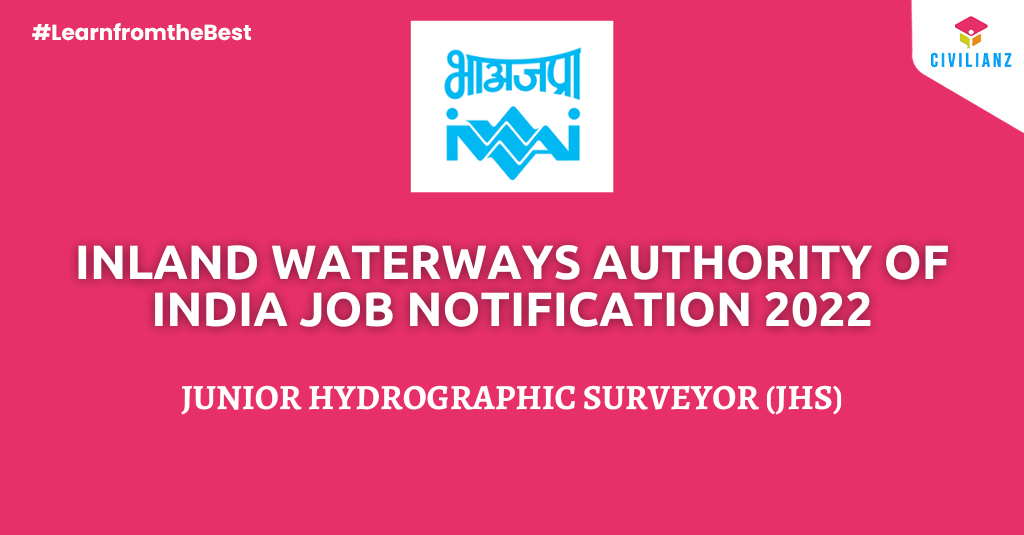 Name of th

e Department

INLAND WATERWAYS AUTHORITY OF INDIA

Name of the Post

Junior Hydrographic Surveyor (JHS)

Application method

Online

Vacancies

3

Pay scale 

35400/- to 112400/-

Age limit

30

Last date for applying 

17/12/2022

Official website

 www.iwai.nic.in
IMPORTANT DATES
| | |
| --- | --- |
| Opening Date of Application | 18/11/2022 |
| Closing Date of Application | 17/12/2022 |

APPLICATION FEE
| | |
| --- | --- |
| For all candidates except the fee concession categories | ₹ 500/- (Five Hundred Rupees Only) |
| For candidates belonging to fee concession categories | ₹ 200/- (Two Hundred Rupees Only) |
Check the detailed notification to know more regarding fee refund and process.
EDUCATIONAL QUALIFICATION
Degree in Civil Engineering Or Diploma in Civil Engineering with 3 years' experience in Hydrography/ land survey Or SR I /II certificate of the Indian Navy with 7 years' experience in Hydrography.

HOW TO APPLY 
1.Candidates must apply online through the website; in the IWAI Home page >> Recruitment >> Apply online for Recruitment to the above posts in IWAI 2022.
2.No other means/mode of application will be accepted. Applications received through any other mode will not be accepted and will be summarily rejected.
3.Only online applications along with the prescribed Application fee and soft copy of the required documents submitted before the closing date will be accepted. 
4.Incomplete applications and applications submitted without Photograph duly signed / Proof of Date of Birth (School Certificate) and relevant documents as per specification / application fees will be summarily rejected.
5.Detailed instructions for filling online application and Online Fee payment are available on the website of IWAI. Candidates should read the instructions carefully before making any entry or selecting options.

6.Application once submitted cannot be modified; hence utmost care should be taken to furnish the correct details before submitting online application.
7.Candidates are advised to submit only single online application. However, if somehow, he/she submits multiple online applications, then he/she must ensure that online application with the higher Registration Number is complete in all respects including fee. The applicant, who submits multiple online applications should note that only the online application with higher Registration Number will be entertained by IWAI and fee paid against one earlier Registration Number shall not be adjusted against any other Registration Number.
8.After submitting the online applications, applicants are required to note down the generated Application number and keep a print out of the submitted application.
9.Candidates are not required to submit to IWAI either by post or by hand the printouts of their online applications or any other document. They will be required to submit printout of online applications along with documents in support of their eligibility etc. at the time of documents verification in case they are shortlisted for appointment.
10.Candidates are required to keep active the E-Mail ID and Mobile Number registered in online application during the currency of this recruitment process. IWAI will send E-Admit Cards, Offer Letters and other communications only at the registered E-Mail ID/ Mobile of candidates. Hence, under no circumstances, the candidates should provide E-Mail ID to anyone else.
11.Before applying online, candidate will be required to have a scanned (digital) Image of his/her recent Photograph and Signature for uploading.
12.Candidates are advised in their own interest to apply online much before the closing date and not wait till the last date to avoid the possibility of congestion in server to log on etc.
13.Applicant has to read the instructions thoroughly and click the button "I Agree" check box provided at the bottom of the form after declaration, if applicant is sure that he/she meets the prescribed eligibility conditions for the post.
GENERAL INSTRUCTIONS
1.The vacancy shown against above mentioned post is tentative and may increase / decrease be depending on the requirement of Authority.
2.The post has all India transfer liability; candidates selected for the above mentioned post may be posted in the Head Quarters at NOIDA or Regional offices.
3.The syllabus of the Computer Based Online Test shall be of the standard of prescribed eligibility criteria, which may consist of 120 multiple choice objective questions, comprising Part-A and Part-B ; Part-A consisting of 100 questions shall be relevant to the related discipline, covering the syllabus of prescribed eligibility criteria for the post and Part-B consisting of 20 objective Multiple Choice Question (MCQ) shall be from the Quantitative Aptitude (Simple Maths), Data Interpretation, Analytical Reasoning, Logical Reasoning and Simple English of the 12th Standard and time allotted for the Test will be 2.00 hour.
4.Normalization method will be applied.
5.The progress on the selection process shall be updated in the website of IWAI and hence no telephonic inquiry shall be entertained.
6.Mere possession of essential qualifications will not entitle a candidate to be selected for the post. The decision of the Authority as to the eligibility of a candidate shall be final and no correspondence in this regard will be entertained.
7.In case two or more candidates score equal marks in the online test, weightage will be given to the candidate scoring more marks in Part A. If there is tie even after this, merit list will be prepared based on the Date of Birth of the candidates – the candidate born earlier shall be placed before the candidate born later.
8.Candidates seeking reservation benefits must ensure that they are entitled to such reservation as per eligibility prescribed in the Notice and as per the instructions issued by Govt. of India.
9.IWAI will not undertake detailed scrutiny of online applications for eligibility and other aspects at the time of Online Computer Based Test and, therefore, the candidature is accepted only provisionally. Before applying, candidates are advised to go through the requirements of essential qualification, age etc. and satisfy themselves that they are eligible for the post. The selected candidates are liable to be posted anywhere in India.

Download notification
DOWNLOAD DETAILED NOTIFICATION
---
CIVILIANZ SOCIAL MEDIA PLATFORMS
Our Social media platforms are exclusively for Civil Engineering students, job candidates, teachers, and all those who have a passion for Civil Engineering. You will get
Civil engineering quizzes and rewards

Regular job notifications

Exam notifications

PDF notes

Study tips

Civil-related discussion and all in this group.
#learnfromthebest