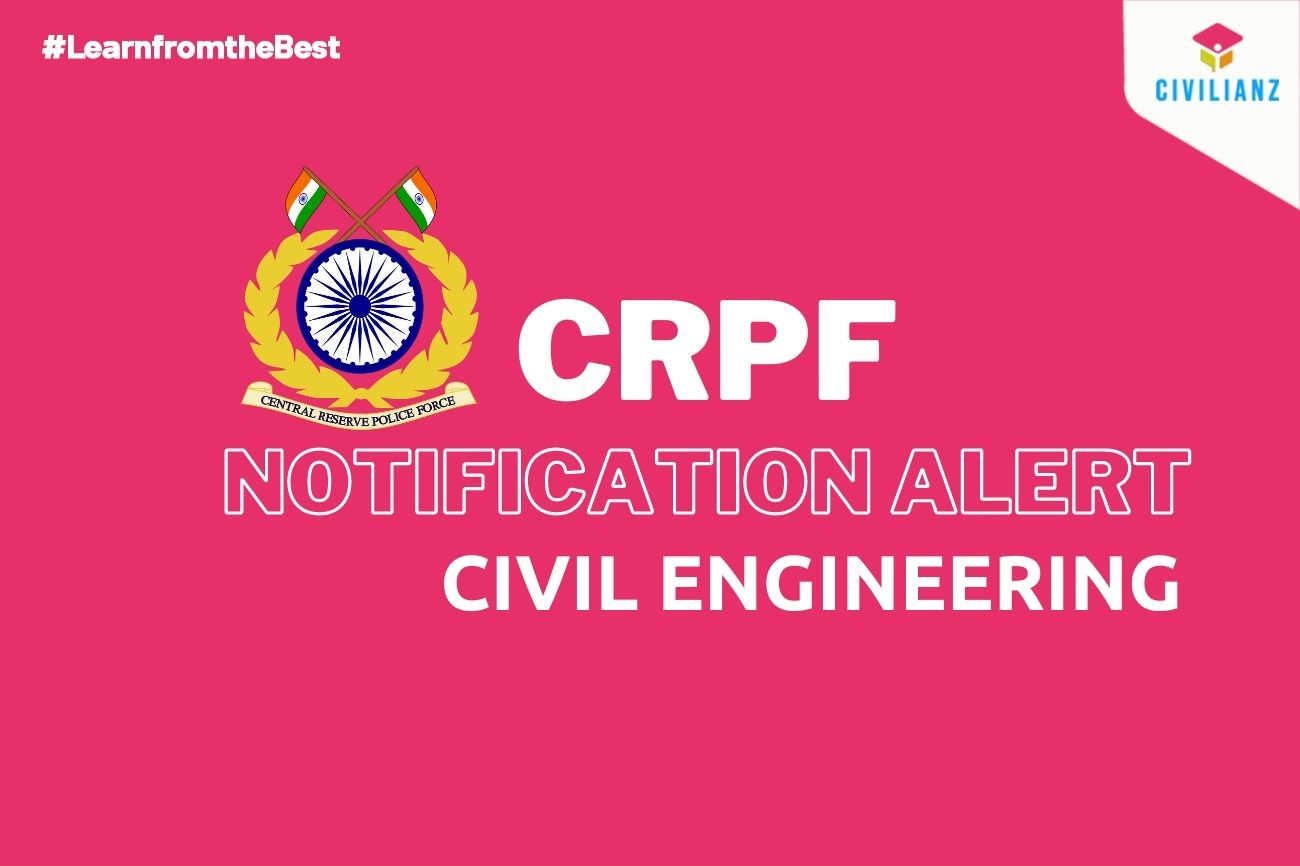 CENTRAL RESERVE POLICE FORCE – CRPF JOB RECRUITMENT 2021
| | |
| --- | --- |
| Name of organization | CENTRAL RESERVE POLICE FORCE |
| Name of post | Assistant Commandant (Civil/Engineer) |
| Vacancy | 25 |
| Salary | Rs. 56100- 177500 |
| Age | 35 years |
| Application fee | Rs 400/- |
| Starting date to apply | 30/06/2021 |
| Last date to apply | 29.07.2021 |
| Official website | crpf.gov.in |
The Central Reserve Police Force will conduct an open examination for recruitment to the post of Assistant Commandant (Civil/Engineer) as per the Recruitment Scheme formulated by the Ministry of Home Affairs. The recruitment process will consist of Physical Standard Test (PST) & Physical Efficiency Test (PET), Written Examination, Documentation followed by Detailed Medical Examination (DME) and Interview.
NUMBER OF POSTS FOR CRPF JOB RECRUITMENT 2021
| | |
| --- | --- |
| Name of Posts | Vacancy |
| AC (Civil/ Engineer) | 25 |
EDUCATIONAL QUALIFICATION
Name of Posts
Educational Qualification

Pay scale

AC (Civil/ Engineer)

Bachelor's Degree in Civil Engineering from




a recognized University

Rs. 56100- 177500
UPPER AGE LIMIT
| | |
| --- | --- |
| Name of posts | Maximum Age |
| AC (Civil/ Engineer) | 35 years |
APPLICATION FEE
| | |
| --- | --- |
| Male candidates belonging to Unreserved/EWS/OBC category | Rs 400/- |
| Scheduled Castes/Scheduled Tribes and female candidates | Nil |
Fee may be sent through Indian Postal Orders and Bank Drafts only which is issued on or after 30/06/2021. Any other mode of payment and issued before 30/06/2021 will not be accepted and such applications will be summarily rejected. Applications not accompanied by the prescribed fee shall be summarily rejected. Fee once paid shall not be refunded under any circumstances nor can the fee be held in reserve for any other examination or selection.
Candidates who have to pay application fee can pay through Indian Postal Order or Bank Draft in favour of DIG, Group Centre, CRPF, Rampur payable at SBI-Rampur.
EXAMINATION CENTRES
The written examination will be conducted in following cities:
Noida
Sonipat
Ajmer
Prayagraj
Bhubneswar
Durgapur
Guwahati
Pune
Avadi
Bengaluru
HOW TO APPLY
1. Candidate should read the instructions in this Notice carefully before making any entry or selecting options.
2. Candidate should supply all the required details while filling up the form and will have to paste their photograph and signature.
3. Due care should be taken by the candidates to fill up their application form correctly. Incomplete or defective applications shall be summarily rejected.
4. The duly filled application form with photocopies of all relevant documents, 02 latest passport size photographs and 02 envelopes mentioning correspondence address of applicant with requisite stamps should be mailed/deposited. Application will be rejected in case of non-receipt of photographs. Name of the examination i.e. "Central Reserve Police Force Assistant Commandant (Engineer/Civil) Exam, 2021" should be written on the top of envelop before dispatching it to "DIG, Group Centre, CRPF, Rampur, District-Rampur, U.P.-244901".
5. Request for change/correction in any particulars in the Application Form shall not be entertained under any circumstances. The Department will not be responsible for any consequences arising out of non-acceptance of any
correction/addition/deletion in any particular filled in application form whatever the reasons may be.
6. All candidates, whether already in Government Service, Government owned industrial undertakings or other similar organizations or in private employment should submit their applications direct to the CRPF.

STAGES OF EXAMINATION
| | |
| --- | --- |
| Stage | Recruitment Process |
| Stage-I | Physical Standard Test/ Physical Efficiency Test |
| Stage-II | Written Examination |
| Stage-III | Documentation/DME |
| Stage-IV | Review Medical Examination |
| Stage-V | Interview |
GENERAL INSTRUCTIONS FOR CRPF JOB RECRUITMENT 2021
1. No change of Centre of Examination will be allowed under any circumstance. Hence, the candidates should select the centers, carefully and indicate the same correctly in their applications.
2. The Department reserves the right to cancel any Centre and ask the candidates of that centre to appear from another centre. Department also reserves the right to divert candidates of any centre to some other Centre to take the examination.
3. The candidates applying for the examination should ensure that they fulfill all the eligibility conditions for admission to the examination. Their admission at all the stages of examination will be purely provisional, subject to their satisfying the prescribed eligibility conditions
4. Admit Cards will be dispatched by post. If any candidate does not receive admit card for the examination he/she must immediately contact the helpline.
5. Canvassing in any form, misbehavior, misconduct on the part of the candidate is prohibited and indulgence of such practice will be viewed seriously. The candidature of such candidates will be summarily rejected and no correspondence will be entertained in the matter.
6. Any dispute in regard to this recruitment will be subject to courts/ tribunals having jurisdiction over the City/Town in which the concerned Recruitment Centre of CRPF is situated and where the candidate has submitted his/her application.
7. Candidates will be admitted to the Examination provisionally. Candidates are advised to go through the requirements of educational qualification, age, physical standards, etc. and satisfy themselves that they are eligible for the posts, before applying
8. Candidates who have not affixed their signature or LTI or who have not written or coded details such as Name, Roll Number and Test Form Numbers or not furnished the declaration/ certificate on Page-I of the OMR answer sheet will be awarded 'ZERO' mark
9. Candidates seeking reservation benefits for SC/ST/OBC/EXM/EWS must ensure that they are entitled to such reservation as per eligibility prescribed in the Notice.
10. Candidates belonging to the Physically Handicapped category are not eligible to apply for this examination
11. Central Government civilian employees claiming age relaxation should produce a certificate in the prescribed format from their office at the time of document verification
12. Candidates must carry at least one photo bearing IDENTITY PROOF in original such as Driving Licence, Voter Card, Aadhaar Card, PAN Card etc. to the examination centre, failing which they shall not be allowed to appear for the examination

13. Candidate submitting more than one application with different particulars like name, father's name, community/Photo(Face)/Educational and/or Technical Qualification will be summarily rejected and also be debarred from the examination.
14. Signatures of the candidates on all prescribed documents should be identical, either in English or Hindi, and must be in running hand and not in block/capital or disjointed letters. Signatures in different style or language at the time of different process and document verification etc. may result in cancellation of candidature.
15. Candidate should note that only Name, Father's name and Date of Birth as recorded in the Matriculation/High School Examination Certificate or an equivalent certificate as on the date of submission of application will be accepted.
16. Photocopy of relevant documents form is required to be attached with application form.
IMPORTANT DATES FOR CRPF JOB RECRUITMENT 2021
| | |
| --- | --- |
| Opening date for application | 30.06.2021 |
| Closing date of application | 29.07.2021 |
For detailed advertisement,
DOWNLOAD