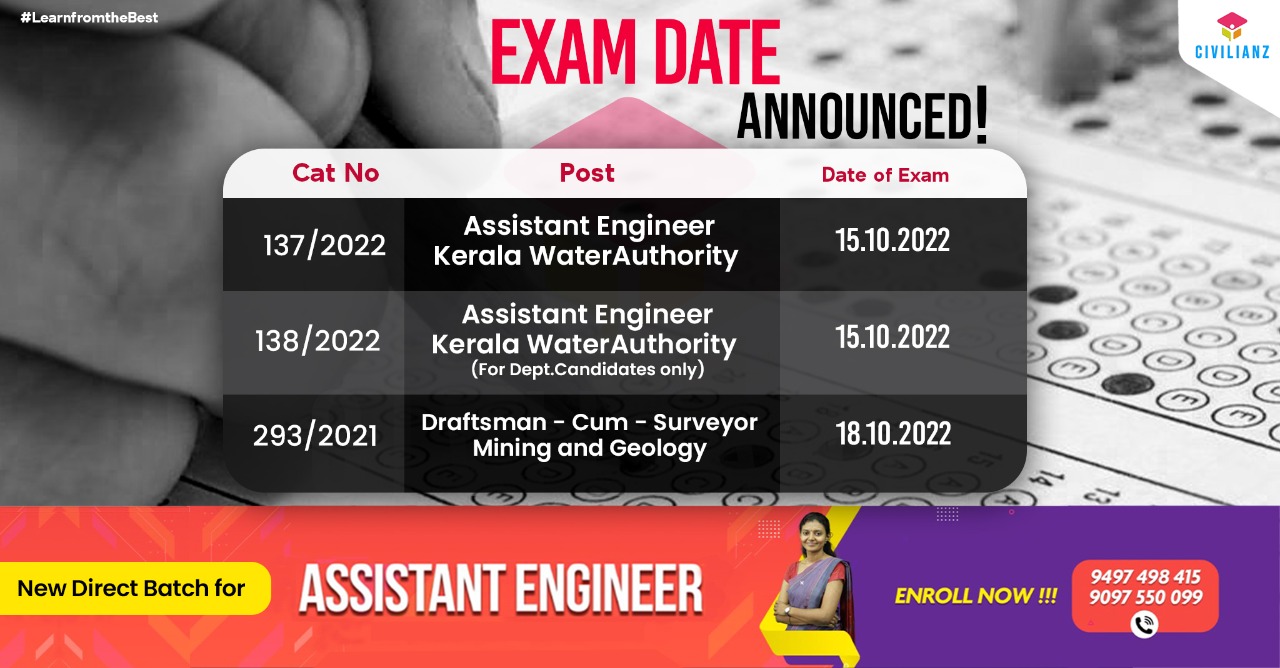 KERALA PSC EXAM DATE FOR ASSISTANT ENGINEER – KWA DEPT. & DRAFTSMAN Exams on 15.10.2022 and 18.10.2022
SL. NO:
DATE
POST
CATEGORY NUMBER

1

15.10.2022

ASSISTANT ENGINEER – KERALA WATER AUTHORITY




(Direct Recruitment)

137/2022

2

15.10.2022

ASSISTANT ENGINEER – KERALA WATER AUTHORITY




(From Departmental candidates only)

138/2022

3

18.10.2022

DRAFTSMAN-CUM-SURVEYOR – MINING AND GEOLOGY

293/2021
Candidates can submit their confirmation for writing this examination through one-time registration profile from 23.07.2022 to 11.08.2022
Candidates who successfully submit their confirmation on or before 11.08.2022 can download the Admission Tickets through their One Time Registration Profile in the website from 01.10.2022
KERALA PSC EXAM DATE FOR ASSISTANT ENGINEER – KWA DEPT.
Special Information
While submitting confirmation for the confirmation required posts of this examination programme, candidates can select the District of their Communication Address as choice of their examination centre. For the same, changes can be made in Communication Address if necessary and special attention to be taken to submit confirmation only after making necessary changes in their Communication Address in the Profile.
For detailed exam calendar,
കേരള വാട്ടർ അതോറിറ്റി അസിസ്റ്റൻറ് എൻജിനീയർ പരീക്ഷയിലേക്ക് വിജ്ഞാപനം വന്നിരിക്കുന്നു.
64 വേക്കൻസികളാണ് നിലവിലുള്ളത്. കൂടുതൽ ഒഴിവുകൾ പ്രതീക്ഷിക്കപ്പെടുന്നു.
Civil/Chemical/Mechanical എൻജിനീയറിങ് ബിരുദധാരികൾക്ക് അപേക്ഷിക്കാവുന്ന ഈ പരീക്ഷയ്ക്കായി സിവിലിയൻസിന്റെ തീവ്രപരിശീലന ഓൺലൈൻ ക്ലാസുകൾ ആരംഭിച്ചിരിയ്ക്കുന്നു.
മുൻ സിലബസിനെ അടിസ്ഥാനമാക്കി തയ്യാറാക്കിയിരിക്കുന്ന PreRecorded ക്ലാസുകൾ സിവിൽ/ കെമിക്കൽ/ മെക്കാനിക്കൽ പോർഷൻസ് കവർ ചെയ്തിരിക്കുന്നു.
✅ ഓരോ വീഡിയോ ക്ലാസ്സിനോടൊപ്പവും Assessment ടെസ്റ്റ്
✅ മോക്ക് ടെസ്റ്റുകൾ
✅ Full Syllabus Coverage
✅ Faculty Support
✅ Discussion Board
ഇവയെല്ലാം ഒരൊറ്റ കോഴ്‌സിൽ!
Course Validity: 1 year
Fee : Rs.15,000/- + Tax  
Call us for details:
📲 9497498416
📲 9097550099
📲 9497498415
📲 9383450415
CIVILIANZ SOCIAL MEDIA PLATFORMS
Our Social media platforms are exclusively for Civil Engineering students, job candidates, teachers and all those who have a passion for Civil Engineering. You will get
Civil engineering quiz and rewards

Regular job notifications

Exam notifications

PDF notes

Study tips

Civil related discussion and all in this group

.
JOIN OUR SOCIAL MEDIA PLATFORMS
  #learnfromthebest