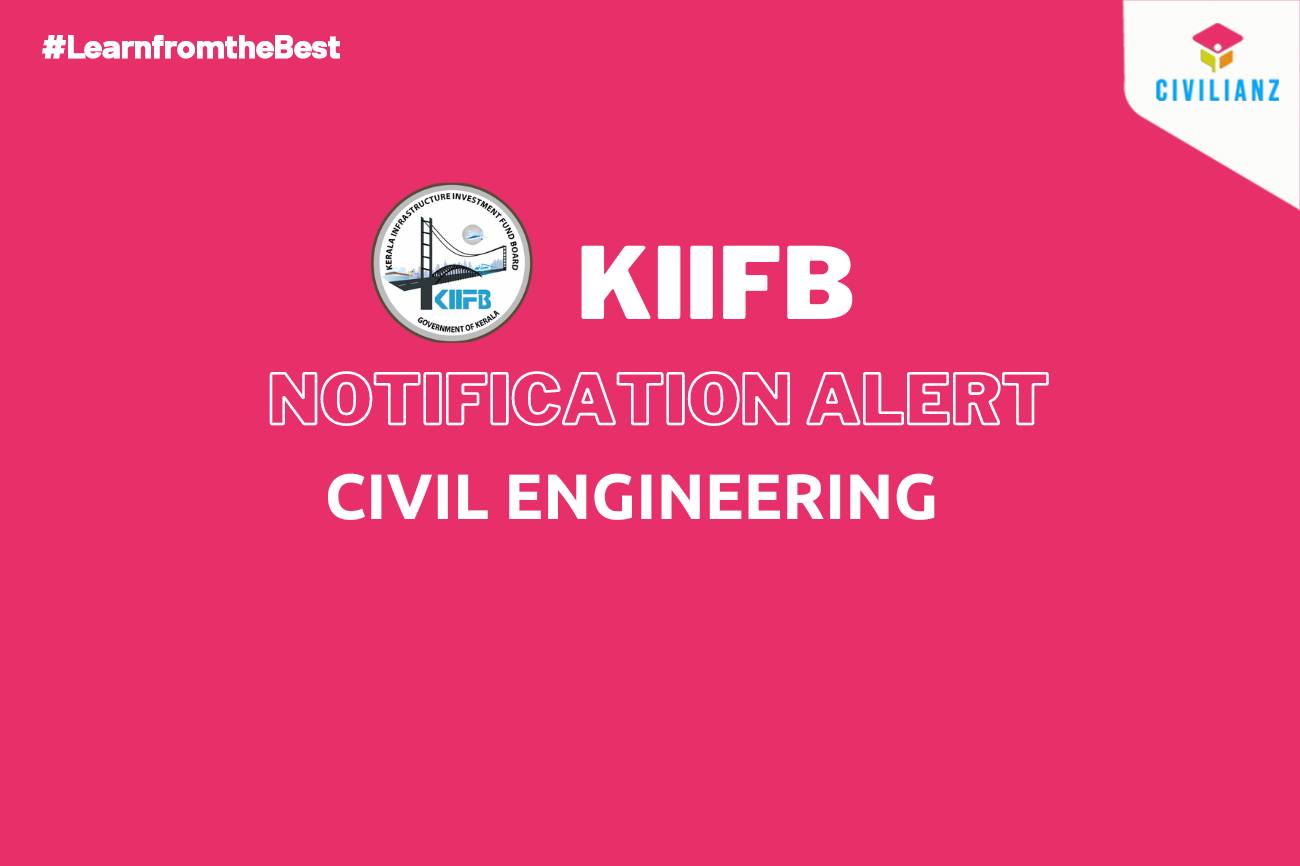 KIIFB JOB NOTIFICATION 2022!!!
Name of the Department

KIIFB

Name of the Post

1.Senior Engineering Consultant




2.Junior Engineering Consultant

Vacancy

1.Senior Engineering Consultant -1




2.Junior Engineering Consultant -2

Educational Qualification

Bachelor's Degree in Civil Engineering

Upper Age Limit

1.Senior Engineering Consultant -40




2.Junior Engineering Consultant -30

Pay Scale

Rs. 30,000/-Rs. 40,000/-

Start Date to Apply

2nd june 2022

End Date to Apply

22nd june 2022

Official Website

www.cmdkerala.net
Name of the Post

Vacancy

1.Senior Engineering Consultant




2.Junior Engineering Consultant

1




2
IMPORTANT INFORMATION
Cut-off date for Age criteria and post qualification experience criteria is June 01, 2022 Instructions for Scanning of Photograph & Signature:

• Scan the latest photograph of the candidate and upload the same in the space provided in the online application [scanned image shall be less than 200KB in *.JPG format only]

• Candidate shall make his / her signature on a whitepaper, scan the same and upload it in the space provided in the online application [scanned image shall be less than 50KB in *.JPG format only]

• The candidate has to scan his full signature, since the signature is proof of identity, it must be genuine and in full: initials are not sufficient. Signature in CAPITAL LETTERS is not permitted.

• The signature must be signed only by the candidate and may not by any other person
Name of the Post

Pay Scale

1.Senior Engineering Consultant




2.Junior Engineering Consultant

 40,000/-




 30,000/-

GENERAL INSTRUCTION

1. Candidates should apply through On-Line mode only. No other means/mode of application
will be accepted.
2. Please note that no change of application data will be permitted at any stage after completion of registration process of the online application. Merely applying for the post and being shortlisted in the subsequent processes does not imply that a candidate will necessarily be offered employment. No request for considering the candidature under any category / post other than the one in which applied will be entertained.
3. Educational qualifications should be from a University/ Institution/ Board recognized by Govt. of India/ approved by Govt. Regulatory Bodies.
4. The candidate must possess valid Degree/PG Certificate/Provisional Certificate of the necessary qualification at the time of submission of application.
5. Have a valid personal email ID and mobile no., which should be kept active till the completion of this Recruitment Process. All official communication will be sent to the registered e-mail id of the candidate.
6. Candidates are advised to carefully fill and verify the details filled in the online application themselves as no change will be possible/ entertained after the submission.
7. The Name of the candidate should be spelt correctly in the application as it appears in the Certificates/ Mark sheets/Identity proof. Any change/alteration found may disqualify the candidature.
8. Please note that all the particulars mentioned in the online application including Name of the Candidate, Category, Date of Birth, Address, Mobile Number, Email ID, qualification, experience etc. will be considered as final and no change/modifications will be allowed after submission of the online application form. Candidates are hence advised to fill in the online application form with utmost care as no correspondence regarding change of details will be entertained. CMD will not be responsible for any consequences arising out of furnishing of incorrect and/or incomplete details in the application or omission to provide the required details in the application form.

9. If the applicant possesses an equivalent qualification, he/she should also upload the equivalency certificate along with the qualification certificate or else the application will not be considered.
10. Any information submitted by an applicant in his/her application shall be binding on the candidate personally and he/she shall be liable for prosecution/ civil consequences in case the information/ details furnished by him/ her are found to be false at a later stage.
11. Applicants need to upload a valid certificate for every experience he/she mentioned. In the case of the latest/current experience an affidavit bearing all details (name of organization, designation, period, task and duties) shall be uploaded. The copy of appointment letters,salary certificates, pays  slips etc. will not be accepted in lieu of work experience certificate.
12. Decision of the concerned authority in all matters relating to recruitment will be final and binding on the candidates. No correspondence or personal enquiries shall be entertained in this regard.

13.Instances of providing incorrect information and/or process violation by a candidate detected at any stage of the selection process will lead to disqualification of the candidate from the selection process and he/she will not be allowed to appear in any recruitment process in the future. If such instances go undetected during the selection process but are detected subsequently, such disqualification will take place with retrospective affect.
14. While applying on-line for the post, the applicant should ensure that he/she fulfils the eligibility and other norms mentioned above as on the specified dates and that the particulars furnished by him/her are correct in all respects. In case it is detected at any stage of recruitment that a candidate does not fulfil the eligibility norms and/or that he/she has furnished any incorrect/false information or has suppressed any material facts, his/her candidature will stand cancelled. If any of these shortcomings is/are detected even after appointment, his/her services are liable to be terminated.
15.KIIFB/ CMD reserves the right to call for any additional documentary evidence from candidates in support of educational qualifications/ experiences/ other notified eligibility requirements.
16. KIIFB/CMD reserves the right to fill or not fill the posts notified under this notification.
17. Only Post qualification experience of the applicants will be considered
18. Intimations will be sent by email and/ or SMS only to the email ID and mobile number registered in the online application form. CMD shall not be responsible if the information/ intimations does not reach candidates in case of change in the mobile number, email address, technical fault or otherwise, beyond the control of CMD and candidates are advised to check their registered e-mail account from time to time during the recruitment process.
19. Canvassing in any form will be a disqualification.
DOWNLOAD DETAILED ADVERTISEMENT
കേരള വാട്ടർ അതോറിറ്റി അസിസ്റ്റൻറ് എൻജിനീയർ പരീക്ഷയിലേക്ക് വിജ്ഞാപനം വന്നിരിക്കുന്നു.
64 വേക്കൻസികളാണ് നിലവിലുള്ളത്. കൂടുതൽ ഒഴിവുകൾ പ്രതീക്ഷിക്കപ്പെടുന്നു.
Civil/Chemical/Mechanical എൻജിനീയറിങ് ബിരുദധാരികൾക്ക് അപേക്ഷിക്കാവുന്ന ഈ പരീക്ഷയ്ക്കായി സിവിലിയൻസിന്റെ തീവ്രപരിശീലന ഓൺലൈൻ ക്ലാസുകൾ ആരംഭിച്ചിരിയ്ക്കുന്നു.
മുൻ സിലബസിനെ അടിസ്ഥാനമാക്കി തയ്യാറാക്കിയിരിക്കുന്ന PreRecorded ക്ലാസുകൾ സിവിൽ/ കെമിക്കൽ/ മെക്കാനിക്കൽ പോർഷൻസ് കവർ ചെയ്തിരിക്കുന്നു.
✅ Experienced Faculty team
✅ Assessment Test with each videos
✅ Mock Test
✅ Full Syllabus Coverage
✅ Faculty Support
✅ Discussion Board
✅ Test series
✅ Previous year Question Paper discussion session
✅ Speed adjustment enabled for all videos
✅ Motivational Sessions & Mentoring
✅ PDF notes
✅ Live Interactive Quizzing Session
✅ Live discussion support
✅ Previous syllabus, Syllabus analysis, Job Role, guidance from experts
ഇവയെല്ലാം ഒരൊറ്റ കോഴ്‌സിൽ!
Course Validity: 1 year
Fee : Rs.15,000/- + Tax
Call us for details:
📲 9497498416
📲 9097550099
📲 9497498415
📲 9383450415  
---
CIVILIANZ SOCIAL MEDIA PLATFORMS
Our Social media platforms are exclusively for Civil Engineering students, job candidates, teachers and all those who have a passion for Civil Engineering.
You will get
Civil engineering quiz and rewards

Regular job notifications

Exam notifications

PDF notes

Study tips

Civil related discussion and all in this group.
JOIN OUR SOCIAL MEDIA PLATFORMS
#learnfromthebest