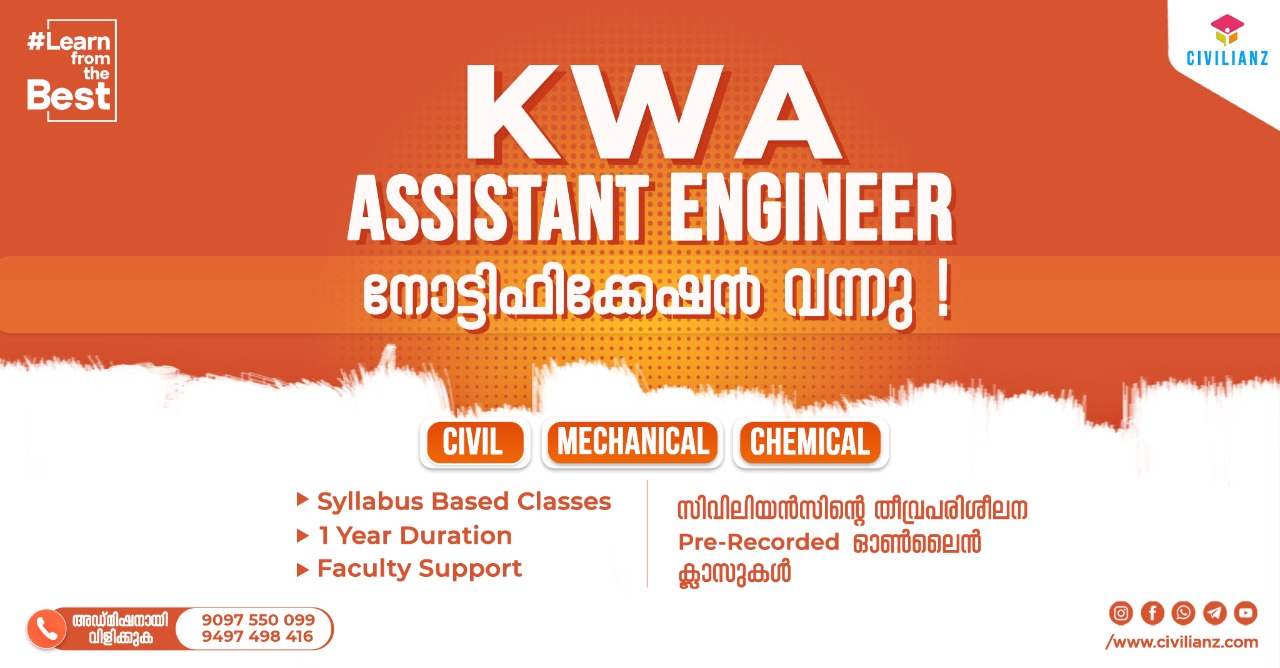 ONLINE CLASS FOR ASSISTANT ENGINEER KERALA WATER AUTHORITY EXAMS.
Assistant Engineer Kerala Water Authority Notification has published, There are 64 vaccancies reported and many more to come. The last date for applying is 08.06.2022. Civilianz announcing the best Coaching for  Kwa Ae classes 2022.
Intensively pre recorded classes with more than 6000+ hours
The features of our course include:
SYLLABUS WISE SUBJECTIVE PRE-RECORDED CLASSES FOR  the Duration of 1 year
❇️ Civil Engineering
❇️ Mechanical Engineering
❇️ Chemical Engineering  
Faculty support
Classes by an – expert team of faculties that ensure quality teaching and learning. Classes are taught from a very basic level and we ensure that each and every student in the class benefits.
 Assessment tests for each video lesson
Assessment tests ensure that students come prepared with the topics taught in the last class. This is important to make sure that they work омг consistently for the exam.
Shortcut Memory Tips
As there is so much to learn and keep in mind, it is good to make use of shortcuts or small tips or codes for remembering certain things. Such tips will be shared in the classes.
Discussion Board
For Raising your doubts even after the lesson is over is now not a concern for you. A dedicated team of faculty is available with the Platform, where doubts can be raised at any time and without any delay, you will be given with immediate response.
Comprehensive Test Series
There are almost 10 set of Test series with 1000 numbers of questions with detailed solution based on the exam pattern of Kerala PSC, which helps to improve the student's problem-solving skills and time management. It helps to develop the speed and accuracy of answers.
Book your seat at the earliest and head start your preparations!!
Work smart with Civilianz!!
For more details and admissions,
9097550099

9497498415

9497498416

9383450415