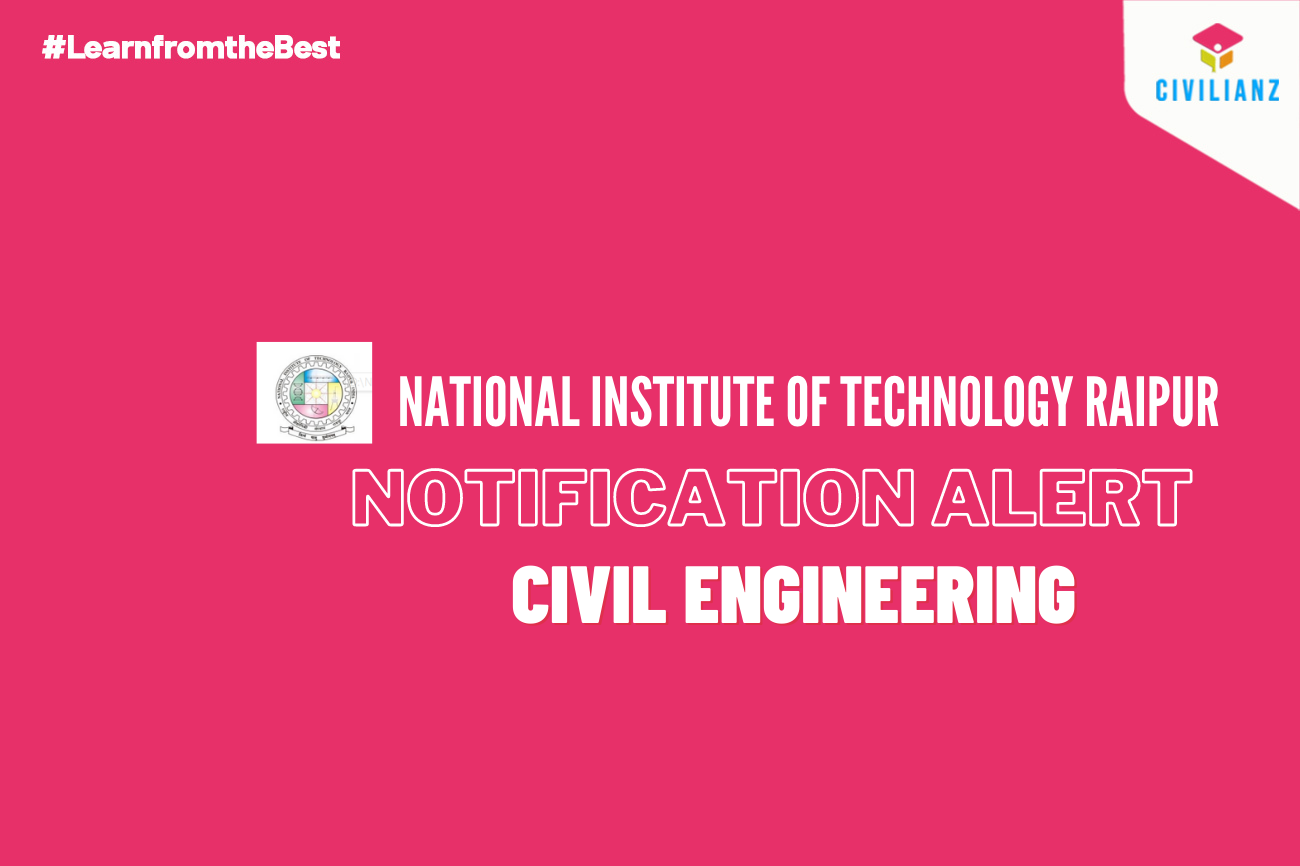 NATIONAL INSTITUTE OF TECHNOLOGY RAIPUR JOB NOTIFICATION 2022!!
Name of the Department

NATIONAL INSTITUTE OF TECHNOLOGY RAIPUR

Name of the Post

Assistant Professor

Vacancy

04

Educational Qualification

B.E./B.Tech. or equivalent and M.E./M.Tech. or equivalent and




Ph.D. in relevant/ equivalent discipline with first class in the preceding degrees. BE/B.Tech. with direct Ph.D. with first class in preceding degree will also be considered.

Salary

1 lakh to 3 lakh

Upper Age Limit

35 years

Start Date of Apply

02-02-2022

End Date of Apply

18-02-2021

Official website

www.nitrr.ac.in

.
Applications are invited from Indian nationals for faculty positions in various departments of the Institute. Reservation policy of GoI will be followed. Interested persons may apply in the prescribed online application form available on the Institute website.
VACANCY
| | |
| --- | --- |
| Name of the Post | Assistant Professor |
| Vacancy | 04 |
EDUCATIONAL QUALIFICATION
| | |
| --- | --- |
| Name of the Post | Assistant Professor |
| Educational Qualification | BE/B Tech and ME/M Tech |
SALARY
| | |
| --- | --- |
| Name of the Post | Assistant Professor |
| Salary | 1 lakh to  3 lakh |
The Institute, as per rules, extends following facilities to its faculty members which may change from time to time subject to directions of GoI and Ministry of Education:

a. Financial assistance for attending national/international conferences for presenting research papers or chairing session, for sponsored training in India and abroad, membership of professional societies etc. under the scheme of Cumulative Professional Development

Allowance [CPDA] limited to Rs.1.00 lakh per annum subject to the maximum limit of Rs.3.00 lakh in a block period of three years or as per rules.

b. An initial research grant (Seed grant) up to Rs.5.00 Lakh for new faculty as per Institute norms.


c. Provision for undertaking consultancy and testing work as per Institute norms.

d. On campus residence [depending on availability].

e. Medical Facilities to faculty and their dependent family members as per rules.

f. Reimbursement of expenses on telephone as per approved norms.

g. Group Insurance Scheme for faculty as per Institute norms.

h. Provision of Child care leave, Children education allowance and maternity/paternity leave as per Government of India norms.
 i. LTC as per Government of India norms.

j. HRA as per the Government of India norms.

k. Fresh appointees will be covered under the New Pension Scheme [NPS-2004] as per
Ministry of Education guidelines, GoI norms, NIT Act and Statutes.

l. Leave will be granted as per CCS Leave Rules, 1972.

m. The appointees will be granted No Objection Certificates and applications of such
appointees for outside job can be forwarded only after completion of two years of services and as per the NIT Statutes.
UPPER AGE LIMIT
| | |
| --- | --- |
| Name of the Post | Assistant professor |
| Upper Age Limit | 35 years |
Age Limit: Preferably up to thirty five (35) year for Assistant Professor and preferably below sixty (60) years for Associate Professor on the date of closure of advertisement.
GENERAL INSTRUCTIONS
(a)

Please note that application filled on the official portal

 

will only be accepted. Applications received through any other mode shall not be accepted but summarily rejected. Applicants are required to apply separately for different posts in the same discipline or in different disciplines/departments.
National Institute of Technology Raipur,
010, Chhattisgarh, India
failing which their candidature will not be considered.

(b)

Please note that the

deadline for online application is 18/02/2022 till 12:00 Night

and the last date of receiving

hard copies of the print out of the applications is 28/02/2022 up to 5:30 PM

. Please also note that an online application for which hard-copy application along-with necessary documentation is not received in the Institute up to the stipulated time, the online application will be rejected summarily. NIT Raipur shall in no case be responsible for postal delays and hard copies of the applications received after the last date will be rejected along with its online version.

(c)

Those who have applied earlier for the post of Associate Professor need to apply afresh.

(d)

The Institute shall retain the applicants' data for non-shortlisted candidates only for three months after the completion of recruitment process.


(e)

Candidates who wish to apply for more than one discipline/department or cadre must apply separately for each discipline/department or cadre in the prescribed manner and they need to pay processing fee for each of the online applications.

(f)

Applications which are not online/ not in prescribed form / without relevant supporting
enclosures and fee shall be summarily rejected. No correspondence shall be entertained in this regard.

(g)

Candidates shall indicate two references of eminent persons in the field/ profession who may be contacted by the Institute for their recommendations.

(h)

The Institute has the right to set higher norms than minimum and the areas of specialization while shortlisting, taking into account the specific requirements of the individual departments. The short listing norms may not be uniform across the departments/ posts of the Institute and shall be binding on all the applicants. The decision of the Institute related to all matters pertaining to the recruitment shall be final and binding on the applicants.

(i)

The date for determining eligibility of candidates in

every respect i.e.

qualifications, experience and preferred age limit etc. shall be considered as on

the closing date, i.e. the last date of the submission of online application form.

(j)

Less than six months of experience in relevant regular position in any organization will be
ignored in computing total experience.

(k)

The short listed candidates may be required to appear for presentation/seminar in the respective departments, in addition to facing the Selection Committee.

Travelling Allowance (TA) is admissible to the candidates called for interview. 



(l)

Persons serving in Govt. / Semi Govt. / PSUs / Universities / Educational Institutions should send their applications either THROUGH PROPER CHANNEL or should furnish a NO OBJECTION CERTIFICATE from the Competent Authority of the organization serving, at the time of interview otherwise they may not be allowed for interview. However, they can submit the advance copy of the application form.

(m)

All reserved candidates are required to submit their Caste/Category certificates in prescribed format [

Annexure-1/2/3/4

] along with the hard copy of application. No other certificate will be accepted as a sufficient proof of Caste/Category.

(n) OBC (Non-Creamy Layer) certificate issued on or after 1st April, 2021 shall only be considered for reservation under OBC (Non-Creamy Layer) category.




(o) EWS certificate should be issued by competent authority (Tahsildar or above). Also, this
certificate must be issued on or after 1st April, 2021 in order to be considered for reservation under EWS category. 

(p)

The persons with disability (PWD) shall be required to submit the Disability/Medical Certificate
in the prescribed form (

Annexure–4

) issued by the competent medical authorities for the purpose
of employment as per Government of India norms along with the hard-copy of the application
form. The final selection of such candidates will be made on the basis of the recommendations of
a Medical Board appointed for examining the physical disability at Raipur.

(q)

The applicant will be solely responsible for authenticity of submitted information, documents and photographs, etc.

(r) Original documents along with one set of self-attested copies will have to be produced at the
time of interview for verification.

(s)

The applicants need to keep on visiting Institute website

 

for updates. The list of candidates shortlisted for further participation in the selection process such as presentation/interview etc. will be displayed on the Institute website only. The shortlisted candidates will be informed by E-mail only for presentation/interview. The candidates are therefore advised to check their E-mail address which they have mentioned in the online application form.

(t)

Legal disputes, if any, with NIT Raipur will be restricted within the jurisdiction of Raipur courts
only.

(u)

For any clarification regarding online application, please mail to

recruitmentcell2022@nitrr.ac.in

.

(v)

The qualification, experience and credit point system as given in Gazette of India vide no. 651
dated 24.07.2017 and the recommendations of Oversite Committee dated 16

th

April 2019 is as
attached herewith as

Annexure-5

.

(w)

Desirable areas of specialization in various Departments are given in

Annexure-6

.

However,
candidates with other relevant areas of specialization may also be considered.

(x)

The directives contained in the matter of reservation in posts and implementation of Central
Educational Institutions Act, 2019 enunciated in the Ministry of Education's letter dated
05.11.2019 (attached herewith as

Annexure-7

) shall be applicable.

(y)

The Institute reserves the right to restrict the number of candidates for interview to a reasonable
limit, on the basis of qualification and experience higher than those prescribed in this
advertisement.

(z)

All degrees, certificates should be from recognized Institute/ Universities.

(aa)

Interview for the shortlisted candidates, who are residing abroad may be arranged through Video Conferencing, etc.



For Detailed Advertisement,
DOWNLOAD DETAILED ADVERTISEMENT
CIVILIANZ SOCIAL MEDIA PLATFORMS
Our Social media platforms are excusively for Civil Engineering students, job candidates, teachers and all those who have passion for Civil Engineering.
You will get
Civil engineering quizz and rewards

Regular job notifications

Exam notifications

PDF notes

Study tips

Civil related discussion and all in this group.
JOIN OUR SOCIAL MEDIA PLATFORMS
#learnfromthebest