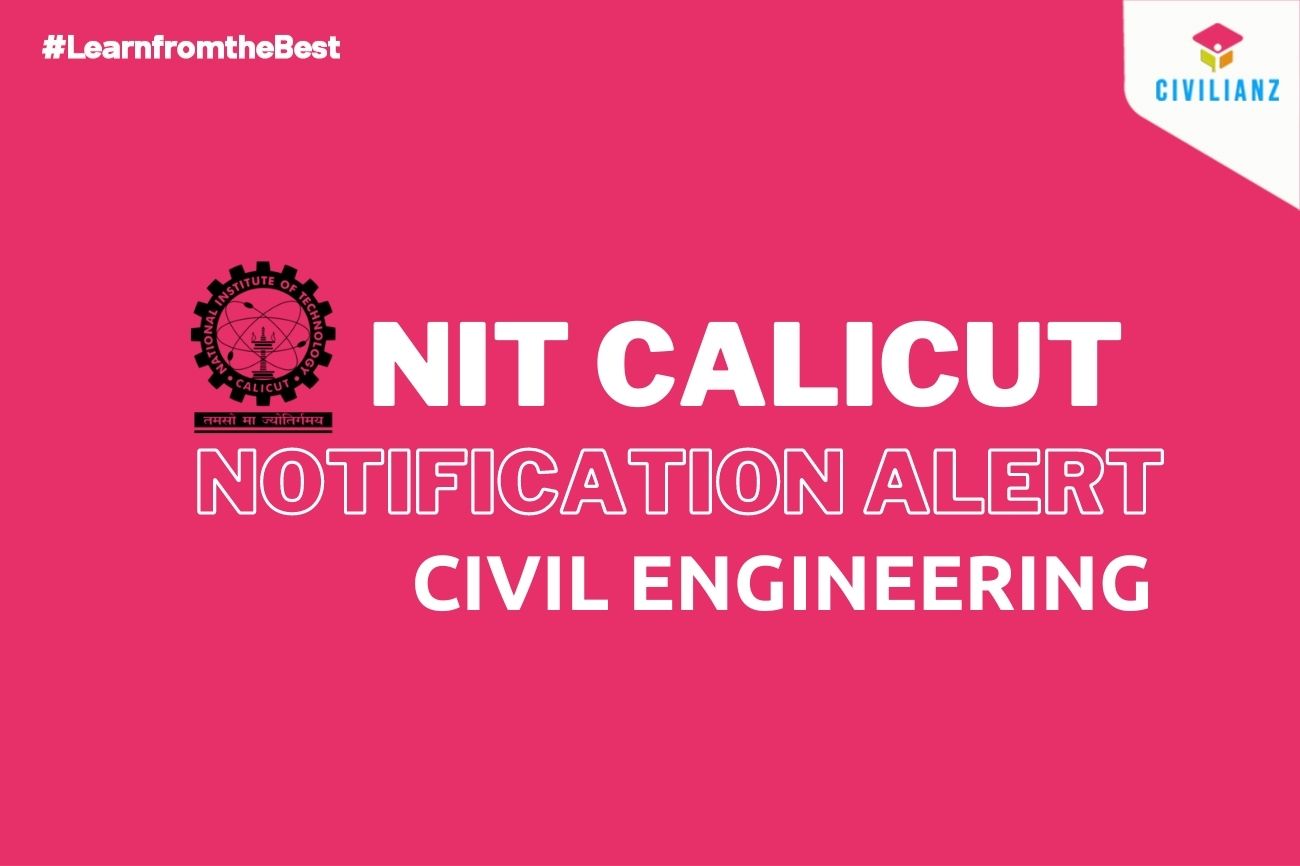 NATIONAL INSTITUTE OF TECHNOLOGY – NIT CALICUT JOB NOTIFICATION 2021 For the position of Faculty
Name of organization

NATIONAL INSTITUTE OF TECHNOLOGY, CALICUT

Name of post

1. Assistant Professor (Grade II)




2. Assistant Professor (Grade II)




3. Assistant Professor (Grade I)




4. Associate Professor




5. Professor

Location

Kerala

Application mode

Online, Postal

Starting date to apply

14/07/2021

Last date for submission of online applications

14/08/2021

Last date for the receipt of hardcopy of applications

30/08/2021

Official website
www.nitc.ac.in
NAME OF POST
Assistant Professor (Grade II)
Assistant Professor (Grade II)
Assistant Professor (Grade I)
Associate Professor
Professor
EDUCATIONAL QUALIFICATION
Name of post

Educational Qualification

Relevant Experience

Assistant Professor (Grade II)

Ph.D. with consistently good academic record

Nil

Assistant Professor (Grade II)

Ph.D. with consistently good academic record

01 year post Ph.D. experience of Teaching and Research in Institution of repute / Industry

Assistant Professor (Grade I)

Ph.D. with consistently good academic record

03 years after Ph.D. or 06 years

total teaching and research

experience in reputed academic




Institute / R&D labs / relevant

industry

Associate Professor

Ph.D. with consistently good academic record

06 years after Ph.D of which at

least 3 years at the level of

Assistant Professor with pay

level 12

Professor

Ph.D. with consistently good academic record

10 years after Ph.D. or 13 years

total working experience, out

of which 07 years should be




after Ph.D.
GENERAL INSTRUCTIONS
1. Candidates who have acquired Ph.D. degree from NITC can apply only after having at least 3 years of Post-Ph.D. experience outside NITC. However, this is not applicable to the candidates who are already regular faculty members of NITC.
2. Besides the basic pay in the applicable pay level of the respective positions, admissible allowances like DA, TA, etc. are payable in accordance with Central Government / Institute Rules in force from time to time. Fresh appointees will be covered under the New Pension Scheme [NPS-2004] as per Government of India rules.
3. Period of probation will be one year, which may be extended by the Board of Governors of NIT Calicut depending on the performance during the first year.
4. Fresh appointment beyond the age of 60 years is discouraged except in the case of faculty with exceptionally brilliant research career and with on-going or approved externally funded research project.
5. Mere fulfillment of the required qualifications and experience does not entitle a candidate to be called for interview / selection. The Institute reserves the right to fill or not to fill any of the positions.
6. The Screening Committee shall shortlist the eligible and most desirable candidates to be called for interview from amongst the applicants, based on specialization, availability of candidates, and requirements of the departments. In doing so, it shall not be bound by the options exercised by the applicants.
7. The Institute reserves the right to restrict the number of candidates for interview to a reasonable limit on the basis of qualifications, experience, and credit points higher than those prescribed in this advertisement.
8. Canvassing in any form will disqualify the candidature of the applicant.
9. Selected candidates to the above faculty positions will be fixed in the minimum basic pay as per norms, and only the regular service at NIT Calicut will be counted for any purpose thereafter.
10. More than six months of experience in regular position in Institution of repute or any organization with a pay scale, will only be considered as total experience. Experience rendered on part-time, daily wages or as visiting faculty will not be counted as experience.

11. All Degree Certificates should be from recognized Universities / Institutes. Candidates should have first class degree from Bachelor"s Degree onwards. Candidates UG/PG degree should be relevant to the department concerned.
12. Candidates presently employed should send their applications through proper channel. If original application is routed through proper channel, a photocopy of theapplication along with necessary enclosures should be sent in advance before the prescribed last date.
Such candidates are required to produce "No Objection Certificate" at the time of interview, failing which they may not be considered for interview.
13. Candidates will have to appear for the interview at their own cost, if called before the Selection Committee, which will be separately notified to the candidates.
14. Selected candidates should be prepared to join duty within the time granted
15. No correspondence whatsoever will be entertained from candidates regarding the reason for not being called for interview / outcome of interview.
16. The candidate is responsible for the correctness of the information provided in the application. If it is found, at a later date, that any information given in the application is incorrect / false, the candidature / appointment is liable to be cancelled / terminated.
17. Applications not in the prescribed form will not be entertained.
18. Any disputes arising out of or in any way connected with this selection process shall be deemed to have arisen in Kozhikode, Kerala and only the courts in Kerala shall have the jurisdiction to determine the same.

HOW TO APPLY?
1. Visit the official website of the institute.
2. Click on the "Apply Online" link given in the advertisement for faculty positions.
3. Register with your E-mail Id and mobile number. You can set your own password. An E-mail will be sent to your registered E-mail Id for verification. Once you click the verification link, the login will be activated.
4. Candidate can login with the registered E-mail Id and the password created to complete the submission of application and data sheet.
5. Please click and read the "Instructions" given in the portal carefully. Follow the instructions as you go on filling the application form and data sheet.
6. Candidate has to fill up the (i) Application Form and (ii) Data Sheet in sequence, and submit individually.
Before submission, the candidate can use the "Preview' button to check the Application Form and Data Sheet. After submission, further changes in the Application Form and Data Sheet will not be permitted.
7. Take the print out of the filled-in Application Form and Data Sheet available in pdf format after the submission.
8. Print out of the Application Form and Data Sheet, along with self-attested copies of certificates, and other relevant documents should be sent by Speed Post / Registered Post in sealed envelope superscribed "Application for post of ……………… in the Department of …………………………………." so as to reach the Institute on or before 30th August 2021 to
The Registrar
National Institute of Technology Calicut, NITC Campus P.O.
Calicut – 673601, Kerala, India.
IMPORTANT DATES
| | |
| --- | --- |
| Opening date of online portal       | 14/07/2021 (10.00 AM) |
| Last date for submission of online application  | 14/08/2021 (5.30 PM) |
| Last date for the receipt of hardcopy of applications | 30/08/2021 (5.30 PM) |
For detailed advertisement,
DOWNLOAD
Join the largest social media network of Civil Engineering students & job aspirants from Civilianz family!
Exclusively for Civil Engg. students, job aspirants, teachers & all those who have passion for Civil Engg.
Civil engineering quizz and rewards

Regular job notifications

Exam notifications

PDF notes

Study tips

Civil related discussion and all in this group.
Connect with subject experts, career mentors and teachers through our social media platforms!
JOIN OUR SOCIAL MEDIA PLATFORMS
#learnfromthebest