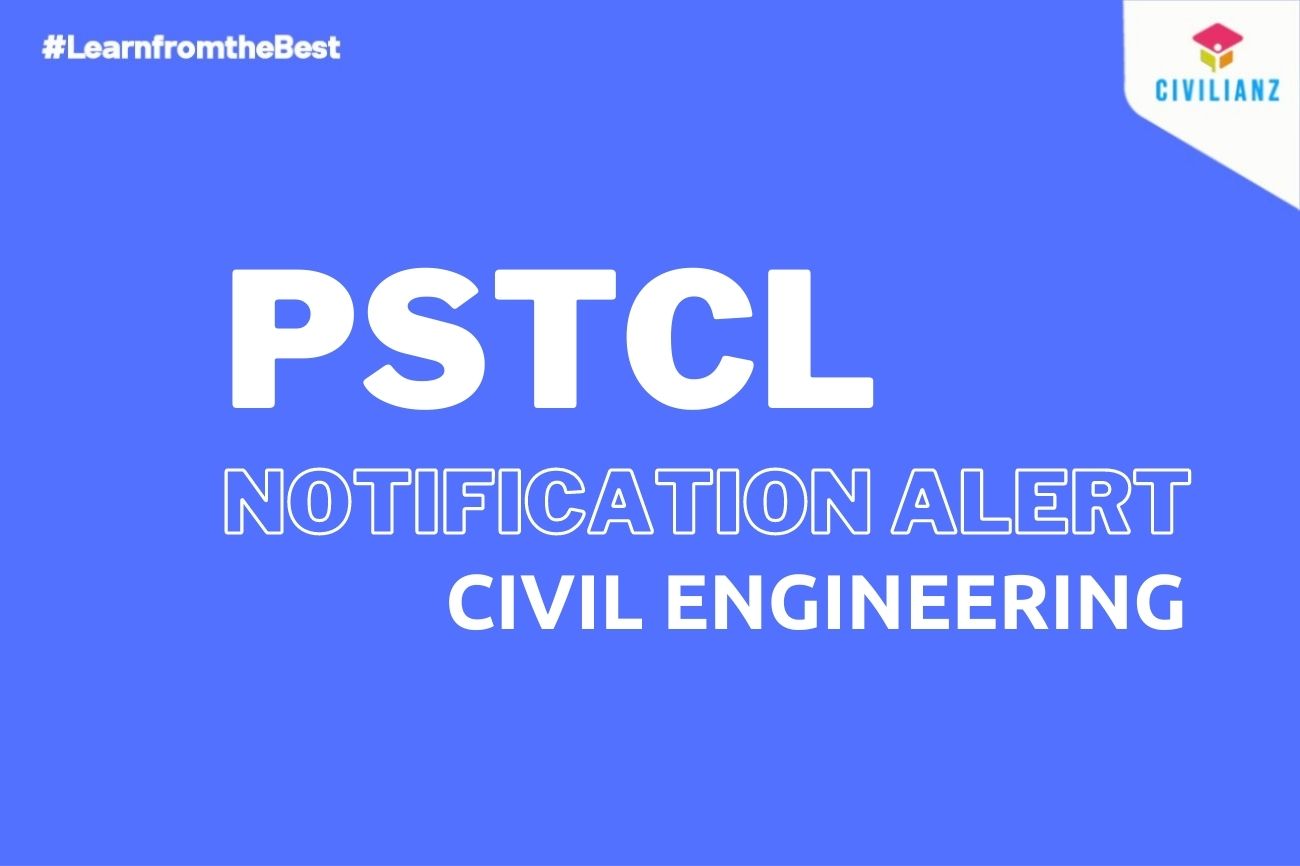 PSTCL JOB NOTIFICATION 2021!!!
Punjab State Transmission Corporation Limited (PSTCL) (A Government of Punjab), Patiala invites online applications for recruitment of Assistant Engineer and Junior Engineers
NUMBER OF POSTS
| | |
| --- | --- |
| Name of post | Vacancy |
| Assistant Engineer | 6 |
| Junior Engineer | 15 |
QUALIFICATION
| | |
| --- | --- |
| Name of post | Qualification |
| Assistant Engineer | BE/ B.Tech/ B. Sc. Degree in Civil Engineering or Equivalent Degree from a recognized institute with not less than 60% marks for PSTCL Recruitment 2021.. |
| Junior engineer | Full-time regular 3 or years Diploma in Civil Engineering recognized/ approved by State/Central Government Board, with a minimum of 60% marks. OR BE/ B. Tech/ BSC Engineering in Civil Engineering with a minimum of 50% marks or equivalent degree recognized/ approved by AICTE. OR AMIE Civil Engineering with at least 50% marks from Institution of Engineers (India) Calcutta |
EXAMINATION FEES
| | |
| --- | --- |
| All Categories except EWS, SC, and person with disability | Rs 1416 + Bank charges |
| SC Category | Rs 566 + Bank charges |
| Person with disability | Rs 708 + Bank charges |
| EWS | Rs 566 + Bank charges |
IMPORTANT NOTES
1. PSTCL reserves its right to increase/decrease the total number of posts as indicated above or cancel the entire/partial recruitment against the said CRA 10/2021.
2. Candidates are advised to read the bifurcation of the categories very carefully before filling up the online application as category/sub-category once filled cannot be changed to any other category including General, EWS etc. All details once filled cannot be edited/amended after fee submission & no communication/ reply to queries will be entertained in this regard by PSTCL. It is advised to the candidates to recheck all filled details before fee submission in order to avoid any error.
3. PSTCL reserves its right to define the word equivalent in educational qualification
4. Knowledge of Punjabi is essential for all the posts. For this purpose, all the candidates must have passed Punjabi of at least Matriculation or its equivalent level before the last date of receipt of applications
SELECTION PROCESS
a. Candidate must acquire requisite Educational qualifications from a recognized Institution/University/Board before last date of online application of form. Candidates, who fails to do so even if he/she has qualified the online test, shall not considered and no relaxation shall be given in this regard.
b. Eligible candidates will have to undergo an online test.
c. The question paper for each of the categories of posts shall consist of 100  number of objective type questions (each question carrying 1 mark), with a provision of negative marking for a wrong answer of 0.25 (1/4th) of the mark allotted for a correct answer, to be attempted online in a duration of 2 hours. The questions shall be related to the concerned subject relevant to the post, general knowledge/awareness, reasoning/numerical ability and English language as under for various posts
HOW TO APPLY
Candidates are advised to read the following instructions carefully before applying online and also the instructions given on main instruction page of online applications. Sequence wise action to be followed by the candidates for filling up of online applications are as under
1. Visit PSTCL website www.pstel.org and click Recruitment against CRA- 10/2021.
2. Read Important Instruction and Click on Agree button.
3. Register by filling up necessary details (Name, Mobile No. and e-mail ID etc. and click on Submit button)
4. Check Application Sequence No/User ID and Password received on your e-mail and mobile number
5. Re-login to your account by entering user ID and password received through e-mail/mobile no
6. Fill up application form and upload Photo, Signature.
7. Check Preview of the Application Form and make corrections, if any.
8. Make Payment through Debit Card/Credit Card/Net banking (as required)
9. Press Submit button
10. Get Print of Application Form and payment acknowledgement slip
11. Please do not send hardcopy to PSTCL
IMPORTANT DATES
| | |
| --- | --- |
| Opening Date for Online Registration of Application | 26.04.2021 |
| Last date for closing of On-line Registration of Application and submission of online fees | 17.05.2021 upto 5:00 pm |
For detailed advertisement,
DOWNLOAD
Disclaimer: We take utmost care in publishing contents in our platforms. Aspirants are,however, advised to check the official notifications from authorised sources. We do not take any legal responsibility of any content errors going inadverently