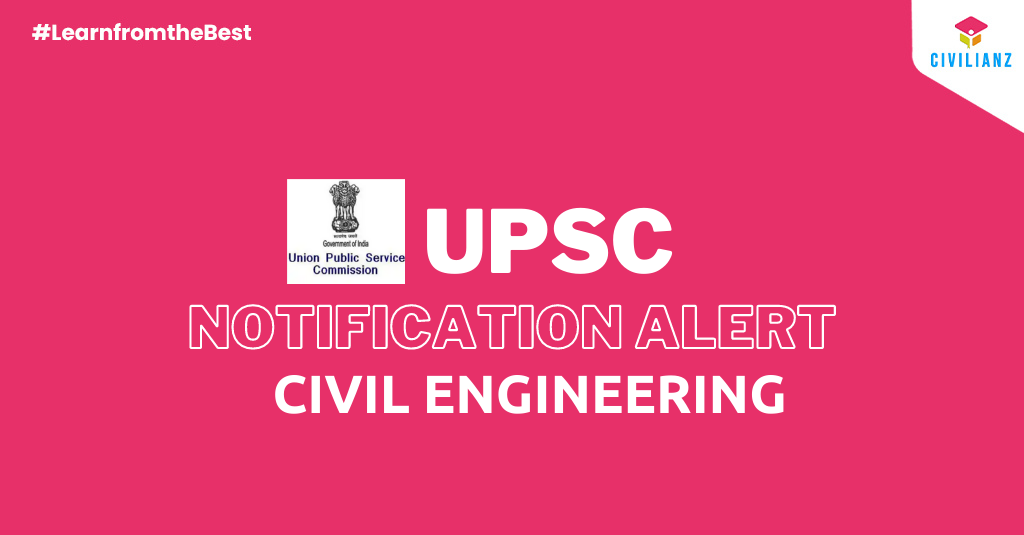 Assistant Engineer(Civil)/Assistant Surveyor of Works(Civil)Notification 2022!!!
Name of the Department

Govt. of NCT of Delhi

Name of the Post

 Assistant Engineer(Civil)/Assistant Surveyor of Works(Civil)

Vacancy

3

Upper Age Limit

33 years

Educational Qualification

(1)Degree in Civil Engineering from a recognized University/Institute or equivalent*.




Note- Equivalent* – means B.E. (Civil) or B. Tech (Civil) or B. Sc. Engineering (Civil) or AMIE (Civil).




(Only those students who were enrolled with Institutions with permanent recognition up to 31.05.2013 would be eligible.

Pay Scale

 Pay Level- 07

Start Date to Apply

27-04-2022

End Date to apply

14-04-2022

Official Website

www.upsconline.com
EXPERIENCE
Name of the Post

 Assistant Engineer(Civil)/Assistant Surveyor of Works(Civil)




Experience

Two years professional experience.




Professional experience in Civil Engineering field.




(i) The qualification are relaxable at the discretion of the Union Public Service Commission in case of candidates otherwise well qualified.
DUTY
Planning, Design, investigation and execution of works in sub-division procurement of man material and machinery, supervision of work, preparation and transmission to Executive Engineer , the preliminary estimate/schemes for issue of administrative approval and expenditure sanction, to ensure the quality control of work on specification and to prepare the bill of executed work.
PROBATION
| | |
| --- | --- |
| Name of the Post | Assistant Engineer(Civil)/Assistant Surveyor of Works(Civil) |
| Probation |   Two years |
Not exceeding 33 years as on normal closing date. Relaxable for regularly appointed Central/ UT Government Servant upto five years as per instructions/order issued by Govt. of India from time to time. For age concession applicable to some other categories of applicants, please see relevant para of the "instructions and Additional Information to candidates for Recruitment by Selection.
IMPORTANT NOTES
A –In the event of number of applications being large, commission will adopt short listing criteria to restrict the number of candidates to be called for interview to a reasonable number by any or more of the following methods 
1.On the basis of Desirable Qualification (DQ) or any one or all of the DQs if more than one DQ is prescribed.
2.On the basis of higher educational qualifications than the minimum prescribed in the advertisement.

3.On the basis of higher experience in the relevant field than the minimum prescribed in the advertisement.
4.By counting experience before or after the acquisition of essential qualifications.
 5.By invoking experience even in cases where there is no experience mentioned either as Essential Qualification (EQ) or as Desirable Qualification (DQ).
6.By holding a Recruitment Test.
THE CANDIDATE SHOULD, THEREFORE, MENTION ALL OF HER/HIS QUALIFICATIONS AND EXPERIENCE IN THE RELEVANT FIELDS OVER AND ABOVE THE MINIMUM QUALIFICATIONS. For example, if experience is not essential for the post but an applicant possesses experience, he/she is advised to fill it in relevant field. Only those educational qualifications and experience etc. will be considered for scrutiny / short-listing which are explicitly claimed in the online application.
B- THE CANDIDATES MUST UPLOAD ONLY RELEVANT DOCUMENTS WHEREVER REQUIRED IN THE ONLINE APPLICATION. THE UPLOADING OF IRRELEVANT/ ILLEGIBLE/ FABRICATED OR PASSWORD-PROTECTED DOCUMENTS MAY LEAD TO REJECTION OF THEIR APPLICATION APART FROM OTHER APPROPRIATE ACTION AT THE DISCRETION OF THE COMMISSION.

GENERAL INFORMATION
A- I duly understand that I should not furnish any particulars that are false or suppress any material information in filling up the application form. I also duly understand that I should in no case correct or alter or otherwise tamper with any entry in a document or its attested/certified copy submitted by me nor should I submit a tampered/fabricated document. If there is any inaccuracy or any discrepancy between two or more such documents or their attested/certified copies, an explanation regarding this discrepancy will be submitted.
B- I hereby declare that all the statements made in the application will be true and complete to the best of my knowledge and belief. I understand that action can be taken against me by the Commission if I am declared by them to be guilty of any type for misconduct mentioned herein:
C- I am fully aware that a candidate who is or has been declared by the Commission to be guilty of
a. Obtaining support of his/her candidature by any means, or Impersonating, or Procuring impersonation by any person , or  Submitting fabricated documents or documents which have been tampered with, or Making statements which are incorrect or false or suppressing material information, or
b. Resorting to any other irregular or improper means in connection with his/her candidature for the selection, or
c. Using unfair means during the test, or Writing irrelevant matter including obscene language or pornographic matter, in the script(s) , or
d .Misbehaving in any other manner in the examination hall, or Harassing or doing bodily harm to the staff employed by the Commission for the conduct of their test, or

e. Bringing mobile phone/Communication device in the examination Hall/Interview room, or Attempting to commit or, as the case may be, abetting the Commission of all or any of the acts specified in the foregoing clauses may, in addition to rendering himself/herself liable to criminal persecution, be liable:
a) to be disqualified by the Commission from selection for which he/she is a candidate, and/or
b) to be debarred either permanently or for a specified period by the Commission from any examination or selection held by them by the Central Government from any employment under them, and
c) if he/she is already in service under Government to disciplinary action under the appropriate rules.
For More Details Download
DOWNLOAD THE NOTIFICATION
CIVILIANZ SOCIAL MEDIA PLATFORMS
Our Social media platforms are excusively for Civil Engineering students, job candidates, teachers and all those who have passion for Civil Engineering.
You will get
Civil engineering quizz and rewards

Regular job notifications

Exam notifications

PDF notes

Study tips

Civil related discussion and all in this group.
JOIN OUR SOCIAL MEDIA PLATFORMS
#learnfromthebest