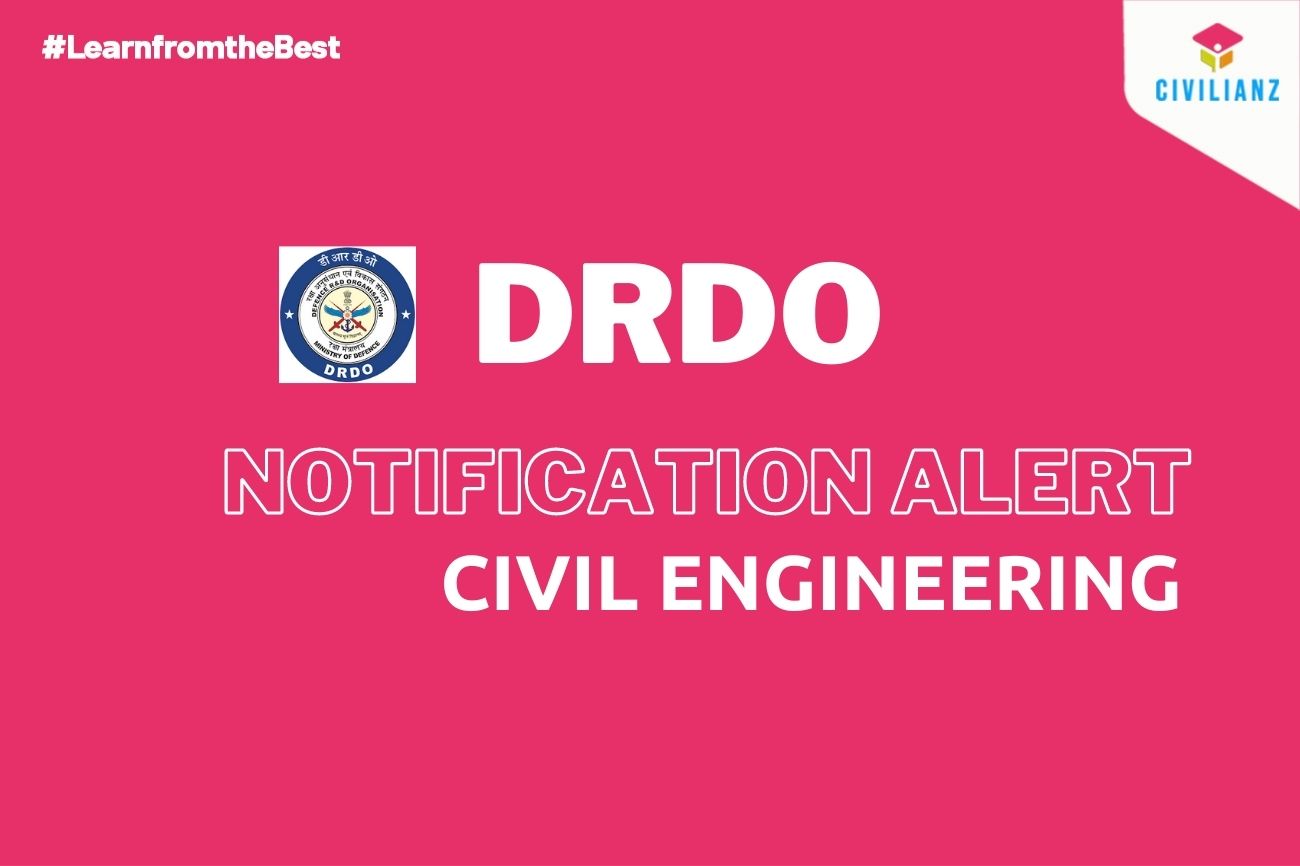 DEFENCE RESEARCH & DEVELOPMENT ORGANISATION CENTRE FOR FIRE, EXPLOSIVE AND ENVIRONMENT SAFETY – DRDO JOB RECRUITMENT 2021!!
| | |
| --- | --- |
| Name of organization | DEFENCE RESEARCH & DEVELOPMENT ORGANISATION CENTRE FOR FIRE, EXPLOSIVE AND ENVIRONMENT SAFETY |
| Name of post  | Draughtsman (Civil) |
| Vacancy | 04 |
| Salary | Rs 8050/- |
| Age | 27 years |
| Application Mode  | Online |
| Application Fee | Nil |
| Last date to apply | 29/08/2021 |
| Official website | www.drdo.gov.in |
Under the provisions of the Apprentices Act, 1961, Director, Centre for Fire, Explosive and Environment Safety (CFEES), Brig. SK Mazumdar Marg, Timapur, Delhi invites online applications from eligible candidates for ITI apprenticeship training.
NAME OF POST
| | |
| --- | --- |
| Name of post | Vacancy |
| Draughtsman (Civil) | 04 |
EDUCATIONAL QUALIFICATION
| | |
| --- | --- |
| Name of post | Educational Qualification |
| Draughtsman (Civil) | Candidates should have passed out from the ITI duly recognized by NCVT as per Gazette Notification of Ministry of Skill Development and Entrepreneurship, with minimum two years duration except for the COMPUTER OPERATOR AND PROGRAMMING ASSISTANT (COPA). |
UPPER AGE LIMIT
| | |
| --- | --- |
| Name of post | Maximum Age |
| Draughtsman (Civil) | 27 years |
IMPORTANT INSTRUCTIONS
1. Duration of training will be strictly in accordance with Apprentices Act, 1961, Apprenticeship Rules and its amendments from time to time.
2. Registration of ITI candidates on NCVT MIS portal is mandatory. The registration No. is to be uploaded while filling the online application and this No. is liable to be verified at the time of interview/ documents verification.
3. For apprentice trainees, candidates who have passed in the year 2019/2020/2021 are only eligible to apply. Candidates who have passed the qualifying exam earlier than 2019 are not eligible.
4. Candidates with Diploma/Graduate in any discipline qualification are not eligible to apply.
5. OBC certificate whose validity has expired would not be accepted.
6. Candidates having ITI certificate from NCVT Board is eligible for apply.
7. Only applications submitted online will be accepted.
8. Applications of those candidates who have appeared in the qualifying examination but whose results have not been declared as yet will not be considered for training. Provisional Degree Certificates of qualifying exam would however be acceptable during the time of joining, but final NCVT certificates shall have to be submitted as & when received.
9. Those candidates who have completed the qualifying examination as regular candidates are only eligible to apply.
10. Candidates who have already undergone apprenticeship training or at present undergoing apprenticeship training under any organization are not eligible to apply.
11. Candidates with more than one year work experience are not eligible to apply.
12. No TA/DA shall be given verification/Joining CFEES. to the candidates for interview/Document
13. The apprentices will not be provided any Quarters/ Hostel accommodation by this establishment during the entire training period.
GENERAL INSTRUCTIONS
1. It should be noted that the selection and training of apprentices are strictly in compliance with the provisions of apprentice Act 1961 and NO EMPLOYMENT IS GUARANTEED TO THE APPRENTICES ON COMPLETION OF THEIR TRAINING.
2. Candidates before filling the application from shall ensure that they fulfill all the eligibility conditions for the apprenticeship training. If at any stage of selection or even after selection and joining or during training, it comes to notice that the candidate/trainee does not fulfill any of the eligibility conditions or the facts stated are not true or the documents enclosed by the applicant are false/forged, the candidature/ appointment/ joining of such individual shall be withdrawn immediately without assigning any reason.
3. All applicants are required to bring copy of documents mentioned below along with the printout of the application form during interview/documents verification: Documents to be enclosed: (1) 10th (or) 12th Mark sheet and Certificate (2) ITI Mark sheets and NCVT Certificate (3) Caste Certificate (if applicable) (4) Aadhaar Card.
4. Candidates will be informed through email mentioned in their application form regarding status of the selection.
5. Candidates finally selected will have to produce valid police verification certificate at the time of joining from their place of last residence (for at least past one year/permanent Address.
DURATION OF TRAINING AND STIPEND
| | | |
| --- | --- | --- |
| Name of post | Duration of training | Stipend |
| Draughtsman (Civil) | 1 year | Rs 8050/- |
SELECTION PROCESS
1. ITI Apprentice Trainees: Depending upon the vacancies available in various disciplines, selection under candidates will be carried out by short listing on the basis of marks obtained in the qualifying exam (ITI) followed by Screening test/interview.
2. Details of short-listed candidates for interview will be intimated through email/SMS. Candidates are advised to check regularly for exact date and time of interview/screening test
3. Screening test/interview (or) both will be conducted at CFEES, Delhi for ITI Apprentices as per dates sent through email/ SMS.
HOW TO APPLY
1. Applications are to be submitted online through the following website
2. Candidates are requested to fill up correct details against all the field along with uploading of scanned copies of all the mandatory documents Community certificate, address, email and mobile number to be clearly given to intimate interview date and selection
3. The marks obtained in the qualifying exam are to be mentioned in percentage. In case of CGPA candidates are requested to convert the CGPA into percentage as per their University norms and the same may be verified during document verification.
4. Candidates are required to bring a signed printout of the application along-with the originals of the documents submitted online at the time of interview/document for verification at CFEES, Delhi.
5. Applications received by any other mode after the last date will not be accepted. Incomplete or partially filled application forms will not be accepted.
6. Closing date for online registration is 21 days from the date of publication of this advertisement in the employment news.
IMPORTANT DATES
| | |
| --- | --- |
| Last date to apply | 29/08/2021 |
For detailed advertisement,
DOWNLOAD
CIVILIANZ SOCIAL MEDIA PLATFORMS
Our Social media platforms are excusively for Civil Engineering students, job candidates, teachers and all those who have passion for Civil Engineering.
You will get
Civil engineering quizz and rewards

Regular job notifications

Exam notifications

PDF notes

Study tips

Civil related discussion and all in this group.
JOIN OUR SOCIAL MEDIA PLATFORMS
#learnfromthebest