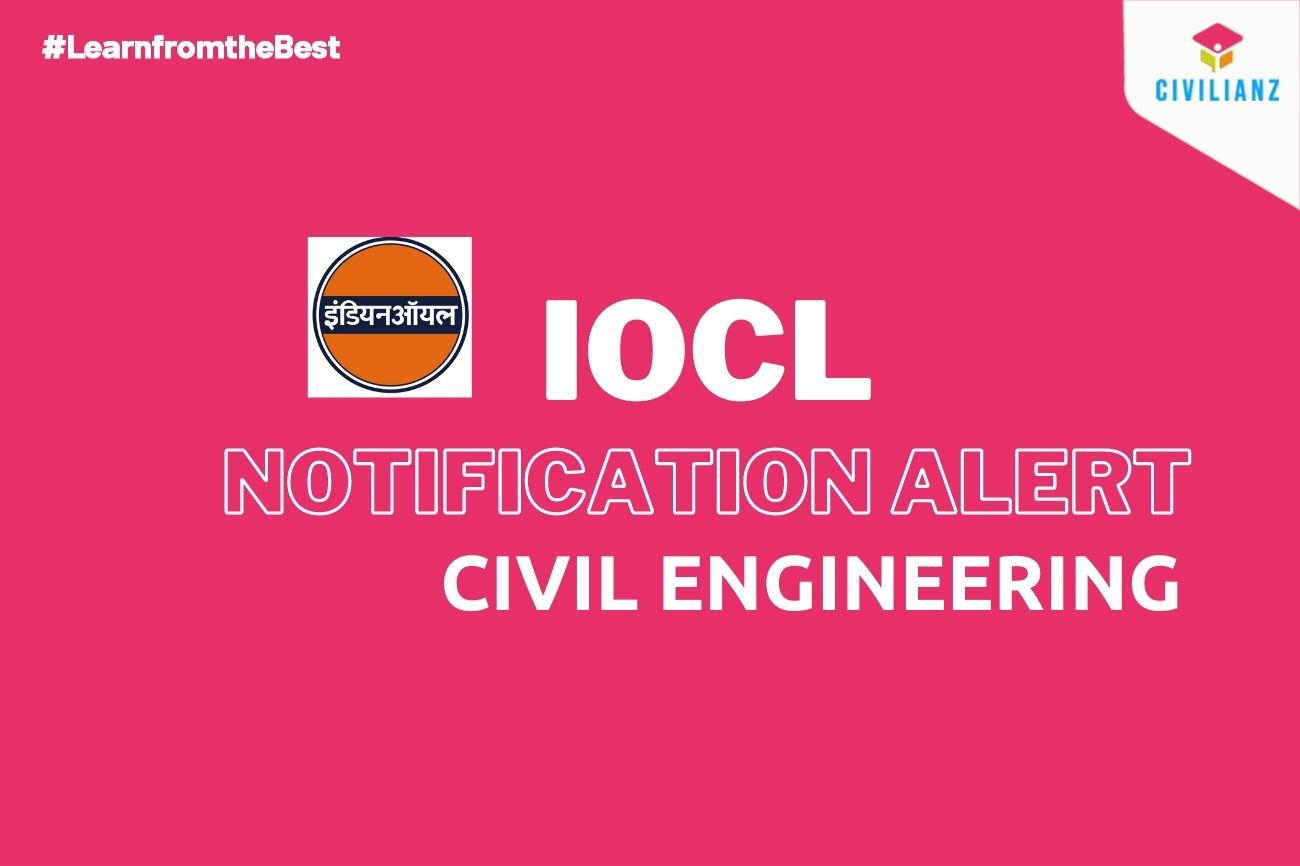 Indian Oil Corporation Limited – IOCL JOB RECRUITMENT 2021 for Graduate Apprentice Engineers through GATE-2021
| | |
| --- | --- |
| Name of organization | Indian Oil Corporation Limited – IOCL |
| Name of post | Graduate Apprentice Engineers |
| Salary | Rs. 50,000/- per month |
| Upper age | 26 years |
| Application mode | Online |
| Starting date to apply | 10.07.2021 |
| Last date to apply | 26.07.2021 |
| Official website | www.iocl.com |
Indian Oil Corporation Limited (IOCL) is a diversified, integrated energy major with presence in oil, gas, petrochemicals and alternative energy sources. Empowered with the 'Maharatna' status, the organization renders overriding prominence to the energy needs of the country and aspires to be 'The Energy of India' and 'A Globally Admired Company'.
Indian Oil Corporation Ltd. has been featuring year after year among India's Best Companies to Work For and has been recognized as Best Employer among Nation-Builders. Recording an all-time high Profit After Tax of Rs. 21,836 Crore in FY 2020-21, the organisation is propelled to perfection by its high-calibre people adopting best practices aided by state-of-the-art technologies, cutting-edge R&D. To fuel its future growth, Indian Oil is looking for energetic and dedicated Graduate Engineers with bright academic record to join the Organization as Engineers/ Officers
NAME OF POST & REMUNERATION
| | |
| --- | --- |
| Name of posts | Remuneration |
| Graduate Apprentice Engineers | Rs. 50,000/- per month |
EDUCATIONAL QUALIFICATION
Name of posts
Educational Qualification

Graduate Apprentice Engineers

B.Tech./BE /Equivalent as Full-time Regular course from Institutions/ Colleges/ Universities/ Deemed Universities duly recognized by AICTE/UGC in Civil Engineering





Candidates must have qualified in the GATE 2021 examination





(excluding Construction /Environmental/Transportation Engineering etc.)
UPPER AGE LIMIT
| | |
| --- | --- |
| Name of posts | Upper age limit |
| Graduate Apprentice Engineers | 26 years |
Minimum Marks in Qualifying Degree
Candidates should have secured following minimum marks in qualifying degree examination:
| | |
| --- | --- |
| Category | Minimum % Marks |
| General/OBC(NCL)/EWS | 65% |
| Scheduled Caste (SC)/Scheduled Tribe (ST)/ PwBD | 55% |
Candidates currently in final year/semester of their qualifying degree may also apply subject to obtaining minimum marks as mentioned above from aggregate of marks obtained in all semesters declared so far.
However, if selected, they would be allowed to join only if, besides meeting other eligibility criteria, their aggregate marks in the qualifying examination is equal/more than the minimum percentage of Marks as prescribed above. Such candidates should also be in a position to submit their final mark sheet by 30th September, 2021.
Wherever final marks in the qualifying degree have been awarded as letter grade (CGPA/GPI/SGPA etc), equivalent percentage of marks shall be adopted from conversion formula issued by respective institute/university for establishing eligibility criteria.
Such candidates would be required to submit the conversion certificate issued by the concerned institute/ university at the time of Personal Interview, if shortlisted.
However, in case the institute does not follow any conversion formula for converting CGPA to Percentage, IOCL shall be at liberty to arrive at equivalent percentage of marks following its own conversion formula.
PHYSICAL FITNESS
Pre – Employment Medical Examination Guidelines (PEME Guidelines) – Final selection of candidates is subject to meeting the physical fitness criteria as described in the PEME guidelines.
Therefore, Candidates are advised to go through the 'Guidelines and Criteria for Physical Fitness for Pre-employment Medical Examination' placed on the registration portal and should satisfy they meet the physical fitness parameters as per the PEME guidelines before commencing filling
the ONLINE application
The medical report towards physical fitness – as per format mentioned in the guidelines shall be required to be submitted by the candidate at the time of joining, if finally selected for the advertised positions
IMPORTANT INSTRUCTIONS
Candidates need not submit/upload their EWS/Caste/PwBD certificate at the time of registration. However, they must furnish information sought about such documents in the online application – like issue date, caste serial number as per central list, name of caste, issuing authority etc.
Since all the applications will be screened without documentary evidence/ proof, the candidates must satisfy themselves of meeting the eligibility criteria for the position to which they are applying.
The candidates should ensure that they fulfill all eligibility criteria and other conditions as specified in this advertisement and that the particulars furnished by them in the online application are complete and correct in all respects
Suppression of any fact may lead to termination of candidature at any stage of selection process or during employment, if selected. Furnishing false information or concealment/suppression of factual information may render the candidate unfit for employment.
Mere registration on portal shall not mean that candidate is meeting the eligibility criteria.
The same has to be established by producing relevant and valid documents in Original at the time document verification
Candidature of the candidates not found meeting the prescribed eligibility criteria or submitting false/ incorrect information may be rejected at any stage of selection process.
Candidates presently employed in Government Departments / PSUs / Autonomous Bodies need to submit NOC from competent authority of their current employer at the time of interview.
Any canvassing directly or indirectly by the applicant will lead to disqualification of his/ her candidature.
HOW TO APPLY?
1. Candidates must go through this detailed advertisement very carefully and check their eligibility before proceeding to apply ONLINE for the position.
2. The relevant link to apply ONLINE shall be available on the Indian Oil's website.
Candidates should click on the ONLINE application link, read the instructions carefully and fill-in the ONLINE application form giving correct and complete information.
3. Candidate should have following documents ready for uploading on the ONLINE portal during registration:
Scanned copy of Recent Color Passport Size Photograph, not older than 6 months.
Scanned copy of Signature
Aadhar Card
4. Prior to applying ONLINE, Candidate would be required to register their email id and mobile number on the online portal.
Therefore, they must have a valid email id and mobile number, both of which should remain active for minimum 01 year from the date of registration.
Communications to the candidates to apprise them about various stages of recruitment process shall be sent on their registered email id and/or mobile number.
5. Post registration of email id and mobile number, Request for change of Mobile number and e-mail ID will not be entertained.
6. During registration process, initially Candidate need to enter his/her GATE 2021 registration number, Discipline of GATE 2021 and marks obtained by them in GATE 2021 (Out of 100, up to two places of decimal).
The portal will verify the entries made from the database and allow the candidate to proceed further for registration only in case the entries are correct, and candidate has qualified in the GATE 2021 examination.
7. Candidate must read the On-Screen instructions very carefully while applying and filling the entries in the ONLINE form.
Candidate must keep on verifying their entries repeatedly prior to submitting their ONLINE application, as no request for changes in the entries shall be entertained after submission of the ONLINE application form.
8. Candidates applying from any of the reserved category (EWS/ OBC (NCL)/ SC/ ST/ PwBD) must have relevant and valid document in support of their claim of belonging to reserved category from which they are applying, failing which their candidature may be cancelled. Such candidates must furnish details of such documents in ONLINE application portal wherever asked for.
9. Candidate must keep .pdf format of the ONLINE application form in their safe custody for future reference, if any. Candidates need not send this printout to any office of Indian Oil
10. For the advertised position, Only the registration done on our ONLINE portal shall be acceptable and no other mode/format of application shall be acceptable.
SELECTION PROCESS
Selection process shall consist of Group Discussion, Group Task and Personal Interview. However, eligibility of the candidates shall be verified prior to GD, GT and PI and only those candidates shall be allowed to appear in GD, GT and PI who are meeting the eligibility criteria by furnishing relevant and valid documents in latest formats in Original at the time of document verification.
Merit list shall be prepared only of those candidates who qualify in all of the following components of evaluation process individually as well as consolidated weighted sum of the evaluation components:
GATE 2021 (marks out of 100)
Group Discussion and Group Task
Personal Interview

SERVICE BOND
Candidates selected as Officer/Engineer will have to execute a bond to serve the Corporation for a minimum period of three years from the date of joining the corporation as under:
| | |
| --- | --- |
| Category | Officers/ Engineers |
| General | Rs. Three Lakhs only |
| EWS/OBC(NCL)/SC/ST/ PwBD | Rs. Fifty Thousand only |
IMPORTANT DATES
| | |
| --- | --- |
| Starting date for applying of online application | 10.07.2021 |
| Last date for applying | 26.07.2021 |
For detailed advertisement,
DOWNLOAD
Join the largest social media network of Civil Engineering students & job aspirants from Civilianz family!
Exclusively for Civil Engg. students, job aspirants, teachers & all those who have passion for Civil Engg.
Civil engineering quizz and rewards

Regular job notifications

Exam notifications

PDF notes

Study tips

Civil related discussion and all in this group.
Connect with subject experts, career mentors and teachers through our social media platforms!
JOIN OUR SOCIAL MEDIA PLATFORMS
#learnfromthebest