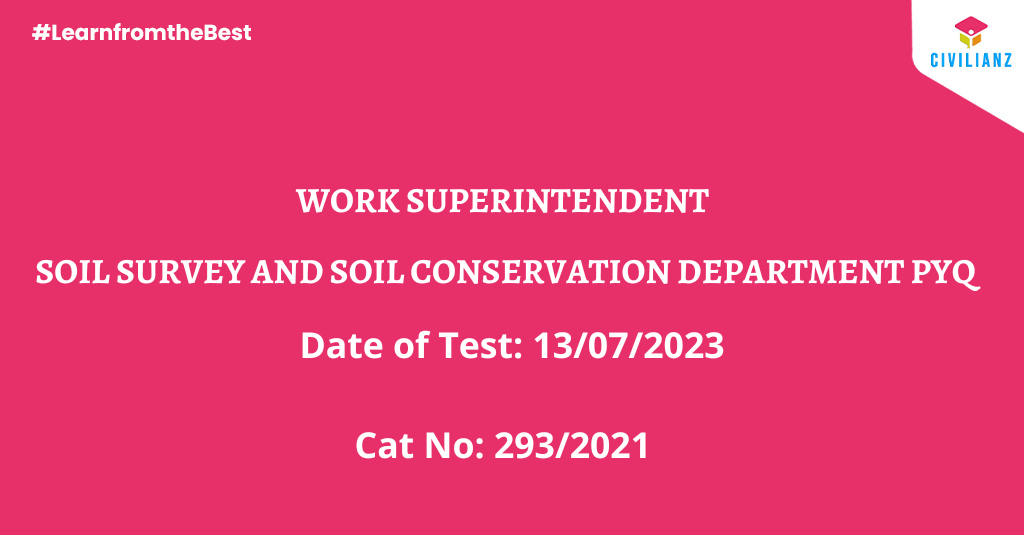 SOIL SURVEY AND SOIL CONSERVATION DEPARTMENT PYQ
Work Superintendent
Date of Test: 13/07/2023
Cat No: 293/2021  
The Department of Soil Survey & Soil Conservation is the nodal department for the conservation and management of the precious soil and water resources of Kerala.  The department not only provides scientific database on the soil and land resources of the state for developing suitable soil and land management practices but also implements a variety of projects aimed at conserving and managing these natural resources which is vital for ensuring sustainable development and  food  security  of the state. Soil and water conservation activities were initiated in the State during the first plan period in 1955.  Considering the importance of natural resource conservation, the Department of Soil Conservation was constituted in 1963 with Dr.M.S.Nair as the Director.
LIVE QUESTION PAPER DISCUSSION SESSION
WORK SUPERINTENDENT – QUESTION PAPER
DOWNLOAD QUESTION PAPER
WORK SUPERINTENDENT – PROVISIONAL ANSWER KEY
Historic Results in Assistant Engineer-Overseer Kerala PSC Exams
Civilianz earmarked the day for historic results ever a coaching center has made in the history of Kerala PSC Civil Engineering competitive exams. Results include First Ranks in Assistant Engineer- PWD, Assistant Engineer- Irrigation and Major ranks in Overseer Grade 3 examination. Read this article about historic results in AE-Overseer Exams and rank making strategy we adopted in these major exams.
DOWNLOAD HISTORIC RESULTS
Civilianz stands as the top Civil Engineering Coaching Center in Kerala, specializing in preparing students for various Civil Engineering Competitive exams. Our comprehensive coaching program covers a range of exams, including GATE – Civil, Assistant Engineer, Assistant Professor Civil, Lecturer in Polytechnic, Junior Engineer- Civil, Overseer, Tracer, and other similar Civil engineering competitions. 
Civil Engineering മത്സരപരീക്ഷകൾക്കെല്ലാം ഇനി ഒരൊറ്റ solution 🔥
Basic level മുതൽ Advanced level വരെയുള്ള Civil Engineering subjects ക്ലാസ്സുകളും workout സെഷൻസും ഉൾപ്പെടുന്ന VAJRA BATCH by Civilianz ✨
Useful for all Civil Engineering Competitive exams ⭐📚
Course features
💎 Pre recorded classes taken by expert faculty team
💎 Assessment tests
💎 Mentor support
💎 Civil Engineering Handwritten notes (E-book)
💎 Discussion board for doubt clearance
Special features
📝 Video classes discussing higher level questions
📝 MCQ Book
📝 Notes of advanced level questions and answers (useful for GATE and ESE)  
ഇനി പരീക്ഷകളെ അനായാസം നേരിടാം, വിജയം സുനിശ്ചിതമാക്കാം 🥇
For more details, contact 👇🏻
📱8281003366  
---
CIVILIANZ SOCIAL MEDIA PLATFORMS Our Social media platforms are exclusively for Civil Engineering students, job candidates, teachers and all those who have passion for Civil Engineering.
You will get
Exam notifications

Study tips

Civil related discussion and all in this group.
JOIN OUR SOCIAL MEDIA PLATFORMS
#learnfromthebest